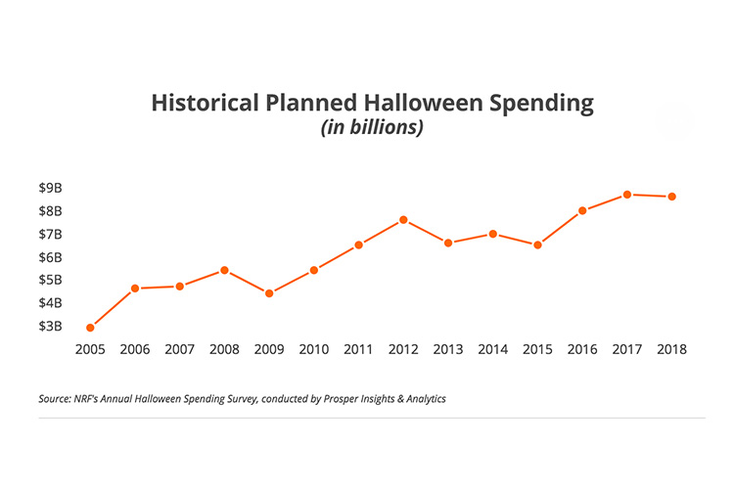 Shoppers are set to spend an average of $86.79, up from last year's $86.13. Total spending is expected to reach $9 billion, the second highest in the survey's history, with more than 175 million Americans planning to participate.
The findings are part of the NRF's annual survey conducted with Prosper Insights & Analytics.
According to the survey, consumers plan to spend $3.2 billion on costumes (purchased by 68 percent of Halloween shoppers), $2.6 billion on candy (95 percent), $2.7 billion on decorations (74 percent) and $400 million on greeting cards (35 percent).
Additionally, 70 percent of consumers plan to hand out candy, 50 percent will decorate their home or yard, 48 percent will wear costumes, 45 percent will carve a pumpkin, 32 percent will throw or attend a party, 30 percent will take their children trick-or-treating, 21 percent will visit a haunted house and 18 percent will dress their pets in costumes.
"One of the biggest trends this year is the growth of spending on pet costumes," says Phil Rist, executive vice president, strategy, Prosper Insights. "Out of the 31.3 million Americans planning to dress their pets in costumes, Millennials (25-34) are most likely to dress up their pets, the highest we have seen in the history of our surveys."
Of those dressing up for the holiday, the NRF found that 3.8 million children plan to dress as their favorite princess character; 2.2 million as Batman characters; 2.5 million as their favorite superhero; 1.9 million as their favorite
Star Wars
character; and another 1.9 million as a witch. Meanwhile, 7.2 million adults plan to dress as a witch; 2.5 million as a vampire; 2.1 million as a zombie; 1.9 million as a pirate; 1.3 million as their favorite
Avengers
Character including Iron Man and Black Panther.
Costumes Ranked: Children
1. Princess - 7.6 percent
2. Superhero - 4.9 percent
4.
Star Wars
character - 3.7 percent
6. Spider-Man - 3.5 percent
7. Avengers character (excluding Spider-Man) - 3.2 percent
10.
Frozen
(Elsa, Anna) - 1.7 percent
5.
Avengers
character (excluding Spider-Man) - 2.0 percent
7.
Star Wars
character - 1.9 percent
9. Superhero - 1.8 percent
11. Wonder Woman - 1.5 percent
1. Pumpkin - 11.2 percent
2. Hot dog - 7.4 percent 3. Bumblebee - 4.9 percent
8.
Star Wars
character - 2.8 percent
9. Superhero - 2.7 percent
The survey also found that 45 percent of shoppers will visit discount stores for Halloween-themed items, 35 percent will shop at specialty stores, 24 percent will visit supermarkets, 25 percent will buy at department stores and 24 percent will shop online.
Read more about:
Subscribe and receive the latest news from the industry.
Join 62,000+ members. Yes, it's completely free.
You May Also Like
Loading..