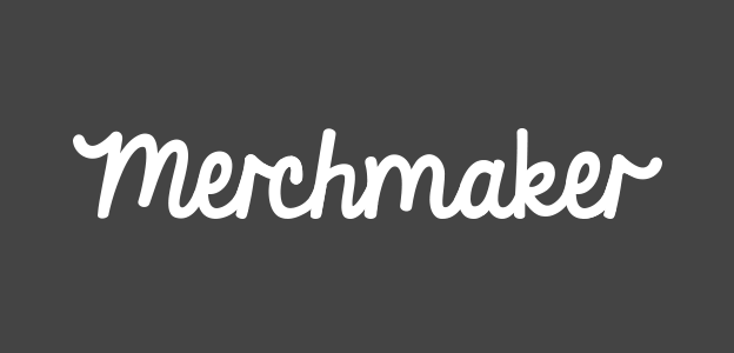 Evode Group's white label POD offering, Merchmaker, is making it easier than ever for retailers to offer unique, customizable products.
GLOBAL–In recent years, print-on-demand has transformed the consumer products industry, presenting both new opportunities and new challenges.
Enter Merchmaker, a print-on-demand solution from Evode Group in the U.K., which has introduced an innovative platform that allows brand owners and retailers to harness the power of print-on-demand, while avoiding the pitfalls.

But around the same time, major retailers such as Walmart and Tesco were rolling out their own print-on-demand offerings, making an already tight market even more competitive. Rather than try to compete, Evode pivoted, and decided to white label their platform, along with the network of print-on-demand
suppliers and licenses they had gathered, and offer the whole package to other retailers who wanted to launch their own print-on-demand offerings.
Now Merchmaker is a plug-and-play solution for retailers, complete with a web platform that can be integrated seamlessly into existing e-comm sites, a global network of print-on-demand suppliers across every product category imaginable and a slate of licensed brands that spans from sports teams to entertainment franchises.
Merchmaker gives retailers all the benefits of print-on-demand, without the hassle of website development and brand licensing negotiations.
"With this model a retailer can have thousands of products without having to give up any shelf space, and we know right now retailers are very precious about their shelf space," says Charlotte Clisby, co-founder and chief commercial officer, Evode Group. "It means they don't have to worry about any wastage or committing to upfront stock."
Merchmaker's first retail partner is The Entertainer, one of the biggest independent toy chains in the U.K. Last quarter, The Entertainer launched the Merchmaker platform on its website under the name Create Your Own.
Create Your Own debuted with Nickelodeon's JoJo Siwa brand, and has been so successful that The Entertainer is already planning to expand with additional brands.
"We're delighted with the way our Create Your Own business has started, and really excited about our plans for 2018," says Rob Wood, Head of Online, The Entertainer. "The Entertainer prides itself on being the place to go for the latest trends, and Merchmaker's print-on-demand model means we can get product to our customers faster than ever before. And because we don't need to commit to stock upfront, we're also able to trial lots of niche ranges and offer our customers an even wider choice."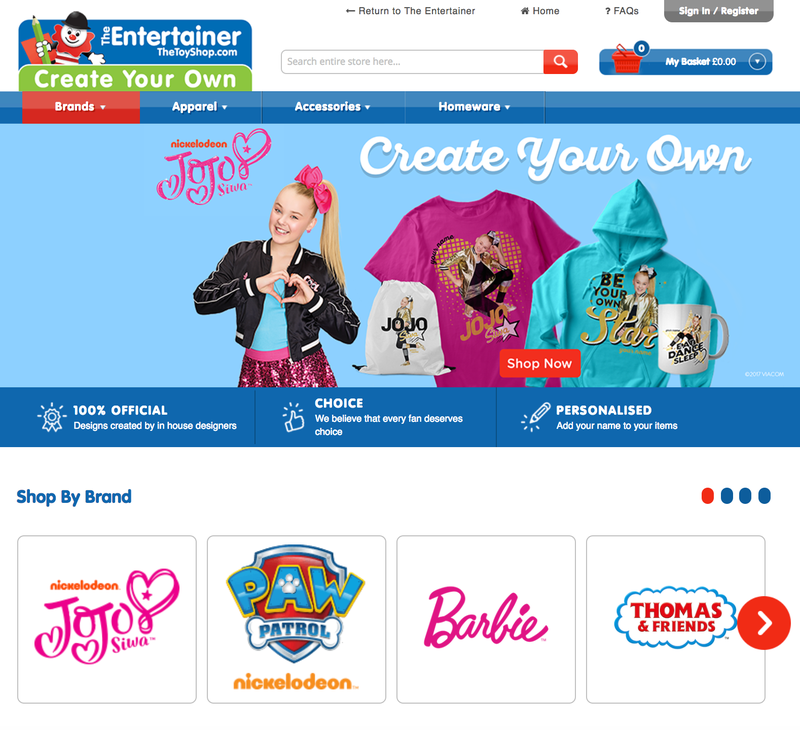 One of the other key advantages of print-on-demand is the ability to quickly make new products available to customers.
"In theory we can get a product live in 120 seconds, if we have the artwork in front of us," says Clisby. "So our model basically means that retailers and licensors can move as quickly as social media."
A perfect example of this is one of the products The Entertainer offered under the JoJo Siwa brand during the holiday season. While not part of the original product slate, The Entertainer decided they wanted to offer personalized JoJo Siwa advent calendars. Within seven days of that lightbulb moment, the offering was up on The Entertainer's website and it ended up being one of the most successful products of the season.
This was possible because Evode had the existing network of suppliers in place to fulfill the product as soon as creative was approved.
A key component to Evode's model is the fact that they do not actually own any of the print-on-demand machinery needed to fulfill product orders. Rather, they contract with best-in-class suppliers for all kinds of products around the world. As print-on-demand technology rapidly advances, this means that Evode can be agile in the suppliers they work with, and therefore constantly update the types and quality of products available to retailers who use their service.
"I think what differentiates us in the print-on-demand space is we are a one-stop shop for a brand or a retailer," explains Clisby. "It's very similar to the AirBNB or Uber model. It's taking networks of retailers, networks of licensors, networks of suppliers, so that everyone benefits and they only have to work with us."
On the licensing side of the arrangement, Evode takes rights across a large swath of print-on-demand categories for the brands it works with, which include Nickelodeon, WWE, Mattel, a number of Premier League football clubs including Man City and Liverpool, and many others.
"We can plug our platform into any existing e-commerce system, and that enables us to basically pass all of our products through to that retailer so that retailer can have our full portfolio as if it was their own products," says Clisby. "And the consumer can personalize them as well."
This arrangement simplifies the product development process for the licensor, and can actually work in tandem with a licensor's existing print-on-demand licenses.
"We aren't really a huge competitor to existing licensees who are already in the print-on-demand space," Clisby explains. "We don't want to sell the products ourselves, we want to enable other retailers to be able to benefit from print-on-demand.
"It's a great way to give consumers choice as well," she adds. "Traditionally you'll only see the biggest-selling characters put on product and sold, whereas there are still fans for all different characters across a property. We can really expand that choice."
And it's working out very well for The Entertainer, which is doubling down on its partnership with Merchmaker. The retailer just added Mattel's Barbie and Thomas the Tank Engine brands to its Create Your Own site, and will also be adding six of the biggest Premier League football clubs including Man City and West Ham later this month.
As a toy store, The Entertainer doesn't typically carry many sports products, and the fact that they are adding these football clubs to their Create Your Own brand roster highlights another key advantage of the Merchmaker system and print-on-demand in general–the ability to test out new brands with minimal risk.
"Obviously one of the key things that retailers like is they can trial new products that they've never done before, or even brands that they've never worked with before, and can even get there right in the early stages of a brand. They don't have to wait to prove a brand is going to be successful, because it doesn't matter if product isn't sold. There's not a big load of stock sat somewhere that they have to try and shift," says Clisby.
And it's not just new brands or products that can be tested, retailers can also test out new territories.
"If a brand wants to trial a territory, and we have suppliers in that territory, it's a very quick process. If we've got suppliers local in China, we just plug that supplier into that retailer and suddenly that retailer has local suppliers in China," explains Clisby.
Evode itself is expanding well beyond the U.K. as well. The company established offices in the U.S. last year and is also already set up to do business in Japan and China.
"China in particular is a very very exciting market, because they didn't really have much print-on-demand over there," says Clisby. "And obviously there is a huge problem with un-official products, so that is something we are trying to combat. By us having the licenses and utilizing the print-on-demand method, we're able to help control that."
Don't miss the chance to hear more about Evode's innovative offering and their plans for the future (including new retailers who are onboarding their platform) at the NYC Licensing Summit. Clisby will be joined by Cindy Levitt of Hot Topic and Brian Mann of Loot Crate on the "Need for Speed" panel, which will focus on how brands can utilize new technologies to respond more quickly to today's trends.
Subscribe and receive the latest news from the industry.
Join 62,000+ members. Yes, it's completely free.
You May Also Like
Loading..