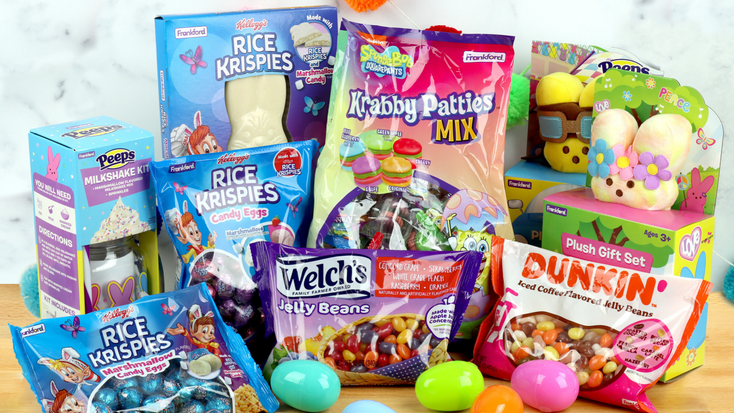 Frankford Easter candy.
Frankford Candy
After a long, cold winter, many people look forward to Easter – with its bountiful baskets of chocolate eggs, jellybeans and other goodies – as a promise of the coming spring. But with cost-of-living concerns looming, will consumers find fewer treats in their baskets this year? 
According to the annual survey released by the National Retail Federation (NRF) and Prosper Insights & Analytics, there seems to be little to fear. The report found consumers plan to spend a collective $24 billion on Easter this year, up from $20.8 billion in 2022 and the previous record high of $21.7 billion in 2020. The survey also found 81% of Americans plan to celebrate the holiday, spending an average of $192.01, the highest figure on record. 
"Easter endures as an important holiday for many Americans, signifying new beginnings and a time of celebration with friends and family," says Matthew Shay, president and chief executive officer, NRF. "As consumers plan to mark the occasion through a variety of traditions,
retailers are dedicated to making this year a memorable holiday." 
In its annual Easter survey of consumer plans and activities, consumer marketing and insights platform, Prodege, found 68% of Easter celebrants say inflation is impacting how much they spend on Easter-related products this year with 40% planning to spend less because they have less to spend and 28% saying they must spend more because costs are higher. 
For some, it might be more a matter of spending smarter, not necessarily spending less. The NRF reported 54% of consumers say they will buy Easter gifts from discount stores. Other shopping destinations include department stores (42%), online (33%), local and small businesses (22%) and specialty stores (20%). 
"We are seeing real Easter sales growth compared with pre-pandemic, and among the drivers are consumers who are planning to purchase more Easter clothing and gifts," says Phil Rist, executive vice president, strategy, Prosper. "Additionally, consumers ages 35 to 44 will bump up their spending more than any other group." 
Many who don't celebrate Easter, still make Easter-related purchases. The NRF reports about half (54%) of those not celebrating the holiday still plan to take advantage of seasonal bargains. They anticipate spending $23.41 per person, primarily looking to purchase candy and food.  
Candy is Dandy 
For many, Easter is synonymous with candy. The NRF reported spending growth across several categories, and the top Easter items consumers say they are planning to purchase include candy ($3.3 billion), gifts ($3.8 billion) and food ($7.3 billion).  
The National Confectioners Association's 2023 State of Treating report found the Easter season continues to be a key moment for candy consumers, generating more than $5 billion in sales in 2022. This represents an increase of more than 9% over 2021, largely driven by consumer enthusiasm for seasonal confectionery gifting.  
The big winner in the candy aisle is … chocolate. In the U.K., the GWP Group found 65% of people think of chocolate first when asked about Easter. Prodege found that among 69% of Americans who plan to celebrate Easter this year, 53% plan on buying chocolate. Of those making Easter baskets this year (43%), chocolate is by far the number one item to include, according to 91% of respondents.  
Perhaps it's those adorable chocolate bunnies that everyone is expecting in their baskets. Not only are they a popular treat; they offer the ongoing debate of, "What's the right way to eat a chocolate bunny?" The National Confectioners Association asked and Americans answered: most consumers say they eat the ears first (78%), while some signaled they eat chocolate bunnies' feet first (17%) or tail first (5%). And it's not just those chocolate bunnies. Chocolate eggs also continue to remain popular. GWP reports the Cadbury Creme Egg, introduced in 1971, is the most-popular chocolate egg globally. Also extremely popular are peanut butter eggs. In fact, Prodege found 55% of respondents considered peanut butter eggs the most popular Easter confection, followed by jellybeans (49%), solid chocolate bunnies (42%) and chocolate mini eggs (42%). 
"The Easter season is a welcome spot in the calendar year as people throughout the country seek out opportunities to celebrate with their friends, family and loved ones," says John Downs, president and chief executive officer, NCA. "Consumers are eager to incorporate chocolate and candy into their seasonal celebrations, especially as confectionery products remain an affordable luxury in challenging times." 
Of course, Easter treats go beyond chocolate. Some of those treats are sure to include
, the  marshmallow confections that grace the cover our
latest edition of License Global
. The treat has become a North American icon for the Easter season and even expanded into other holidays. And it's also expanded into the licensed consumer product market. Oddly enough, Prodege found 38% of respondents say they disliked the marshmallow chicks the most when they were growing up. However, 10% say they now love them. A third of shoppers say they'll buy PEEPS this holiday season.
PEEPS is not the only company to offer licensed candy for Easter. Frankford Candy brought five licensed treats to the candy aisle this Easter. Three new PEEPS-brand treat sets and two new Easter-inspired
Rice Krispies candy items debuted this season.
also teamed up for Easter treats in 2022.
"People not only love to give and receive candy at Easter, but they also look forward to trying new items each year, especially when they involve favorite brands," says Molly Jacobson, director, business development, Frankford Candy. "In addition to returning Easter favorites like our chocolate Easter rabbits, chocolate eggs and jellybeans, we are now rolling out new PEEPS-inspired treats and new Kellogg's Rice Krispies candy that are sure to delight fans of these beloved brands." 
Grownups Need Easter Love Too 
Easter treats appeal to all ages; GWP reports 27% of parents admit to eating their children's chocolate at Easter. And while Prodege reports 58% of Easter baskets will be made for children younger than 13, 33% of respondents say they will make a basket for themselves and 46% say they will make a basket for an adult. Those who make Easter baskets make an average of three for the holiday. 
Read more about:
Subscribe and receive the latest news from the industry.
Join 62,000+ members. Yes, it's completely free.
You May Also Like
Loading..