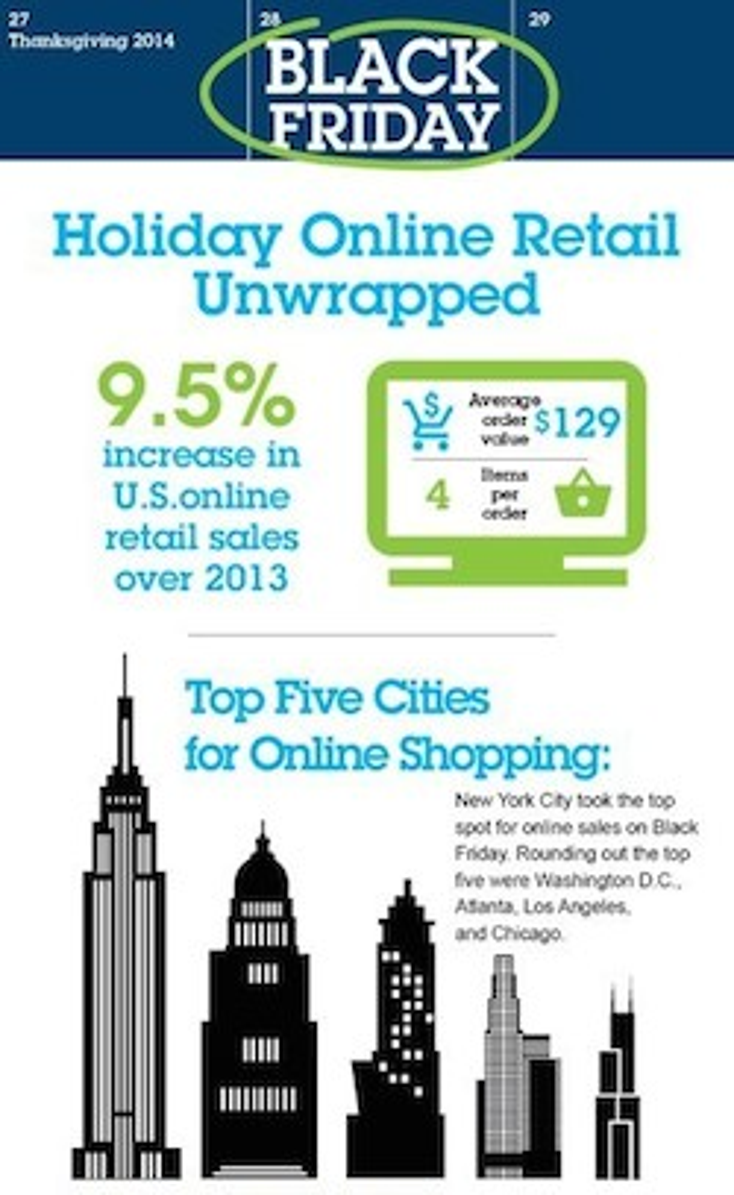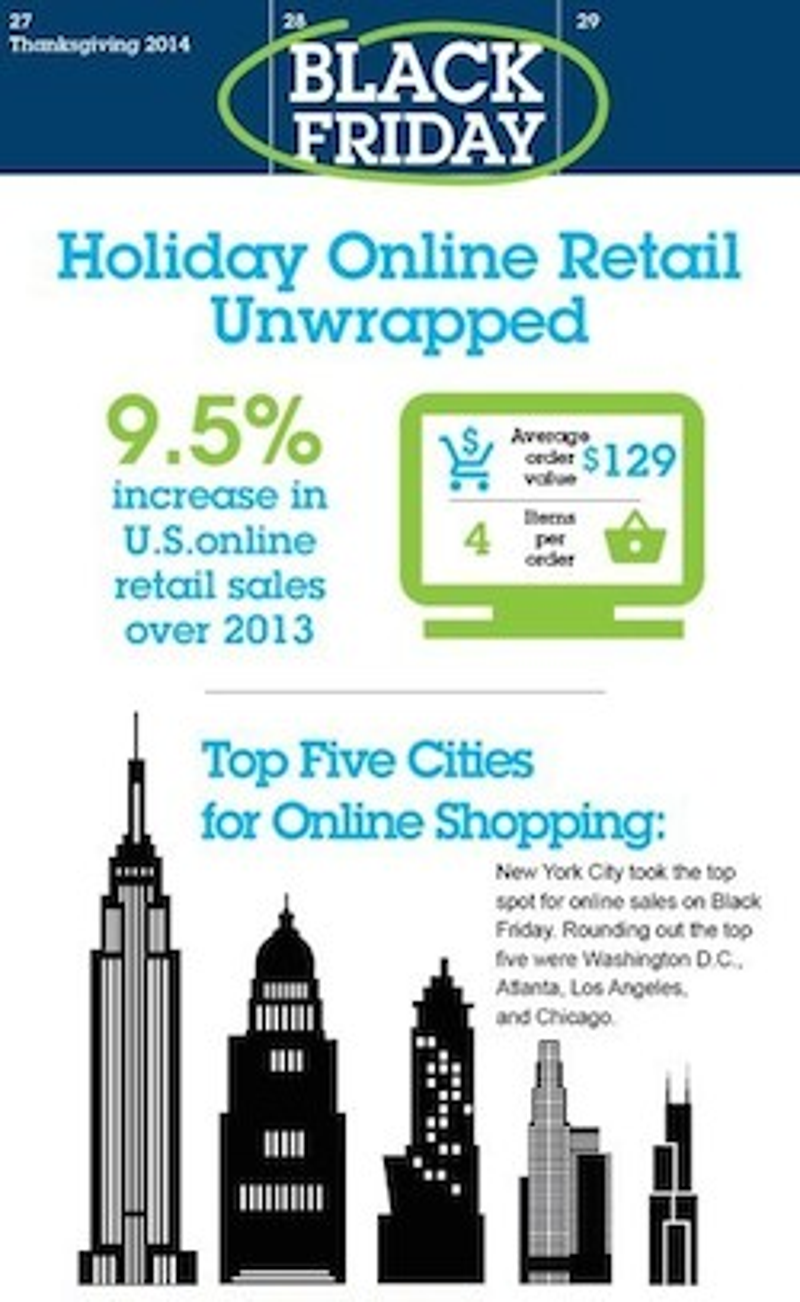 According to National Retail Federation, 55.1 percent of holiday shoppers shopped over Thanksgiving weekend, down from 58.7 percent last year. Overall shopper traffic from Thanksgiving Day through Sunday dropped 5.2 percent from 2013 (133.7 million unique holiday shoppers versus 141.1 million in 2013).
"A strengthening economy that changes consumers' reliance on deep discounts, a highly competitive environment, early promotions and the ability to shop 24/7 online all contributed to the shift witnessed this weekend," says Matthew Shay, president and chief executive officer, NRF. "We are excited to be witnessing an evolutionary change in holiday shopping by both consumers and retailers, and expect this to trend to continue in the years ahead."
According to the survey the average person who shopped spent $380.95, down
6.4 percent from $407.02 last year. Total spending is expected to reach $50.9 billion, down from last year's estimated $57.4 billion.
Though the overall number of shoppers dropped this year, Black Friday still draws the biggest crowds of the weekend. According to the NRF survey, 86.9 million shoppers were in stores and online on Black Friday; nearly one-third (32.2 percent or 43.1 million) say they shopped on Thanksgiving Day, flat with last year's 31.8 percent. Half (51.8 percent) say they shopped on Saturday and one-quarter will shop on Sunday (25.5 percent).
Holiday shoppers weren't only in stores on Thanksgiving, they were also online, though it seems early online promotions before the big weekend may have taken some consumers with them. The average person who shopped over the weekend spent $159.55 online, approximately 41.9 percent of their total average budget, down 10.2 percent from $177.67 last year.
In fact, IBM Digital Analytics Benchmark reported record online and mobile shopping during the weekend with Thanksgiving Day online sales increasing 14.3 percent over 2013, and Black Friday up 9.5 percent year-over-year. 
For the first time, online traffic from mobile devices outpaced traditional PCs on Thanksgiving Day; browsing on smartphones and tablets accounting for 52.1 percent of all online traffic. Overall Thanksgiving online sales were up 14.3 percent compared to 2013. 
The mobile momentum carried into Black Friday, which saw a surge in both online and mobile shopping as consumers brought their devices into the store to comparison shop. Overall Black Friday online sales were up 9.5 percent year-over-year with mobile devices accounting for one-in-four of all online purchases.
According to the survey more than half of those in stores and online over the weekend bought apparel items (54.5 percent), one-third (32.6 percent) purchased toys and one-third (34.2 percent) bought electronics. Additionally, 34.9 percent purchased books, videos or video games, one in five (20 percent) purchased home décor or home furnishing items, 28.1 percent bought gift cards and 15 percent bought jewelry items.
Millennials, viewing the Thanksgiving weekend as a social experience, were a large part of the weekend crowds, both in stores and online. The survey found three-quarters (74.3 percent) of 18- to 34-year-olds had shopped or were planning to shop over the weekend, far higher than the 35–54 age group (53.8 percent) and those 55-plus (39.2 percent). 
Read more about:
Subscribe and receive the latest news from the industry.
Join 62,000+ members. Yes, it's completely free.
You May Also Like
Loading..