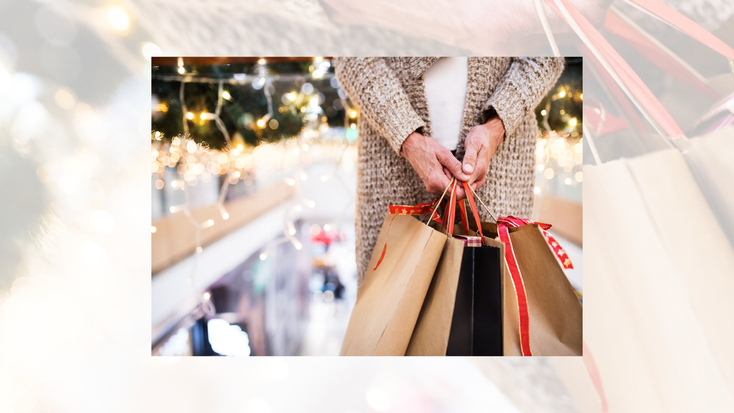 iStock / Getty Images Plus / Halfpoint
If you've strolled through Target or Home Depot in the past few weeks, you've no doubt noticed that irritating-to-some trend known as holiday or Christmas creep. The phrase doesn't refer to the weirdo in the ugly sweater lurking under the mistletoe; it's the gradual lengthening of the holiday season, with displays, music and sales creeping into the retail sector earlier and earlier each year. It's not a new phenomenon, the creep has been increasing steadily since the early aughts. In 2011, Time published an article titled, "
The Christmas Shopping Season Now Starts … in September
?" Although September holiday shopping may not be a huge thing (we do have to allow for
), it's no secret that the majority of retailers start sneaking the holiday items onto shelves by the beginning of October. And while many in the general population may bewail the slights to Halloween and Thanksgiving, this trend shows no sign of slowing. In fact, retailers are so eager to gobble up consumers' cash that Black Friday may one day become a ghost of Christmas past. 
According
to the
, consumer behavior has shifted in recent years, with many holiday shoppers preferring to spread their buying out over the entire season. Fears over the economy play into this shift.  
"Consumers will lean toward hesitancy because of the looming recession uncertainty, leaving retailers with a lot of work to drive traffic and convert purchases now," says Spencer Kieboom, founder and chief executive officer,
, an inventory management company. "As a result, you can expect retailers to start their promotions earlier this year." 
reports that retailers such as Walmart, Kohl's, Macy's and Target, are all having multi-day early sales. The trend also allows consumers more time to search for the best deal for their holiday purchases. Lessons were also learned from the supply chain issues. The NRF says that retailers are moving up their peak shipping season to allow for additional time to bring in products for the winter holiday season.  
No time like the present to buy gifts 
Retailers want your Christmas cash now. On Oct. 10, just ahead of Amazon's Prime Days,
announced its biggest savings of the season would start three weeks earlier than last year with Weeklong Black Friday Deals and the return of its Deal of the Day.  
"We know our guests are eager to start their holiday shopping and Target is here to help – and help them save big, whether that's on gifts that family and friends are sure to love or stocking up on all the essentials for a season filled with festive gatherings," says Christina Hennington, executive vice president and chief growth officer, Target.  
On Oct. 11-12, Amazon kicked off its holiday shopping season with its new Prime Early Access Sale.
quickly followed suit with its own announcement on Oct. 19 that it was bringing back its "Black Friday Deals for Days" with longer events and earlier access for Walmart+ members. Walmart is continuing its retail strategy of the past two years, spreading Black Friday savings over three events throughout November and capping off a month of deals with Cyber Monday.  
"Black Friday has evolved over the years from a single day to an entire season and is without a doubt the most anticipated shopping event of the year," says Charles Redfield, executive vice president and chief merchandising officer, Walmart U.S. "Our customers are counting on us more than ever to help them find the season's best gifts while delivering incredible savings like only Walmart can." 
Target is already experiencing some Christmas joy from its new promotions. Last week,
reported that Target's October Deal Days event, which ran Oct. 6-8, attracted nearly 28% more average daily visits from customers to Target locations than last year, and nearly 57% more daily visitors per store than in 2020. Target also saw a 3.2% increase in foot traffic the week of Oct 3-9, compared to the same period in 2021. 
The early bird gets the deals 
While there have always been consumers who like to start their shopping early, those numbers are increasing. According to NRF's latest consumer survey, 44% of holiday shoppers say it's better to purchase gifts and other seasonal items now because they believe inflation will continue to impact prices later in the year. Another 31% believe it's best to purchase items now because the deals won't get any better.  
And while retailers are offering deals earlier and consumers want to find bargains, there is a sense of resignation this holiday season.
reports that while 88% of consumers plan to look for discounts and special offers this year, 63% aren't expecting better deals. And consumers are already feeling "The Grinch" pinch of inflation and it has them feeling glum with 91% of consumers expecting higher prices due to inflation. 
According to the NRF, the high rate of inflation has consumers feeling the pain of higher prices on everything from household essentials to services like travel and dining out. Despite challenges, consumers are still prioritizing holiday spending. Sixty-two percent of holiday shoppers agree that it is important to spend on holiday gifts and celebrations, and that they will do what they need to, even cutting back in other areas, so that their loved ones get to celebrate like they always have. 
What about traditional Black Friday? 
reports that major sales days spanning Cyber Week (Thanksgiving - Cyber Monday) will continue to be significant (but smaller than in previous years) as consumers spread out their spending. But even though consumers are continuing to start their shopping earlier and earlier, don't expect Black Friday sales to disappear. For many people, shopping on Thanksgiving weekend is a long-held tradition they still savor. The NRF reports 45% of holiday shoppers say they are still likely to browse and buy in stores on Black Friday this year.  
Subscribe and receive the latest news from the industry.
Join 62,000+ members. Yes, it's completely free.
You May Also Like
Loading..