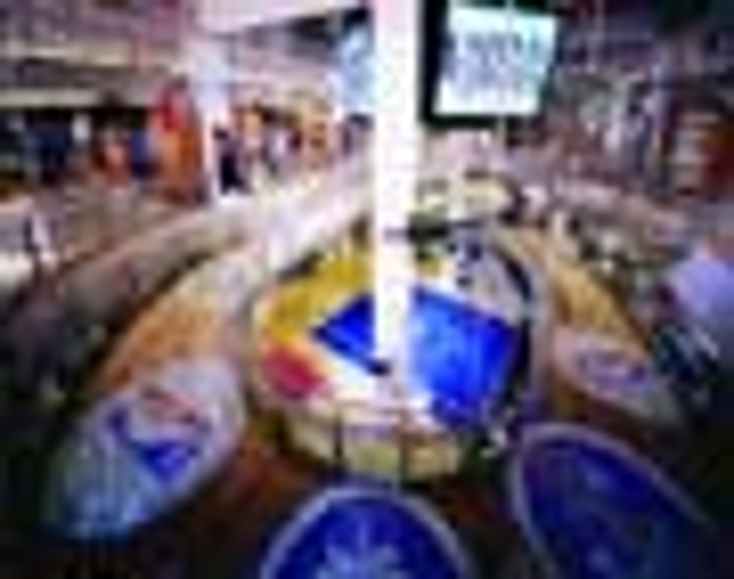 ]>Sue Meyer explains how to drive retail sales at The Art Institute of Chicago.
Organized in 1866 for the "artistic development of the community," The Art Institute of Chicago today is the Midwest's most beloved cultural icon. From ancient Chinese bronzes to the latest in contemporary art; from Bouts to Botticelli, Manet, Monet, and Seurat; from Egyptian Fayoum portraits to Andy Warhol's portrait of Chairman Mao; from Olmec statuary to O'Keefe's Southwestern scenes; from African wood carvings to Japanese screens and American Gothic, the institute displays some of the best art in the world. A day's visit to the comprehensive permanent collections is like a trip through the great civilizations of the globe. How could a museum shop be created to reflect such splendor? Sue Meyer, director of merchandising, provides the answer.
License!:
What is the mission of your merchandising within the institute's museum shop?
Sue Meyer:
The Art Institute's merchandising program develops and sources product,
bringing to our customers unique items created to further art appreciation. We accomplish this through product development based on the museum's permanent and exhibition collections. We source products from around the world to showcase the specialties of the wealth of cultures represented in the Art Institute. Our process (from concept through completion) is strict and requires that we maintain consistency between all sources and product categories, so we are certain to communicate a cohesive educational message. Our merchandise mix corresponds directly to the Art Institute's permanent collections. This means our developed product assortment represents work from all curatorial departments in the museum. Special exhibition collections offer us the chance to develop outside our four walls. For example, for our recent Van Gogh/Gaugin exhibition, more than 250 products representing 54 works of art and 50 product categories were invented.
L!:
What are some examples of your special merchandise?
Meyer:
The sunflower throw is one of my favorite examples. It incorporates flower designs from Van Gogh's "Sunflowers" and from Gaugin's "Caribbean Women." Die-cut notecards with textile, teapot, and vase motifs from our Departments of Textiles and European Decorative Arts are another new favorite. And our assortment of hand-carved alabaster objects from Luxor, Egypt, displays our talent for showcasing indigenous crafts. Alabaster has been very successful for us since our summer 2000 Pharaohs of the Sun exhibition. Our product assortment spans myriad categories, from souvenir pencils at 75 cents a piece to large pieces of furniture at more than $2,000 retail.
L!:
How is your retail space set up?
Meyer:
We currently have a main shop in the museum and a children's kiosk, a souvenir kiosk, an exhibition shop, as well as a flourishing catalog and our Website.
L!:
What classifications have been especially strong for you recently?
Meyer:
We continue to expand our home furnishings category because we have had an exceptionally strong response in that area. Specifically, wall art has been huge for us. This includes the product categories of canvas reproductions, wall screens, trivets, scrolls, and architectural fragments. Past successes include a canvas reproduction of Hans Hofmann's "The Golden Wall" and the Asian wall screen inspired by "Maize and Cockscomb," a screen in our Department of Asian Art. We also recently took control of the design, development, production, and distribution of our calendar program. Our 2003 calendar assortment was printed in Italy and illustrates works from all curatorial departments in the museum. We are offering wall, mini-wall, desk, engagement, and perpetual calendars.
L!:
How do you use licensing in product development?
Meyer:
Licensing remains an option in certain product categories: books, some soft goods. But, understanding the importance of maintaining our integrity in the marketplace, we carefully weigh each licensing opportunity. With an eye on market trends, enhancing the education and appreciation of the arts is central to our merchandising philosophy. This successful balance can only be achieved with a strong commitment to the concepts of quality and integrity. Sue Meyer has worked in retail merchandising and product development for more than 20 years. She began her career in the Executive Training Program of Federated Department Stores. She is currently director of merchandising for The Museum Shop of The Art Institute of Chicago, where she oversees merchandising, marketing, product development, and licensing.
Subscribe and receive the latest news from the industry.
Join 62,000+ members. Yes, it's completely free.
You May Also Like
Loading..