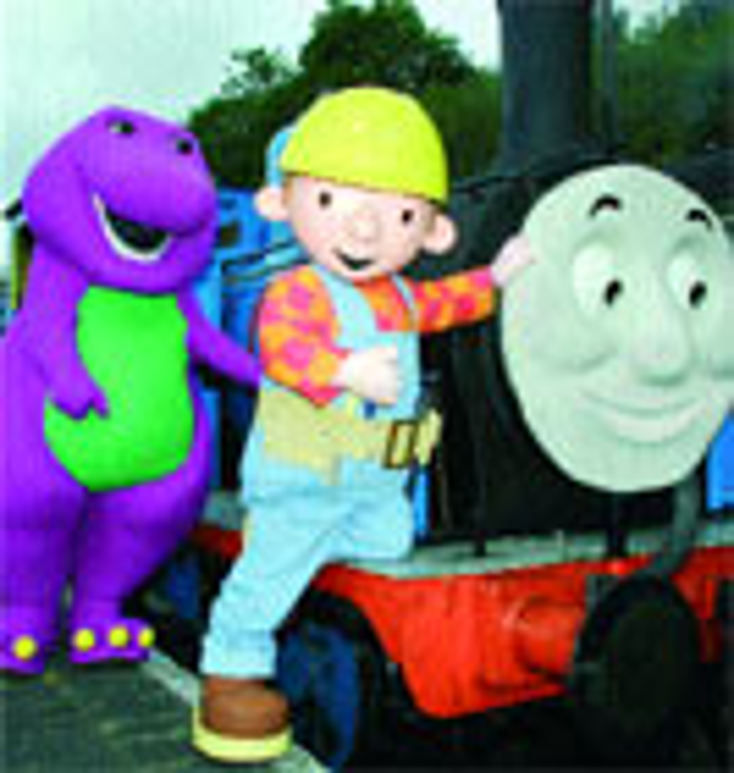 ]>Evergreen licenses, pop icons, kids' properties reshape the mix Back-to-school suppliers are finessing their mix of licensed-in properties, trying to balance tried-and-true brands with new ones that they hope become tomorrow's classics.
Music, tween, classic and newcomer properties will vie for retailer buyer attention at the School and Home Office Products Association Show at the Miami Beach (Fla.) Convention Center Nov. 14-16. Mead (Dayton, Ohio), for instance, takes pride in its classic properties for back-to-school items, and its trendier brands for calendars. "We'll have on full display in school products a breadth of licensors, including Disney, Warner Bros. and Nickelodeon," says Rick Mallow, Mead director of licensing. M&Ms is also an evergreen-like property at Mead that is propelling the basics business. Licensing agreements for the newly acquired Pen-Tab/Stuart Hall division are still being ironed out. Mead acquired the trademarks and one factory of its rival home/school/office
supplies maker in March. "Some of the licenses (held by Pen-Tab/Stuart Hall) have been picked up, but renegotiated," says Mallow.
Mead's calendar division - a trend driven business, he notes - is about to take on some stellar properties (deals were "in negotiations" at presstime). Mary-Kate and Ashley, handled by The Beanstalk Group (New York.); and artists Judy Buswell, handled by MHS Licensing (Minneapolis) are just a few of the possible new properties. This will mark Mead's second year as a calendar licensee for The Lord of the Rings, handled by New Line Cinema (New York). Other manufacturers that are sprinkling evergreens with up-and-coming properties include Zak and Plymouth. Zak (Spokane, Wash.), known as a resource for melamine dinnerware, tested lunch carriers last show and this year is devoting the booth to the business. Last November, Zak was equipped with just a few properties - Clifford The Big Red Dog (Scholastic), artist Jody Winger (ArtBrands Consumer Products) and cable TV show Crocodile Hunter (Discovery). The response from retailers, especially toward Clifford, gave Zak the confidence to open the category to new licenses. New properties for Zak's small but growing lunchkit sector include Disney's Princesses and Tinkerbell, Warner Bros.' (The Cartoon Network) Powerpuff Girls, Gullane's Thomas and Friends, Charles Schulz' Peanuts (handled by United Media), Saban's Power Rangers, DreamWorks' Spirit, and HIT Entertainment's Kipper. Soft-sided kits are $10.99 (SRP), hard-sided $7.99. Another new licensed category of note from Zak is coffee travel tumblers, designed for on-the-go java drinkers. They are making a splash at Target's automotive departments. The properties on board so far - Winnie the Pooh (Disney) and Powerpuff Girls, Tweety and Scooby-Doo (all Warner Bros.) - appeal to young kids and females, but coming in February is SpongeBob SquarePants (Nickelodeon). SRP: $4.99.
Floral-related licensors take note: Zak is shipping licensed planters to Target in December in a variety of sizes, with SRPs ranging from $4-$8. Properties so far: Mattel's Barbie, Scooby-Doo, Powerpuff Girls, and Disney's Princesses. It's all entertainment Accessory Network (New York), a mass market resource for backpacks and cold weather supplies (a Winnie the Pooh and Powerpuff Girls licensee), is digging deeper into kids brands. New properties for 2002 include Mattel's Diva Stars, stationery-rooted brand Lisa Frank (Tucson, Ariz.), TV characters Butt Ugly Martians (Just Licensing), SpongeBob SquarePants, and Power Rangers.
Supplies maker Plymouth, Inc. (Radford, Va.) has taken on movie properties like Jackie Chan Adventures and Men in Black 2 (both from Sony), plus The Lord of the Rings. It is similarly banking on the appeal of performers like Backstreet Boys (The Firm), *Nsync (Winterland), O-Town and separately Aaron Carter (both handled by Signatures Network) in addition to young hip hop star Lil Bow Wow (Bravado).
However, Plymouth is balancing its movie and music mix with auto brands. Not only has it added the untiring NASCAR and NASCAR driver properties empire, but also Exoticars like the Dodge Viper and Chrysler Crossfire.
In the schoolbag and backpacks realm, Pyramid Accessories, which has had the good fortune of supplying retailers with blockbuster properties like Backstreet, *Nsync and Britney Spears (Signatures Network), is peppering its brands portfolio with fashion and sporty-active labels.
Pyramid's new licenses include young men's denim resource Plugg (handled by Ingroup Licensing), footwear-rooted brand Pony (The Firm), edgy athletic competition brand Gravity Games (Primedia) and California lifestyle labels like Op (handled internally by the Irvine, Calif.-based surf-rooted company).
Since acquiring the Wheat Group (which held the Op license) more than a year ago, Pyramid is focused on supplying fashion-forward accessories (including headwear and luggage) for all ages of consumers. It is even targeting moms; the licensee is in negotiations with Mommy & Me (Los Angeles), a property geared to interactive fun play between babies and parents.
But make no mistake - Pyramid's musical interests are not disappearing anytime soon. Destiny's Child (Global Icons) and Dream (Bravado) are new; and Pyramid is working with retailer Musicland (a subsidiary of Best Buy) on an exclusive program for metal band Slipknot (handled by Winterland).
Expect supplies firm Norcom (Norcross, Va.) to re-enter the licensing game after a hiatus of a year or so. The former licensee for Pink Panther (MGM, Santa Monica), Yahoo! (Sunnyvale, Calif.) and MTV (New York) intends to "work with licensors with greater flexibility than ever before," says a spokesperson.
Tween properties on the hunt
On the licensor side, a few tween properties are just making their mark on accessories. Plymouth has taken on She's Charmed & Dangerous, handled domestically by Crank2 (New York). Pesky Meddling Girls, brokered by Warner Bros. Consumer Products (Burbank. Calif.) will be showing up on bag, stationery and room d???r made by Pyramid.
On the rise is new property Yo Girl!, a cartoony big-eyed character owned by EFX Marketing (Brooklyn, N.Y.) and targeted to tween-favored shops. Her licensees include back-to-school supplies maker Colorbok (Dexter, Mich.), backpacks and bags firm Skyhigh Int'l (a division of IMT, New York) and room d???r/personal care resource Prime Source Accessories (Eden Prairie, Minn.), among other partners.
EFX, a one time licensee to such brands as Mary Engelbreit, Save The Children and Precious Moments, for items like jewelry and accessories, decided to launch a proprietary icon and splashed her images on stationery products. Claire's Stores is one of its strongest retail supporters, says Ike Panigel, EFX president.
Necessary Objects (New York) a juniors'-serving fashion label in the mid-tier and department store level, has launched lean and luscious feminine cartoon characters as part of its new advertising campaign. The characters, Natalie and Olivia, will be used on packaging, and NO is seeking to license the girls out to makers of school supplies, day planners, calendars, cell phone cases, in addition to apparel and home goods.
Walter Foster (Laguna Hills, Calif.) the How-to-Draw book publisher and kit maker that for decades has been teaching America to draw everything from horses to Mickey Mouse, is opening its year-and-a-half-old calendar/diaries division to licensing. Dubbed My Chaotic Life, the journals enable users to track and keep opinions, details, event memorabilia and more.
My Chaotic Life would consider co-branding with an established girl-targeted property with established product distribution, says Ross Sarracino, CEO, Walter Foster Publishing.
Subscribe and receive the latest news from the industry.
Join 62,000+ members. Yes, it's completely free.
You May Also Like
Loading..