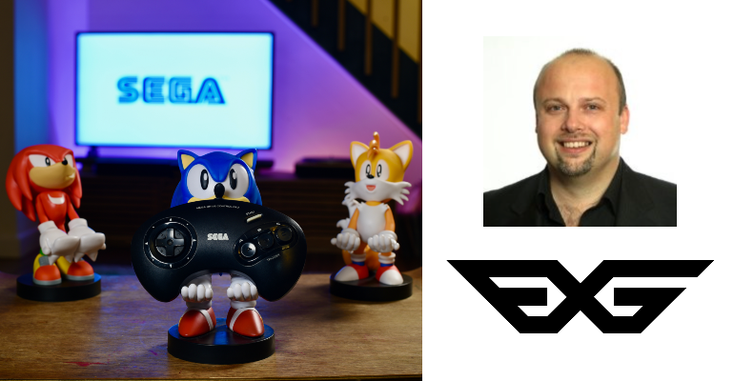 The Cable Guy is not your everyday collectible. But, whether it is propping up a charging gaming controller, holding your phone or a place to put fruit, EXGPro created a concept of adding value to collectibles by giving them a purpose – a purpose that fans took to immediately. Alan Fenwick, chief executive officer, co-founder, Exquisite Gaming Group, creators of The Cable Guy, speaks to 
License Global
 about creating fan-first products that serve both fans and function. 
License Global
: Where did The Cable Guy come from? Why is the core product design such a useful addition to everyday life?
Alan Fenwick:
 The original Eureka moment was a classic combination of insight, instinct, inspiration, and good fortune, followed by thinking that, "Surely someone else had already had this idea before, hadn't they?" 
Once we realized this was a brand-new solution to an issue we felt passionate about – building value-adding functionality to cool collectible products – you can probably imagine the period
of intense, frenzied activity that went into securing license rights, developing and manufacturing the approved products, opening and confirming distribution in Europe, U.S. and Australia and ensuring those first wonderful orders that enabled us to get the first collection on the shelf some ten months after we had first discussed the original idea. 
While we set out to create a product that would be a solution primarily for the gaming community ages 15 and up to hold and charge their gaming controllers, it was our fans who started to share all the extra everyday uses for their Cable Guys, from holding pens, beauty products to fruit and even other collectibles. However, the inspired fan who shared their gaming set up with us, where they were using their Cable Guy to hold their phone and watch the live twitch stream of the game they were playing online, that we had another wow moment. Engaging with fantastic content on a phone screen while being held by your favorite entertainment character was that (obvious with hindsight) light bulb moment that created yet more frantic activity as we expanded the licensing portfolio to include some of the worlds' best entertainment brands. 
We also consciously decided to focus on the Kidult demographic of age 15 and up that encompasses a wide collection of passionate communities from retro fans of gaming brands, attendees of Comic-Con events, hardcore gamers and, of course, all our fellow pop culture and movie fan chic geeks! 
What is your plan to take The Cable Guy idea further, as well as the Hero Mugs and more?
2020 was a huge year for us. Not only did we double the portfolio of brands under license, but we also submitted our first worldwide patent on our R.E.S.T holding system. This has allowed us to complement the stylized full-figure design of Cable Guys with highly detailed character models. In addition, because the phone and controller are being held securely by the rotating R.E.S.T system, we can expand storytelling with the character pose. This has opened a brand-new fan base and, in 2021, we will have lots of additional new product solutions that expand The Cable Guy brand further, including a new range of accessories that are great on their own. Still, the experience is enhanced when being held by our Cable Guys. 
2021 is already a momentous year for us. At the start of the year, we hit more than $100 million in total global retail sales; I feel immensely proud of the team in how far we have come in just our fourth year and humbled by the continued support of fans, retailers and licensors. 
Alongside our Cable Guys, we have been busy developing some brand-new product categories that we feel could be as big a breakout with fans and at retail as Cable Guys have been, so we can't wait to announce these products later this year. 
What do you see happening in the fan space across the next five years? How does that impact the consumer market?
Fan power and their engagement with brands have never been higher. I am not sure who, five years ago would have predicted the growth and cultural impact of social media, platforms for content that has transformed some fans into talent and brands of their very own who themselves are being followed by millions of passionate fans, some of whom will be inspired to be the next potential breakout brand over the next five years. 
The continuing rise of esports and streamers of gaming content with billions of hours of audience views has also created powerful and engaging influencers who have developed their breakout brands that companies such as us like working with. 
Streaming platforms have not only changed the way we consume content, but with shows like "The Mandalorian" on Disney+, we see the power of passionate fans who are themselves also filmmakers create and expanded familiar and much-loved worlds in brand new ways and in doing so create breakout stars with characters such as The Child. This fan-inspired and engaged ecosystem will continue to create new opportunities for many years to come. 
Alongside this will be the huge social, political, and environmental demands that we as consumers and fans in our own right will not just request but expect from all consumer product companies over the next five years. Adopting new sustainable product materials, recycled packaging, sustainable and socially responsible and transparent supply chains will be the bare minimum requirements alongside more inclusive character product collections. So it's going to be an exciting five years for us all. 
Subscribe and receive the latest news from the industry.
Join 62,000+ members. Yes, it's completely free.
You May Also Like
Loading..