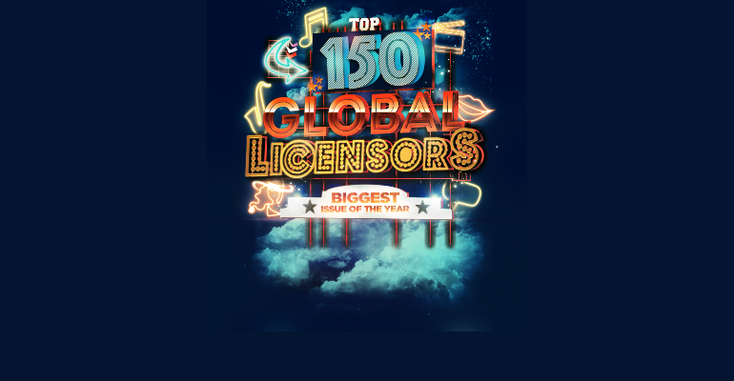 1. IMG
TIM ROTHWELL, EVP/CO-MANAGING DIRECTOR, WORLDWIDE LICENSING, +1.424.653.1660; BRUNO MAGLIONE, EVP/CO-MANAGING DIRECTOR, WORLDWIDE LICENSING, +44 (0) 208 233 6668; PAT BATTLE, SENIOR CORPORATE VP, IMG COLLEGE, +1.770.956.0520
$7B (PRIVATE)
Key licensing properties include top five colleges (Alabama, LSU, Georgia, Florida and Texas); 200 colleges and universities, conferences, bowls, the NCAA, the Heisman Trophy, NCAA Tournament of Roses, BCS, Southern Eastern Conference (SEC); Oxford, Wimbledon, Arnold Palmer, The PGA Tour, Ryder Cup, The Open, Rugby World Cup, Ferrari, EA Sports, X Games, LA Gear, Manchester United, Italian National Soccer Team, Juventus, FCB, Chevron/Texaco/Caltex, GNC Live Well, Chicken Soup for the Soul, Casa Cristina, Canadian Football League, Canadian Hockey League, Churchill Downs, Goodyear, Petty, Pele, Royal Navy, AAA, LeMans, Vuarnet, 24 Hour Fitness, Vail Resorts, Gotcha and World Series of Poker. Key focus for 2010 involves expanding global partnerships with brands, manufacturers and retailers in all categories of business and maximizing retail exposure for clients with market-right strategies.
2. EQUITY MANAGEMENT
$5.2B
(PRIVATE)
GLEN KONKLE, CEO, +1.858.558.2500
In 2009, EMI maintained its singular dedication to licensing corporate trademarks. EMI's roster of clients includes General Motors, General Electric, Kawasaki, The Goodyear Tire and Rubber Company, Hefty, French's, Frank's RedHot, Dial, American Airlines, Lockheed Martin, Nissan Motor Company, Whirlpool/Maytag and La-Z-Boy. Also in 2009, EMI was successful in developing many new brand extension licensed businesses that quickly gained traction at retail and are expected to deliver substantial growth in 2010. These strategic, equity-enhancing licensed products represent a wide range of consumer product categories from pet carriers for American Airlines to trash cans for Hefty to auto accessories for the new Chevrolet Camaro. EMI is already developing and selling many additional brand extension licenses for 2010, particularly in the consumer package goods market. EMI will focus its strategic efforts on these brand extension opportunities in addition to brand advancement licensing within the home décor, automotive accessories, software, apparel, gift and novelty and toy categories.
3. LEVERAGED MARKETING CORPORATION OF AMERICA
$4.95B (PRIVATE)
ALLAN FELDMAN, CEO, +1.212.265.7474 X202
Key properties include AgfaPhoto ($200M); Black Flag ($65M); Eastman Kodak ($250M); Frigidaire ($850M); Mack Trucks ($60M); Melitta ($150M); Roto-Rooter ($75M); Westinghouse ($800M) and Winchester ($300M). Other brands ($225M) include American Dental Association, Easter Seals, Heifer International, New York Philharminic, RedWing, San Diego Zoo and United Airlines. Growth for 2010 will come largely from international expansion and entry into new categories. Distribution is varied across different client brands and categories. Retail partnerships and/or DTR will represent a growing portion of overall sales, but in 2010 it will still occupy less than a 15 percent share of the total.
4. THE BEANSTALK GROUP
$2.2B (PUBLIC)
MICHAEL STONE, PRESIDENT, +1.212.421.6060
The Beanstalk Group develops and manages licensing programs for corporate clients such as Ford Motor, AT&T, The Stanley Works, Purina, HGTV, Harley-Davidson, Jaguar, Land Rover and the U.S. Army, as well as celebrity clients such as Paris Hilton, Salma Hayek and Mary-Kate and Ashley. In 2009, growth was driven by the success of innovative licensing programs for several key clients, as well as international expansion and the addition of new service offerings. The Ford licensing program optimized its 300 licensees across multiple categories while also adding new licensee partners in toys and collectibles, interactive, apparel and personal accessories, among others. The program also grew internationally with the establishment of a Beanstalk Hong Kong office, as well as relationships with new partners in Latin America, Europe and Australia. The Stanley licensing program expanded its retail placement with licensees gaining shelf space in major hardware and club accounts. In addition, the Stanley licensing program added several new licensees in the U.S. and abroad in categories, including 12-volt auto accessories, lighting, outdoor power equipment, wet/dry vacuums, tapes and adhesive, and pool cleaning accessories in the U.S., as well as performance apparel, toys, work lights and power accessories in Europe. Purina announced the launch of a comprehensive line of dog and cat accessories, including innovative toys and feeding accessories, reversible beds, stain and odor products and shampoos. The Purina Pet Gear line is designed to help stimulate, relax, clean and entertain pets. The AT&T licensing program enjoyed continued success with the launch of a new range of corded and cordless telephones from licensee VTech to strategically complement the brand's existing telecommunications services. The program is also growing internationally, as licensee VTech secured distribution in Latin America, South Africa, Australia and China. The Jaguar licensing program grew internationally with the launch of the first Jaguar lifestyle store opening in Shanghai, featuring products across all major categories, as well as the addition of more than 70 Jaguar stand-alone retail spaces, shop-in-shops and concession stores across China, featuring a luxury leather goods collection. The Jack Daniel's European licensing program continued its strong performance with licensee Baxter extending European distribution of its award-winning barbecue sauces, the launch of liqueur chocolate bars and fudge by Goldkenn, and the expansion of giftware by Poolebeck and apparel by Bravado. The Vespa licensing program celebrated the introduction of the first global Adidas Originals collection of footwear and apparel. This innovative collaboration represents the first major step toward developing Vespa into a leading global lifestyle brand. Building upon this momentum, Beanstalk expanded its global reach with the opening of a Hong Kong office, under the direction of Josephine Law, as well as strategic commercial representation agreements with a partner in India and two partners in Latin America. In 2010, Beanstalk will focus on developing licensing programs for recent clients, including HGTV, Airheads, Lee Cooper and Janet Reger, as well as coordinating the introduction of innovative product launches for many long-standing clients, including Mustang, U.S. Army, Jaguar, Land Rover, P&G's Pampers and Max Factor brands and Paris Hilton, among others. Beanstalk is working with HGTV to extend its on-air and online experience to licensed products. The first product introduction was in January 2010 with the launch of a new collection of eco-friendly mattresses, HGTV Green Home Collection by Serta. Airheads, the fruit-flavored taffy bars, will expand into related food and lifestyle products. Owned by Perfetti Van Melle, the third-largest confectionery manufacturer in the world, the Airheads licensing program will leverage the candy's unique flavor profile, iconic logo and bold graphics. Beanstalk will continue to build the Paris Hilton licensing program worldwide with the introduction of a lingerie and beachwear collection, fashion bedding, scrapbooking and DIY craft kits.
5. THE LICENSING COMPANY GROUP
$2.78B (PRIVATE)
ANGELA FARRUGIA, MANAGING DIRECTOR, +1.212.413.0880
TLC's key properties include Coca-Cola, National Trust, Jelly Belly, Reckitt Benckiser and Welch's, which all contributed to continued growth in 2009. Key inititiaves in 2010 will focus on the new partnership with Iconix JV in Europe, food and beverage brands and a strong entertainment portfolio. Key retail partners include Walmart, Kroger, Publix, Tesco, Sainsbury's, ASDA, Carrefour, and speciality retailers worldwide.
6. UNITED MEDIA
$2.1B (PUBLIC)
JOSHUA KISLEVITZ, SVP DOMESTIC LICENSING, +1.212-293-8522; SHAWN LAWSON-CUMMINGS, SVP INTERNATIONAL LICENSING, +1.212-293-8521
As Peanuts continues to enjoy worldwide success, United Media's classic brand is resonating with a number of target demographic groups and key retailers. The Fancy Nancy program continues to build momentum fueled by HarperCollins publishing success, which includes more than 10 million books sold to date. UM's relationship with long-time partner Hallmark continues to thrive with close to 30 licensees on board for Rainbow Brite, hoops&yoyo and Maxine. Playmates' Rainbow Brite dolls and toys are gaining traction and continue to have retro appeal while hoops&yoyo just unveiled a new iPhone app. UM recently added several new brands to its licensing portfolio, including Poptropica, from Family Education Network, the Web's largest virtual world for kids, which has attracted 38 million unique visitors since its debut in September 2007; Pet Project, the hip art-inspired brand from Changes Apparel, is gaining momentum at retail; Ed Emberley, the classic design look that has spent a lifetime teaching children how to draw, will be inspiring a lifestyle brand; and the first licensing program is now under way for the bedtime story Goodnight Moon from HarperCollins children's books.
7. COPYRIGHT PROMOTIONS LICENSING GROUP (COOKIE JAR)
$1.8 (PRIVATE)
KATARINA DIETRICH, CEO, +44 20 856 361 66
In 2009, Strawberry Shortcake was a key property and will continue to be so in 2010 as the brand celebrates its 30th anniversary. Cookie Jar Entertainment's evergreen Caillou also continues to be a major property with successful retail sales throughout North America and Iberia. WWE continued to grow with a major presence at retail outlets throughout Europe as did 20th Century Fox's The Simpsons, which celebrated its 20th anniversary and is currently one of the most successful and longest-running animation evergreen properties in the market. CPLG will continue to drive growth globally with classic properties, major films, sports and design brands, including Caillou, Strawberry Shortcake, Harlem Globetrotters and It's Happy Bunny. Following the successful release of Avatar, this movie will be a focus for CPLG and Fox in 2010. Licensees have been quick to sign up to be part of the movie's success, with deals already secured in bedding, homeware, apparel and accessories across Europe. This will be a long-term merchandising program covering all product categories. CPLG will also be kicking off a year-long series of events celebrating Peanuts' 60th anniversary in 2010 demonstrating its timeless appeal. CPLG will be working with its licensees and retailers to develop a wide range of birthday promotions and products. The Ladies of Springfield is Fox's latest addition to The Simpsons program; a sub-brand solely focusing on the female characters each positioned for a different target audience with Marge aimed at women and Maggie and Lisa for the teen/tween market. Existing licensees are also incorporating the new artwork into their current lines to increase the female product category further. How to Train your Dragon and Shrek Forever After are two more widely anticipated properties from Dreamworks Studio. A full merchandising program will be released for the final Shrek movie in this successful franchise. There will also be continued growth with WWE as the TV series and live shows gain popularity and the huge appetite for merchandise shown by the fan base looks to also increase. With the interest in soccer mounting as England prepares for the World Cup 2010, the England FA license will continue to expand. CPLG works closely with retailers on an international and local level to raise awareness of brands, merchandise and promotional programs. Direct-to-retail deals continues to remain an important focus.
8. THE JOESTER LORIA GROUP
$1.8B (PRIVATE) DEBRA JOESTER, PRESIDENT; JOANNE LORIA, EVP, +1.212.683.5150
Joester Loria's key properties include Jeep, Chrysler, Discovery Channel, Animal Planet, Planet Green, Planet Earth, Pepsi, Moutain Dew, Aquafina, AMP energy drink, Entenmann's, Baby Genius and Pinkalicious. Key initiatives include expanding Jeep consumer products worldwide. More than 600 shop-in-shops and 105 freestanding stores drive international growth, while apparel, footwear, luggage and juvenile products are key growth categories worldwide. Animal Planet pet products and lifestyle products for children and adults were successfully introduced in 2009, augmenting existing programs, including a DTR deal with TRU featuring a 12-foot section. Discovery Channel programs launched in 2009 are positioned for significant growth in 2010. Discovery Adventures, the adventure travel license launches with trips to 31 destinations and early bookings are strong. Meanwhile, Discovery Expedition, the network's official lifestyle brand will expand from gift and gear to apparel, accessories and other categories. A focus on mobile games and interactive will feature more than a dozen new titles in 2010 for various clients with a focus on Discovery Channel's top series and Animal Planet. Baby Genius expands into multiple categories, leveraging the successful launch of a 7-foot toy section in Walmart stores last fall, along with the ongoing success of entertainment and DVDs. Pinkalicious, a top-selling book franchise for HarperCollins, officially launches in national chains, including Walmart, with a number of categories including toys (Jakks), apparel, accessories and home textiles. A new interactive Web site, advertising support and a spring 2010 Burger King promotion will further promote the brand in 2010. At Babies"R"Us, two Jeep juvenile product promotions in 2009 included in store demos, front of store displays, email blasts and circulars, resulting in significant sales increases and the addition of new product. At TRU a new collection of Animal Planet toys were launched in new packaging, supported by both TRU and Animal Planet with aggressive marketing support. Baby Genius launched 7-foot sections in Walmart. At PetSmart, Animal Planet launched pet toys and related product in all stores with a 5-foot section. JCPenney and Kohl's were key retailers for Discovery Expedition gift and gear. Bed Bath and Beyond launched Animal Planet pet beds and pet blankets. Edgar's (South Africa), Liverpool and Sears (Mexico), Parkson & Sogo (China), Takeshimaya (Singapore), and Lotte & Hyundai (Korea) are some of the international department store chains with in-store Jeep boutiques.
9. BRAND SENSE PARTNERS
$1.3B (PRIVATE)
RAMEZ TOUBASSY, PRESIDENT, +1.310.867.7222
BSP's key properties include Armor All, Bravo, Britney Spears, Chuck Norris, Dodge, Halle Berry, Kingsford, Marlon Brando, MGM, Shabby Chic, Shape Magazine, Sheryl Crow, Smart Balance, STP, Syfy Channel and Travel Channel. BSP is expanding its client roster across licensor product categories with a special focus on food and beverage, fashion, housewares, home furnishings and green products. BSP, which acquired the Shabby Chic brand in 2009 and has been responsible for managing the brand's direct-to-retail program with Target, has high-level relationships with retailers in all distribution channels.
10. BRAND CENTRAL
$1.1B (PRIVATE)
ROSS MISHER, CEO, +1.310.268.1231
Brand Central provides comprehensive business solutions in the areas of brand extensions, brand creation and brand acquisitions to some of the world's most recognized brands. With leading consumer packaged goods company Kellogg's, powerhouse beverage company Dr Pepper Snapple Group, NECCO Sweethearts, as well as HIT entertainment's Barney, Bob the Builder and Thomas & Friends for packaged goods, Brand Central has become a destination for food and beverage licensing. Brand Central is also a dominant force in the fitness and wellness arena representing yoga brand Gaiam and personal health and wellness guru, Dr. Andrew Weil. On behalf of The Jarden Corporation, Brand Central represents many recognized brands, including Coleman, K2, ExOfficio, Marmot, Rawlings, Abu Garcia, Berkley, Shakespeare, Sevylor, Volkl, Ball, Bee, Bicycle, Diamond, Loew-Cornell and Pine Mountain. The agency also represents entertainment clients, including Quincy Jones and Mark Burnett Productions, home of game show Are You Smarter Than a 5th Grader. With Brand Central's portfolio of iconic brands, the agency is positioned for growth in 2010. An entire licensing program including apparel, sporting goods and industrial products will accelerate Jarden Outdoor Solutions brands such as Coleman, Rawlings, and Pure Fishing. For Kellogg's, Brand Central has expanded its current licensing program into new categories, including a multi-brand cookbook program, interactive cooking kits for families and several new apparel licensees including a successful program at Old Navy. Brand Central has extended its client Dr. Andrew Weil into the infant-feeding market with the launch of Weil Baby, a revolutionary collection of BPA-free baby feeding products, which had a successful launch at Babies"R"Us and is expanding its distribution in 2010. The popularity of Are You Smarter Than a 5th Grader intensified as a new syndicated version of the show was developed which has expanded and re-energized the merchandise program. In 2009, Brand Central had several accomplishments with retail partners and licensing programs across numerous sectors. Kellogg will now reach broader distribution channels from Walmart and Target to Old Navy and Urban Outfitters, activity and role play kits at retailers such as Michaels and Bed Bath & Beyond, an expanded collection of housewares products including kitchen appliances and food dispensers, health and beauty products at Claire's, JCPenney and Sears. Weil Baby had a successful launch at Babies"R" Us and is expanding its distribution in 2010; Weil by Vita Foods, a premier line of seafood entrees, will launch at major retail chains. Are You Smarter Than a 5th Grader continues to thrive with the addition of new product, titles and editions sold at major retailers. including Walmart, Target, Kmart, Toys"R"Us, Best Buy and many others.
11. GLOBAL ICONS
$1B (PRIVATE)
JEFF LOTMAN, CEO; MIKE GARD, COO; BILL MCCLINTON, SVP OF LICENSING, +1.310.820.5300
Sweetening up the industry in 2009, Cold Stone Creamery further diversified its licensing program into new product categories with the debut of the toy ice cream-making machine, part of Think Wow Toys' EZ-2 Make! line, and the Scoop It Up interactive Wii game by Zoo Games. Products launched in fall '09 at most major retailers and are continuing on shelf through 2010. In addition, the Cold Stone Creamery truffles by Chocolates Turin continue to be the No. 1 premium box chocolate at retail. Kids food-making products included EZ-2 Make! with the introduction of the Chuck E. Cheese's Pizza Maker and the Mrs. Fields Cookie Maker, which sold at major retailers such as Toys"R"Us, Kmart and CVS. The agency began the rollout of a multi-phase consumer electronics line under Hershey's brands for digital cameras, earphones and USB drives launched in spring '09 at mass and specialty including Best Buy. Duraflame also introduced in 2009 the first electric fireplaces and heating appliances, which successfully launched in home improvement, club and various drug and grocery retailers. For 2010, Global Icons will leverage "brand-fit" licensing partnerships in the food and beverage categories and increase brand penetration through the launch of new food-related product innovations. For instance, Cold Stone Creamery and Vita Specialty Foods will introduce a line of dessert toppings inspired by its Signature Creations flavors. Crock-Pot's ready-to-serve refrigerated meals by Harris Food Group will launch in Q1 of 2010 in supermarkets. Interactive gaming will continue to play a key role in kids' entertainment products with the new Chuck E. Cheese's interactive games by UFO Interactive for multiple platforms scheduled to launch in spring/summer 2010 and Build-A-Bear Workshop's third edition to its series of interactive games for DS and Wii. Also in development is a line of Sunbeam-branded garment care products, including steamers, presses, mini sewing machines and garment brushes that is expected to hit shelves in 2010. For Honda, the first series of Honda Motorcycle safety helmets by HJC America will launch. Global Icons has recently partnered with several new category leaders in food and beverage, including Dannon, Horizon, Silk, Bennigan's and Captain Morgan and will strategically develop and manage the food licensing programs for these brands. For 2010 and beyond, Global Icons will assess opportunities based on retail channels, individual retailer needs and market demands to create account-specific programs to help drive sales performance and growth. Supermarkets, clubs and mass retailers carrying food products will continue to be a strategic focus with the addition of new food brands.
12. IMC LICENSING
$750M (PRIVATE) CARA K. BERNOSKY, PRESIDENT, CO-FOUNDER, +1.502.589.7655
In 2009, key properties driving retail sales included Life Savers, Crystal Light, A.1., Borghese, Valvoline and Chiquita. In addition to the brands that performed strongly in 2009, IMC expects its investment in cultivating relationships with manufacturers and retailers across a wide spectrum of product categories over the past several years to continue to grow. Key retail partners include Walmart, Kroger, Costco, CVS, Giant Eagle and Publix.
13. MODA LICENSING
$595M (PRIVATE)
(FORMERLY MODA INTERNATIONAL MARKETING) MICHELLE ALFANDARI, PRESIDENT AND CEO, +1.212.687.7640
In 2009, MODA added several clients to its roster including UNICEF and Lighthouse International. MODA's client list includes The New York Times; Lycra (Invista); Boll, Bushnell, Hoppes and Tasco (Bushnell Outdoor Products); Greenfield Village, The Henry Ford (The Henry Ford); The National Trust for Historic Preservation and Design In America; Le Tour de France and Dakar (ASO); America's VetDogs, The Veteran's K-9 Corps and Sgt. Vetdogs; Advent, Acoustic Research, Audiovox, Jensen and Terk (Audiovox Corporation); Unipal Corrugated Pallets; and Prism Industries. MODA successfully executed several licensed brand extensions across multiple product categories and distribution channels in 2009. They include Le Tour de France: Cycle Force Group in conjunction with Messingschlager bicycles, parts and accessories; DeFeet International: performance athletic socks and arm coverings; Suntech Optics: sunglasses in North America; Paintbox Press: pop-up book; Dearborn Sausage Company, meat products in U.S.; National Trust for Historic Preservation: expansion of moulding from Empire Company in Lowe's home centers; The New York Times: Global Wine Company and The New York Times Wine Club; Signature Gift Ltd., themed personalized books, reproductions of single pages and personalized diaries, calendars; Retrographics Publishing, newspaper compilations, themed non-personalized books, reproductions of single pages and more; NYS Collections reading glasses; new airport stores in Providence, Atlanta, and West Palm Beach, from licensee Paradies; electronic handheld toys and games from Franklin Electronic Publishers; and Jakks Pacific game pencil.
14. 4KIDS ENTERTAINMENT
$524M (PUBLIC)
AL KAHN, CHAIRMAN AND CEO; CARLIN WEST, EVP, ACQUISITIONS & NEW CONCEPT DEVELOPMENT; ROZ NOWICKI, EVP, MARKETING AND LICENSING; SANDRA VAUTHIER-CELLIER, MANAGING DIRECTOR, EMEA, +1.212.758.7666
In 2009, the licensing business for 4Kids Entertainment was led by Yu-Gi-Oh! 5D's, the third iteration of the popular franchise (that began airing six times a week in fall 2009 on Cartoon Network in the U.S.), along with the original Yu-Gi-Oh! series (airing back-to-back Saturday mornings on TheCW4Kids). As the Yu-Gi-Oh! brand approaches its 10th anniversary, major celebratory activities are planned, including a theatrical film, new TV series and live events. Dinosaur King has proven to be a ratings winner in Europe and a leading series in the U.K. and France among other countries, with toys from Playmates and trading cards from Upper Deck fueling the retail success. In 2009, the Teenage Mutant Ninja Turtles franchise was sold to Viacom/Nickelodeon. In 2010, 4Kids projects a year of growth with new brands, including Quints, a toy phenomenon in the early 1990s; top-rated PBS series WordWorld, which will kick off its fourth year; and Dos y Dos, a Spanish/English bilingual preschool series. With a renewed merchandising direction, 4Kids is focusing on developing a new toy line for WordWorld and optimizing its proven strength in empowering preschoolers to get ready to read, with resources funded by the U.S. Department of Education. 4Kids continues to support its portfolio brands, including Chaotic, Jim Henson Designs, Jim Henson's Pajanimals, Rollbots, Karito Kids and Artlist Collection's: The Dog, The Cat, and The Pig properties. The company's non-kids 4Sight Licensing portfolio includes American Kennel Club and Cat Fanciers' Association. In 2009, 4Sight won representation of the U.K.'s The Kennel Club and Crufts dog shows through its London office. 4Kids Entertainment continues to support many of these brands through TheCW4Kids, its five-hour children's television program block, Saturday mornings on The CW Television Network.
15. BRAND LICENSING TEAM
$500M (PRIVATE)
CINDY BIRDSONG, JOHN SHERO, MANAGING PARTNERS, +1.678.324.3270
BLT's key properties are Coca-Cola and Chick-fil-A. Coca-Cola continues its strategic focus on key lifestyle statements with apparel/accessories, tabletop/home, social occasions and a holiday category focus, plus a collection of reclaimed and repurposed merchandise stories, as well as core legacy products. The launch of the Chick-fil-A program focuses on the iconic Eat Mor Chikin cows and core brand logo. Key drivers of growth will be plush, toys and games, apparel and accessories, tabletop and entertaining and the holiday category. The largest distribution is at mass with Walmart and Target with products also available in broad number of specialty retailers, mid-tier department stores, drug and grocery.
16. GLOBAL BRANDS GROUP
$425M (PRIVATE)
MARK MATHENY, CEO, CO-CHAIRMAN, +65 6622 8100
The 2010 FIFA World Cup product licensing program has been rolled out globally, covering key soccer markets such as Europe, Latin America, North America, Asia Pacific, and most significantly South Africa, the host nation. An extensive network of licensees and distributors has been established to launch event merchandise ranges for the much-anticipated 2010 FIFA World Cup. 2010 FIFA World Cup Official Event Stores are mushrooming worldwide as kick off to the world's largest single sporting event on June 11. Key retail initiatives in 2010 include the collaboration with Walmart stores in 15 countries with a projected store count of more than 1,000 doors, offering exclusive FIFA World Cup official licensed products and in-store promotions targeted to drive sales of the products. More than 4,000 retail locations have been secured worldwide for 2010 FIFA World Cup Official Event Stores and corners. Fans may also make purchases of official products in stadiums across South Africa during the event period and at FIFA-organized fanfest activities in nine domestic and six international host cities.
17. BRADFORD LICENSING
$411M (PRIVATE)
MICHELLE MINIERI, PRESIDENT, +1.973.509.0200
Key licensing properties that drove retail sales in 2009 were Pepsi-Cola, 7Up, Mountain Dew, Marilyn Monroe by Sam Shaw, Happy House, Beverly Hills and Aspen. Plans for 2010 include the creation and management of two new licensing programs: one based on a tween television show, The Wannabes, starring Savvy, and one based on the lifestyle of celebrity Denise Richards. A new Marilyn by Sam Shaw style guide will be introduced for the Shaw Family Archives licensing program, to be highlighted at the upcoming Licensing Expo. Plans also call for the significant expansion of Pepsi fashion apparel and footwear in Latin America and South Korea; growth of Happy House back-to-school ranges in South America; and continued success of Marilyn by Sam Shaw imagery on apparel and accessories ranges around the world. Key retail partners in 2009 were exclusive Pepsi standalone shops, Bradford Licensing's brands retail across channels, including mass, mid-tier, specialty and high-end retailers. Specific partners are Carrefour, H&M, C&A, Daslu, Top Shop, Zara, Urban Outfitters and Nu Look. 2010 growth will be fueled by mass retailers, continued expansion of the exclusive Pepsi standalone shops and Shoerepublic shops throughout South Korea.
18. BRAVADO
(UNIVERSAL MUSIC GROUP)
$388M (PUBLIC) TOM BENNETT, CEO, +1.212.445.3435
This music merchandising company has had a busy year adding several new and iconic artists to its roster. One of its biggest deals was with the estate of Michael Jackson in which gave Bravado the exclusive rights to the pop king. In addition, Bravado signed The Rolling Stones as well as newcomer Susan Boyle, the winner of Britain's Got Talent who recently released her first album, I Dreamed a Dream.
Bravado also recently signed superstar artists Rihanna, Mariah Carey, Alicia Keys and Whitney Houston to create merchandise in support of their recent album releases and concert tours.
19. BRANDGENUITY
$360M (PRIVATE)
ANDREW TOPKINS, PARTNER, +1. 212.925.0730
In the third year of Food Network's and Bobby Flay-branded housewares exclusive at Kohl's, the program expanded to more than 700 products across multiple categories. Game developer, NAMCO launched the highly acclaimed Wii game Food Network: Cook or be Cooked and Jakks Pacific launched the Ace of Cakes edition of the Girl Gourmet Cupcake Maker, one of the holiday season's popular gifts. The World Poker Tour licensing program boasted another strong year thanks to mobile extension, WPT Mobile from Hands-On Mobile. Cadbury Adams licensing grew behind Frankford's line of seasonal candies (candy canes and jelly beans) and an apparel program supporting Bubblicious and Sour Patch. Atari made its mark with approximately 20 licensees in hard goods and soft goods from barware to apparel and from surfboards to scratch-off lottery tickets. Atari products are for sale in both specialty and mass retailers and leverage the famous Atari mark and iconic games, including Asteroids, Pong and Breakout. Pabst Brewing Company, the agency's newest client, is the owner of more than 74 famous beer marks from Schaefer to Schlitz to Old Milwaukee, Lone Star and Colt 45. Apparel programs for these brands will launch in 2010 at several national retailers. In 2009, Brandgenuity worked with licensee Sakar to introduce the award-winning LeapFrog digital camera and Kiddieland enjoyed continued success with LeapFrog ride-ons. In 2010, look for Food Network-branded cruises and land tours from Signature Travel Networks. Andrews McMeel will launch recipe-rich calendars and new licensing expansions are planned in the concessions and food and wine arenas. Brandgenuity will also announce new licensing deals for Church & Dwight brands, Arm & Hammer, OxiClean and Orange Glo. Pabst Brewing Company will expand further into apparel and apparel accessories, home, gifts and collectibles. The agency will continue to explore licenses for MGM classic brands Pink Panther, Stargate and Robocop and also support new releases, including Cabin in the Woods by Joss Whedon and Hot Tub Time Machine. Brandgenuity also announced two new client relationships, including The Really Useful Group, a holding company for the shows and properties of Sir Andrew Lloyd Weber, including the most successful Broadway show of all time, The Phantom of the Opera and its soon-to-debut sequel, Love Never Dies. Key retail partners that will continue to drive growth in 2010 are Kohl's, Walmart, Target, Sam's Club, Costco, TRU,
Amazon.com
Best Buy, Gamestop, Toys"R"Us, Kmart, Meijer, Shopko, Albertson's, AC Moore, Hot Topic, Urban Outfitters, Spencer Gifts, Sears, JCPenney and Hastings.
20. CKX
$328.3M (PUBLIC)
ROBERT F.X. SILLERMAN, CHAIRMAN AND CEO; ROBERT DODDS, CEO OF 19 ENTERTAINMENT LIMITED; JACK SODEN CEO OF ELVIS PRESLEY ENTERPRISES
CKx portfoilio includes Elvis Presley and the operations of Graceland, Muhammad Ali and proprietary rights to the Idols television brand, including the American Idol series in the U.S. and local adaptations of the Idols television show format, which air in more than 100 countries around the world.
21. CREATIVE ARTISTS AGENCY
$300M (PRIVATE)
MIKE STEIN, LICENSING AGENT, +1.424.288.2000
CAA's key personalities include Alyssa Milano, Cindy Crawford, Danny Seo, Derek Jeter, Dr. Robert Rey, Duff Goldman, Eva Mendes, Jillian Michaels, Sarah Jessica Parker, Sidney Crosby, Tapout and Gears of War 2 and Brutal Legend (interactive). CAA Licensing is developing new product initiatives for clients across all departments of the agency, including music artists, actors, television personalities, lifestyle experts, and athletes. A select list includes Sundance (food and beverage); Greg Norman (eyewear, watches and HBA); Billy Blanks (fitness products); Patricia Heaton (jewelry and home); Jimmie Johnson (footwear and HBA); Sherri Shepherd (wigs and alternative hair accessories); Gears of War 3 (all categories); and Crysis 2 (all categories). Key partners include Walmart: Jillian Michaels (exclusive protein powder) and Tony Hawk (exclusive teen vitamin program); JCPenney: Cindy Crawford Style (exclusive home) and Danny Seo (global green ambassador); Sears: Dr. Rey (shapewear); Nordstrom: Dr. Rey (health and beauty); Macy's: Eva Mendes (exclusive home); QVC: Jillian Michaels; HSN: Danny Seo (mattresses); Duff Goldman (bakeware); Dr. Rey (health and beauty, shapewear); Avon: Derek Jeter (fragrance).
22. NANCY BAILEY & ASSOCIATES
$225M (PRIVATE)
NELL RONEY, PRESIDENT, +1.678.352.1000
Nancy Bailey's key properties include Mr. Clean, Scope, Febreze, Cover Girl, Tide, Crayola, Pennzoil, Quaker State, Travelocity, 9 Lives, Hostess, Wonder Bread and USA Today. As the economy improves, more companies will be making quicker decisions and making more deals. Restaurant brand licensing in grocery stores continues to grow. Current brand extension programs must continue to deliver point-of-difference and price/value to maintain retail space and to compete with private label. Many programs expanded distribution last year. Mr. Clean tools/Dollar General; Febreze vacuum bags/Walmart launch; Cover Girl beauty tools/Target; Scope breath fresheners/Walmart and major drug chains.
23. KIDZ ENTERTAINMENT
$180M (PRIVATE)
MORTEN GESCHWENDTNER, CHAIRMAN, +45 33 55 61 00
Key properties include LEGO, Thomas the Tank, Bob The Builder, The Simpsons, Ice Age, Roary the Racing Car, Peppa Pig, Postman Pat, Timmy Time, Bella Sara, Miffy, In The Night Garden, Moxie Girls and The Twilight Saga. Kidz continued expansion in Russia with more properties and more staff, additional LEGO agreements hitting retail stores, new strong brands such as Smurfs, Beyblade and Tinga Tinga Tales, as well as The Twilight Saga merchandise hitting one of the world's largest fashion retailers. Key partners include X5 in Russia for 1,600 stores with 28 Ice Age products (FMCG and consumer products), Top Toy in Nordic with Roary, Postman Pat, Thomas the Tank and more; H&M with Turtles apparel; and Kappahl with Miffy apparel.
24. BROAD STREET LICENSING GROUP
$117.8M (PRIVATE)
CAROLE FRANCESCA, PRESIDENT, +1.973.655.0598
BSLG's key properties include Burger King, Gourmet Boutique Foods, Bruegger's Restaurants, Culinary Institute of America, Rich Foods, Leone D'Oro, Eagle Family Foods and Unilever. Also fueling BSLG's growth is the expansion of its brand acquisition activities, as well as its growing international reach and brand assessment capabilities. For 2010, the agency will continue its focus on food and restaurant brands, building strategic and innovative brand extension opportunities for its clients in both the consumer and B2B marketplaces. Key achievements during 2009 include multiple Burger King frozen, fresh and snack food lines sold through grocery, c-stores, club, mass, drug and vending, as well as international growth with prepared entrées, appetizers and condiments in the U.K. market and expanding penetration in Europe, Asia, South America and the Middle East. The Culinary Institute of America continued its strong sales this past year with its CIA Masters Collection of cookware, bakeware and cutlery from Robinson Home Products, as well as expanded product lines including the Instant Gourmet Kitchen Sets and the CIA Pro-Series food processors by Vita Mix. The Leone d'Oro brand was launched with a line of fine Italian wines sold across the U.S. and the licensing of a branded Leone d'Oro Private Wine Estate Tours through the Italian wine regions. BSLG expanded market-leader BIC USA's position as category leader for disposable lighters with the acquisition of brands, including the Playboy brand and music groups such as Aerosmith, Kiss, Motley Crue, Lynard Skynyrd and Ozzy Osbourne. Sales of NASCAR-drivers Dale Earnhardt Jr, Jeff Gordon and Kasey Kahne continued to climb throughout 2009. Strong retail channels in 2009 and 2010 include grocery, club, mass market, c-stores, vending and e-commerce.
25. LIVE NATION MERCHANDISE
$100M (PUBLIC)
STEVE GLASENK, VICE PRESIDENT MERCHANDISE, +1.415.247.7467
Live Nation's key artists include The Beatles, Kiss, John Lennon, Lynyrd Skynyrd, Motley Crue, Ozzy Osbourne, Bruce Springsteen, U2, Shakira, Cold Play, Kings of Leon, The Who, Kelly/Mouse and Woodstock. The company continues to leverage the scope of its music merchandising and concert event business. Key partners include Target, Walmart, Best Buy, Spencer, Hot Topic, JCPenney, Bloomingdale's, Macy's, Amazon, Restoration Hardware and Borders.
Subscribe and receive the latest news from the industry.
Join 62,000+ members. Yes, it's completely free.
You May Also Like
Loading..