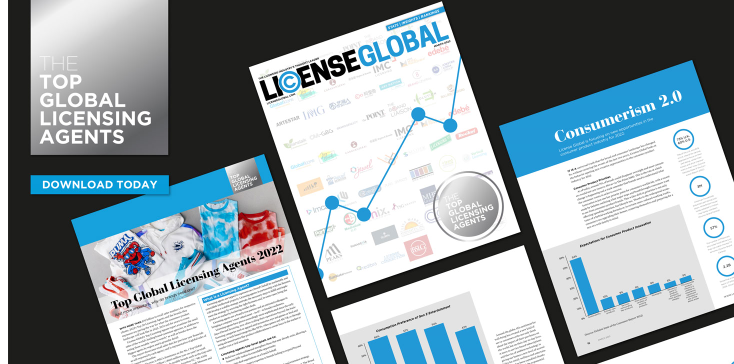 What are Brand Licensing Agencies?
Licensing agents are tapped to represent on a brand's behalf its marketable and extendable intellectual property.
Licensing agents, in partnership with the licensor, will develop a scalable strategy and take the necessary steps to fulfill and implement the strategy by sourcing the right licensees and, in some cases, bring the product to market by brokering retailer deals.
Licensing agents are a brand's true partner and an entrusted colleague in bringing a company's most valued asset – its IP – to broader audiences.
Licensing agents have grown exceedingly more sophisticated since the early days of brand licensing, now often scaling their operations beyond the basic licensing categories such as apparel and accessories, toys and games, or food and beverage, to tech-based categories like NFTs, video games, and AR/VR, or through using advanced tactics like product collaborations to create a buzz in the market or maybe even a viral sensation.
Brand Licensing agents' top-level goals are to:
Build new relationships and strengthen those that may already exist, allowing a brand to fully realize its extendable opportunity.

Enter into deal negotiations on a brand's behalf.

Bring in-depth category expertise to brands looking to expand beyond their core.

Identify market and category trends.

Marry retailers and retail channels to a licensor's brand extension strategy.
"We have our pulse on the industry," says Steven Heller, president, The Brand Liaison, a leading licensing agency. "We understand the nuances of negotiating complex licensing deals, and we know how to avoid the pitfalls faced by many early-stage IP owners and manufacturers."
The World's Biggest Brand Licensing Agents
With more than $70 billion in retail sales numbers for
respective clients, 2022's Top 20 Licensing Agents and the brands they represent are paving the way for what the consumer product landscape will look like in 2022, 2023, and for years to come.
License Global's Top Licensing Agents report examines the retail sales of the world's leading brand extension agencies, in addition to noting those notable "ones to watch," as well as breaks down the biggest agents by region and in granular detail.
The report showcases retail sales data for the previous year financials as self-reported by each agency and is representative of global sales of licensed merchandise.
Top 20 Global Licensing Agents
Guangzhou Artland Holding Company Limited

Broad Street Licensing Group

Global Trademark Licensing
Top Trends for Brand Licensing Agents
These are the categories that will dominate for brands in the upcoming months.
Kids
The kids' industry is far-reaching for licensed consumer products (in categories such as toys, home décor and plush), and Generation Alpha has firmly made its mark as tastemakers of the category.
It's a category primed for growth. UTA, the North American licensing and publishing agency for the YouTube Originals series, "Super Sema," is working with Just Play to focus on retail initiatives and partners in multiple categories.
Spotify has announced an exclusive multi-year agreement with "CoComelon," produced by Moonbug Entertainment, for a new podcast, "CoComelon' Storytime."
Fashion
While styles ebb and flow (tie-dye, athleisure and the like are giving way to dressier outfits), apparel and accessories licensing remain paramount in any brand's portfolio.
Licensing agencies can work with clients to be a part of the wardrobes of all generations. Global Icons, the agency representing the Betty Boop character, launched an apparel collaboration with Dolls Kill and Minga London clothing line.
E-commerce is vital in fashion, from direct-to-consumer websites to subscription boxes, and is proving the growth channel now and moving forward for licensed consumer products.
"Subscription boxes are convenient, and there is a box out there for everyone," says Bethan Garton, chief commercial officer, The Point.1888. "The subscription box is like receiving a gift perfectly tailored to the receiver, and who doesn't love a gift?"
Food and Beverage
Agencies are helping food and beverage brands bring more excitement to the supermarket shelves this year. The Joester Loria Group and Pink Key Consulting launched several activations for Tony the Tiger during the Chinese New Year in North America and Europe, respectively.
Poetic Brands partnered with food brand Walkers to launch a range of adult apparel in the U.K. and Ireland through a deal brokered by Walkers' licensing agency, IMG.
"Some agencies are shifting focus to the newest trend that arose because of lockdowns and safeguards," says Ross Misher, chief executive officer, Brand Central. "More Americans are ordering takeout or delivery every week. The Ghost Kitchen space is skyrocketing, and we are entering this space with our clients in a significant way. Consumers are feeling adventurous when it comes to food right now and want to explore new flavors, restaurants, new dishes, and try the things they see going viral on TikTok."
Gaming
The phrase "gaming" runs the gamut, from physical sports like football to board games. Licensing agents can help their clients reach customers regardless of their playing field. WildBrain CPLG recently acquired global representation rights for the Swiss motorsport company Sauber Motorsport.
Audio brand Skullcandy is working with Beanstalk to extend its intellectual property into product categories, including audio equipment, consumer electronics, sport and outdoor goods and accessories, apparel, collaborations and experiences.
Ubisoft revealed a partnership with the Italian brand Prada to bring the red stripe collection, Prada Linea Rossa, to "Riders Republic" outdoor sports playgrounds.
The Metaverse
While non-fungible tokens (NFTs) continue to be a buzzword, the metaverse is the digital darling of the moment. Licensing can live in this virtual world through gaming, apparel and many more categories.
Jazwares recently announced the launch of Squishmallows on "Roblox" to expand the world of the Squishmallows toy brand.
"Digital consumption of products and content has grown significantly, even more during the lockdowns, says Tatiana Rivière-Cherqui, deputy director, TF1 Licensing. "It applies to the way people buy goods through retailers' online stores (through services like live shopping) but also to the kind of quantity of content we have access to. Amongst all digital content, for instance, NFTs are growing and are becoming a not-to-be-missed topic, offering great perspectives in terms of business and marketing activations for brands."
Sustainability
More companies are aligning their ethics to their business and are moving forward with plans to make quality products for their customers. Recently, adidas and Finnish textile material company Spinnova have worked together to debut the first product made in part with Spinnova fibers.
Licensing agencies can help bridge brands that have licensees with corporate social responsibility at the top of mind.
"Sustainable products, design both simple and more thought through that derives from the identity of the brand in question," says Patrick Ullman, chief executive officer, Rights & Brands. "Consumers need to understand why a certain product brand is collaborating with a certain licensed brand. A story that resonates and is united with both."
Learn more about the top Brand Licensing Agents 2022
Top 20 Licensing Agents, their market value, and the brands they represent

Top Agents by their geographical location

Top country by agency revenue

Insights from Licensing Agents

Top Trends for Licensing Agents
Subscribe and receive the latest news from the industry.
Join 62,000+ members. Yes, it's completely free.
You May Also Like
Loading..