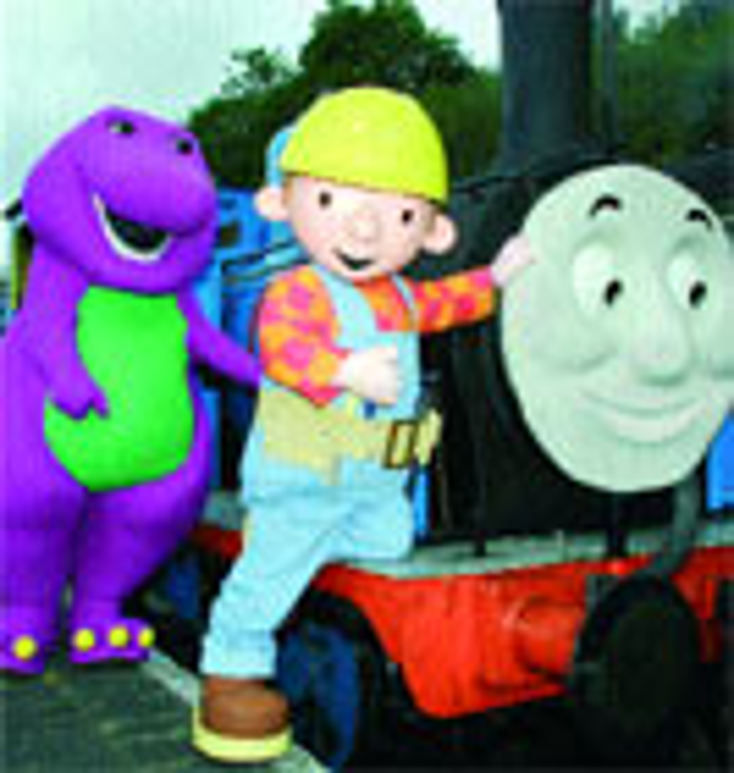 ]>Everlast Worldwide Inc. When Everlast Worldwide Inc. first opened for business in 1910 in the Bronx-where it still maintains a factory today-its merchandise focus was swimsuits. But the company soon was asked to manufacture boxing shorts without leather belts, the start of a long-time relationship with the popular sport. Everlast products have been used by such boxing greats as Joe Frazier and Evander Holyfield. Today, Everlast is also a dominant force in both the sporting goods and apparel industries and making strides in the licensing business.
"Our oldest licensee dates back 16 years ago," says Everlast Senior Vice President of Global Licensing Hal Worsham. "Everlast Chairman George Horowitz started as an Everlast licensee for women's and men's clothes. He wanted to expand and have an outstanding licensing program. We began a strategic, aggressive licensing effort in October 2000, and now 99.9 percent of our business is outbound licensing."
Such licensing crosses international borders,
and is always growing and evolving, according to Worsham. "I made a list of categories that would be good for the brand, and then another list in descending order of regions that have addressed such categories." Categories Everlast has entered into in the last two years, both here and abroad, include the back-to-school market (bookbags, notebooks, etc.); the sportsbag category in France, Italy, and England; and luxury retailing with the retail-direct relationship forged with upscale, Paris-based apparel design company Agnes B. "It's athletic apparel with a more sporty twist. Very high end," Worsham explains.
When Everlast decided to license out boxing equipment outside the U.S. and Canada, it signed licensees in Australia, all of the European Union, and Colombia and Venezuela in Central America. "All important boxing markets," Worsham points out.
Any new categories for Everlast must make sense for the brand, Worsham emphasizes. "We are very focused. All licensees are part of our plan. It's not like we're dashing off licenses for chocolates or clock radios." Complementary categories Everlast plans to enter include sports drinks, nutraceutical and body-building supplements, and vitamins. "They go perfectly with boxing," Worsham says. Other areas of interest for the company include fragrance, men's deodorant, exercise machines, and batteries. "We're interested in licensing out batteries because 7 percent of people [polled] already think we're a dry cell battery business," Worsham explains.
Everlast's brand equity is worldwide, he asserts. "Brand awareness falls at about 85 percent because the world has seen 92 years of Everlast in boxing. From Japan to Australia to Chile, people know the brand." Everlast retail initiatives have included grassroots in-store events and promotions such as boxing demonstrations, dance troupe performances, and celebrity boxer autograph sessions. "We also work aggressively with retailers on gift-with-purchase promotions," Worsham says. "What we do [with retail initiatives] will vary by country, as each one's retailing practices will differ."
Fast Facts
In-house manufactured product categories: Boxing equipment, accessoriesLicensees: Accademia; Agnes B.; A Moda S.P.A.; Arendt Y Compania Ltda.; Basic Unlimited Inc.; BCL Trading; Circle Europe A/S; Difusion Deportiva, S.A. De C.V.; Dapol Int'l., SA; Debonair Creations Ltd.; Elan-Polo Inc.; Footstar Inc.; Graffiti; Gold Medal; Hypnotic Hats Ltd.; International Basics; Megamart Ltd.; Monarch Luggage; Muse Marketing Limited; Onkoy; Pacific Brands Playcorp; Punch; Ruby Int'l.; Sans Pareil; Sara Max Apparel Group; Sportex S.A.; Sports & Leisure Technology; Tennessee S.A.; Tomen America Inc.; Zenith Brand Management Ltd.; The Warson Group
Lucky Brand Dungarees
Established in 1991, Lucky Brand Dungarees is the creation of Gene Montesano and Barry Perlman, co-owners and friends for more than 25 years. Both founders have a long history in denim manufacturing and retailing, dating back to 1972, when they opened their first jeans store, Four Way Street, in Miami, FL. In addition to jeans, Lucky Brand product includes sportswear, activewear, leather, swimwear, accessories, and fragrance. The company entered the licensing fray and the new millennium at the same time. "Our first license agreement was with Liz Claiborne's cosmetics division for the 'Lucky You' fragrance back in 2000," says Marcy George, Lucky Brand's director of licensing.
The Liz Claiborne Corporation acquired 85 percent of Lucky Brand in May 1999. With this strategic partnership, Lucky Brand sees major growth over the next five years. "Lucky Brand is looking forward to increasing its foreign distribution and licensing its brand in other major product categories," George says. Currently, approximately 7 percent of Lucky Brands business is licensing related.
Part of the company's growth will focus on expanding retail locations, as well as its e-commerce site, www.luckybrandjeans.com. Right now, George says, "Lucky Brand can be found at high-end department stores (Nordstrom, Bloomingdale's, Neiman Marcus, Dillard's), better specialty stores (Buckle, Fred Segal), and in 64 company-owned retail stores located nationwide."
Building brand equity is a big priority for the company. "Lucky Brand runs unique and eye-catching print ads in such national publications as GQ, Esquire, Seventeen, Elle, Vanity Fair, and In Style," George notes. "Lucky Brand images also are featured on bus benches, billboards, bus wraps, and painted walls in major national cities." In fall 2001, Lucky Brand launched its first apparel commercial on cable TV's VH1 and Comedy Central. The company also promotes the brand within the entertainment industry by sponsoring film festivals such as AFI Los Angeles International Film Festival and the Santa Barbara International Film Festival. Additionally, Lucky Brand product has been featured in such primetime television shows as Friends, 7th Heaven, and Once and Again, and in such major motion pictures as Miss Congeniality and Family Man.
The product categories Lucky Brands has entered are well-planned forays. "In an effort to create a lifestyle brand for our consumers, we have entered into apparel (men's and women's socks, leather apparel, outerwear; women's bathing suits; kids' clothes) and fragrance," George says. "The licensed categories will be sold to approved accounts currently selling Lucky Brand Dungarees."
Fast Facts
Product categories: Apparel, fragranceLicensees: Liz Claiborne Cosmetics; American Essentials; Lunada Bay Corp.; Garson International; Haddad Apparel Group, Ltd.
Mudd
In 1995, four partners-Dick Gilbert, Marty Weisfeld, George Fontini, and JoAnn Jacobsen-founded Mudd, which quickly became a teen and 'tween girls' "must-have" apparel brand. Jacobsen, who is also vice president of design, named Mudd for a particular kind of brown jeans she had created for another jeans company. The Jeans Genie used in Mudd promotions, and prominently displayed on the company's Website, is, in fact, Jacobsen herself, and the Mudd logo is her handprint. Says Jacobsen about the Mudd moniker, "We knew it was an awesome name people would remember."
Mudd now is in the thick of the licensing game: Everything bearing the name Mudd in stores is licensed out, save for the company's well-known jeans. "We are in apparel, footwear, accessories, and home furnishings," says Steven Seidman, president of Ingroup Licensing, which exclusively handles licensing for Mudd. "We now are looking into cosmetics and fragrances, as well as the continuing expansion of our international program." Products licensed out by Mudd include bags; small leather goods; juniors' and girls' tops, sweaters, hosiery, outerwear, shoes, intimate apparel, and sleepwear; hats, scarves, and gloves; swimwear; watches; towels and bedding.
A cyber trip to www.muddjeans.com provides an instant picture of Mudd's brand identity: young, funky, and fun. This brand is NOT about your mother's jeans. "Juniors use Mudd to express themselves, so we attract a wide audience," notes Seidman. That audience picks up Mudd duds and accessories at mid-tier, department, and specialty stores. Retailers carrying Mudd include Bang Bang, Fashion Bug, Filenes, JCPenney, Kohl's, Macy's, Sears, Nordstrom, May Co., Joyce Leslie, Robinson's, and Gadzooks.
"We meet with our retail partners as often as possible to plan the growth of the brand," Seidman says. "We also discuss brand positioning within the store and, of course, profitability. We are involved in the sales, planning, and promotion of our brand, and we believe retail management is the key to making this program work."
Fast Facts
Product categories: Apparel, shoes, accessories, school supplies, small leather goods, watches, towels, beddingDomestic licensees: L'egent International; Ivory International; Kids Today; Hypnotic Hats, Limited; Midwest Swim and Active; United Sweater; Prima Royale Manufacturing; Fada Industries; Franco; You and Me Legwear; Amerex; Fab/Starpoint; Lantis Eyewear; SBH Intimates; AME; Cayset Fashions; WPIInternational licensees: The Algo Group (Canada), Drew Pearson International (Europe), Worth Pacific (Holdings) Limited (Asia)
OP
Originally called Ocean Pacific Sunwear, OP was founded in 1972 by an association of several close friends who shared a common love for the ocean and started out making surfboards. As Founder Jim Jenks traveled from coast to coast, stopping at surf shops to sell his surfboards, he soon began to see a need in the market for durable surfwear. Soon after, OP's first pair of swim trunks was created specifically to stand up to the extreme pressures of surfing and saltwater. The company became actively involved in licensing in 1991, and currently, the OP name graces apparel, accessories, fragrance, home furnishings, sporting goods, eyewear, and footwear. "Today our entire business is licensed out," says OP Senior Vice President Andrew Lelchuk.
Lelchuk emphasizes that the company is very strategic in choosing licensing partners and product categories. "We currently are exploring several additional categories of business, all of which relate to our California lifestyle," he says. "We choose these categories based on what is relevant to our brand and our consumer base.
"With leadership from CEO Dick Baker, the attitude that characterized OP from the start now is being infused into a collection of products that reflects an authentic modern style defining today's consumers' multifaceted active lifestyles and, at the same time, exemplifying the 'soulful roots' of the California coastal brand."
Retail partnerships are important to OP, too. "We work with all our retail partners to ensure that their expectations-and the expectations of our consumers-are constantly being exceeded," Lelchuk says.
Kicking up the visibility of the OP brand are company-sponsored events such as the OP Pro (surf contest), the Op King of Skate (skateboarding contest), the Coachella music festival in California, and the Winter Music Conference in Florida.
"The OP lifestyle remains relevant. It's relevant to those who grew up with it, but more important, it resonates with a whole new generation," says Lelchuk. "OP remains clear in its identity and its mission: to create quality active-lifestyle products with genuine value, authenticity, and style."
Fast Facts
Product categories: Apparel, accessories, fragrance, home furnishings, sporting goods, eyewear, footwearLicensees: Ray's Apparel; Apparel Ventures; Salant; ClearVision Optical Co., Inc.; Riviera Trading; Parlux Fragrances, Inc.; ACI East; CHF; Pyramid; Pacific Link; Motion Systems; Knothe, Neoprene Tech
OTB
OTB is a relatively new presence in the licensing arena, having signed its first licensee in 2000. Yet, it is not an area the fashion company takes lightly. "Our licensing goals are evaluated all the time," stresses OTB President Lily Sidorovich, "We want to ensure that the companies we partner with are the right matches for us. We are constantly speaking with our retail partners about voids in their markets, and we determine the categories that would suit our brand."
OTB started out in 1991 with a few strong industry veterans who wanted to provide fashion and value at affordable prices. "That," asserts Sidorovich, "has never changed. We have weathered the ups and downs of our industry, and we are still standing. We are OTB-One Tough Brand."
OTB, which stands alternately for One Tuff Babe (the girls' division) and One Tough Brand (for boys), may be new to the licensing business, but its plans for expansion are ambitious. "Our licensing business is relatively small. However, in the next two to three years, you will see a change in this for OTB," Sidorovich projects. "We are a breath away from signing on a partner to do OTB outerwear and swimwear. And we're in talks about handbags, backpacks, sunglasses, and accessories. All these categories make sense because they round out the total look of our sportswear, and we want to stay focused." The company has infants, toddlers, and 4-7 boys and girls licensed to Catton Apparel Group based in New York. In the Canada territory, R.D. International manufactures and produces OTB-One Tuff Babe for juniors and girls. ABG Accessories is OTB's newest licensee and will make head and hand gear and accessories.
Retail partnership is of premium importance to the success of OTB's licensing business, according to Sidorovich. "Our initiative with retailers is to enhance their brand exposure by providing fashion-right products that offer value and are priced well. We are putting in millions of our own capital to nationally advertise to the consumer, and we want to provide our retail partners with in-store promotions, displays, and point-of-sale signage." OTB's retail relationships include JCPenney, Federated, Boscov's, Lord & Taylor, Kohl's, Stage Stores, Bon Ton Stores, Dillard's, Charlotte Russe, Clothestime, Windsor, Gadzooks, Belk's, and several specialty stores and chains. Says Sidorovich, "OTB-One Tough Brand and OTB-One Tuff Babe jeanswear is checking very well over the counter both in the U.S. and Canada."
FAST FACTS
Product categories: Apparel, accessoriesLicensees: Catton Apparel Group, ABG Accessories
Outkast Clothing Company
Rap duo OutKast began their mega rise to musical stardom in a Georgia high school in 1992. Since then, they have amassed multiple Grammys, seen albums go platinum, and launched a line of urban fashion apparel in 2001.
Artists Andre "Dre" Benjamin and Antoine "Big Boi" Patton put their urban, hip-hop sensibilities into OutKast Clothing Company last year, and this year they're putting their moves on licensing. "We are looking to develop long-term licensing relationships with companies that are looking to build with us; companies that will understand the vision we have for the brand and adhere to it as religiously as we do," says Matthew Pantoja, director of marketing for the company. "Currently, our licensing makes up 30 percent of our business; that percentage will grow, but we're going to be very stringent as to who we allow to use the OutKast Clothing name." So far OutKast's list of licensees includes Putnam Sourcing Group for hats and accessories, and Excel Leathers for leathers and outerwear.
OutKast Clothing's brand equity is a work in progress, according to Pantoja. "OutKast Clothing is still new to the marketplace," he explains. "We're building the brand and, as with all strategic planning, it is a long-term process. What's exciting is the fact that we have OutKast [Dre 3000 and Big Boi] as the foundation. They've always been different and gone against the grain; they're innovative, cutting-edge, and have a style all their own. We're creating a brand image and position by effectively leveraging these transferable attributes and existing equity to derive maximum brand value for OutKast Clothing Co."
OutKast licenses out categories including hats, belts, small leather goods, bags, backpacks, and outerwear. Other categories are in the planning stage. "We're looking into doing limited-edition action figures-we would love to do them with Mediacom Toy in Japan," Pantoja says. "We're planning on shoes, underwear, and even watches. We feel these groups would be successful for us and assist in building OutKast Clothing Co. into a lifestyle brand."
Pantoja characterizes the company's relationship with the retailing community as "excellent" due to the team of veterans that make up the sales force of OutKast Clothing Co. "For a brand that's only been shipping product for eight months, we have excellent distribution and are in all the right doors domestically," he says. "We're in Federated, Up Against The Wall, Mr. Rags, and D.E.M.O.; and the doors are growing per season. We have a limited distribution in Japan and London and will build our international presence slowly but surely."
FAST FACTS
Product categories: Apparel, accessoriesLicensees: Putnam Sourcing Group, Excel Leathers
Perry Ellis International
George Feldenkreis, a Cuban lawyer of Ukrainian descent, came to the U.S. in 1961 and founded Carfel, a distributor of Japanese auto parts. Six years later, he started a small apparel wholesale company called Supreme International as an importer of guayabera shirts-the pleated, four-pocket shirts favored by Hispanic men. Since then, the company has snapped up a variety of brands, including Alexander Martin, Crossings, and Perry Ellis International in 1999. That same year, Supreme International was renamed Perry Ellis International, and the company continues to grow today at an explosive rate. In 1995, the company began its licensing agreement with Isaco International to make Natural Issue underwear and sleepwear, and has steadily forged into the licensing arena with a long list of licensees to its credit.
"Twenty percent of our total business is license related," says Lori Medici, vice president of marketing, Perry Ellis International. "Perry Ellis International continues to reinvigorate itself through the addition of new licensing arrangements, while growing its other host of labels." The company is a licensor, designer, and marketer of high-quality menswear, including sport and dress shirts, golf sportswear, sweaters, casual and dress pants, and shorts to all levels of retail distribution. "We sell to a variety of retailers," Medici explains. "Apparel items are the core of our business, and now with Jantzen, we're swimwear related and linked to other swimming-related categories." Perry Ellis International's retail partners include Wal-Mart, JCPenney, Target, Mervyn's, Kohl's, and Sears.
"In evaluating a prospective licensee, we consider the candidate's experience, financial stability, manufacturing performance, and marketing ability," notes Jim Scully, vice president of licensing, Perry Ellis International. "We also evaluate the marketability and compatibility of the proposed products with our other products." Scully reveals that the company regularly monitors licensees' product design, development, merchandising, and marketing. "We also give our licensees a view of our products and fashion collections, and our expectations of where our products should be positioned in the marketplace. In addition to approving all our licensees' products, we also approve their advertising, promotional, and packaging materials."
FAST FACTS
(The following list is of domestic licensees, and does not include the company's 56 international licensees.) Domestic licensees: John Henry: Aberdeen Sportswear, Eastman Group, Fishman & Tobin, Mountain High, Outlook Eyewear, Phillips-Van Heusen, Randa, Savane International, Superba, Swank; Jantzen: Hampshire Designers, Vision Products; Munsingwear Penguin Sport|Grand Slam: Bernette Textile, California Manufacturing–ASI, Castlewood Apparel, Knothe, Premiumwear–ASI, Wilk Shirt, Winona Knitting–ASI, Unlimited Licensees; Crossings|Natural Issue: Aberdeen Sportswear, Bernette Textile, Isaco International, Luxury Socks, Wilk Shirt; Career Club: Isaco International, Wilk Shirt; Manhattan: Dothan Apparel; Ping: Arden Cravats, Meridian Hosiery; Pro Player: Knights Apparel, Meridian Hosiery, Retro Active; Perry Ellis: Aimee-Lynn Accessories, Block Sportswear, Geoffrey Allen, George Weintraub & Sons, Hartmarx, Isaco International, J.A. Besner & Sons, Mallory & Church, Merchandising Concepts, MP Enterprises, Oxford Ophthalmic, Parlux Fragrances, Peerless Clothing, Public Clothing, Salant, Shayne Industries, Tandy Brands Accessories, V. Fraas USA, WestMill Clothes, Westport
Playboy
Playboy's licensing business began in 1955 with the introduction of Rabbit Head cuff links. Since then, the company has extended the Playboy brand into apparel, accessories, and a variety of consumer products throughout the world.
The world has changed since 1955, and so have Playboy and its licensing initiatives. What hasn't changed is the lifestyle appeal of the Playboy brand. "People read Playboy, tune in to Playboy TV, buy a Playboy product, or surf Playboy.com because they want to be a part of the Playboy lifestyle," explains Alex Vaickus, president, Licensing Group, Playboy. "In 1999, we revamped our product designs to highlight the unique heritage and lifestyle of Playboy, and expanded our product offering to include apparel, jewelry, barware, accessories, cigars, and small leather goods." Vaickus maintains the new products "have been a huge hit, making Playboy the standard of cool with a whole new generation."
Playboy's brand recognition is high powered and global in scope. "Playboy-branded licensed products are sold in more than 80 countries worldwide," Vaickus says. "We have more than 350 shop-in-shops around the world. In 2001, sales of Playboy-branded products exceeded $220 million at retail." Playboy products can be found in Bloomingdale's and other U.S. department stores, and Super Lovers in Japan. "Playboy has orchestrated retail promotions with the hottest stores in Europe, including Colette in Paris and Fiorucci in Milan-Hef [Hugh Hefner] made an in-store appearance at a party for Fiorucci last year-and high-end department stores such as Seibu in Hong Kong," Vaickus says. "Here in the States, Playboy products are featured at Burdines, Lord & Taylor, Macy's East, Gadzooks, Spencer Gifts, Musicland, Hot Topic, and other specialty shops."
A recent Playboy promotion for loungewear saw Hugh Hefner and several Playmates making an in-store appearance at Bloomingdale's. The event was covered by both Playboy magazine and Playboy.com. "That type of coverage and visibility drives traffic to stores and benefits both our retail partners and us," Vaickus notes.
Playboy product offerings are "very sexy; sophisticated; and aimed at a young, metropolitan audience," according to Vaickus. Licensed fashion categories range from men's and women's apparel and underwear to accessories, including sunglasses, handbags, shoes, socks, belts, and jewelry. "We expanded our stake in the collectibles market this year with products such as posters featuring Playboy imagery, and collectible trading cards commemorating some of our most famous Playmates," Vaickus adds.The company plans to add home textiles to its product categories before the end of the year. Expansion also is being made into the entertainment and gaming categories.
FAST FACTS
Product categories licensed in: Apparel, entertainment, jewelry, barware, accessories, cigars, small leather goodsLicensees (domestic): California Sunshine Activewear, Briefly Stated, Lucas, Pan Oceanic, JH Design Group, BallyLicensees (international): BC International, Celebrity Lab, Chaifa, Super Lovers
Windsong Allegiance Group, LLC
In 1981, Joseph Sweedler, then president of Gant, organized Klear Knit Sales to capitalize on department stores' inability to source and design quality in-house labels. Sweedler helped pioneer the creation of private-label brands, and in the early 1980s, he provided high-quality knit polo shirts and casual knitwear to department stores across America. Klear Knit represented the largest domestic knitwear mill in the U.S., and at that time, was the largest vendor for Polo/Ralph Lauren and Land's End.
In the 1990s, Klear Knit diversified and in 1994, Sweedler created Windsong Inc. After a tenure with Polo, son William Sweedler joined the company and formed a branding arm to actively purchase and license designer labels for distribution of knitwear and sportswear into major U.S. department stores. In 1999, Allegiance was created as the underwear, loungewear, and sleepwear branded division. A year later, Windsong Allegiance acquired lifestyle brand JOE BOXER, and in 2001 added Hathaway to its stable of brands.
Today the Windsong Allegiance Group, LLC, is a privately owned, multifaceted men's, women's, and children's apparel company. The group's growth and expansion is attributed to its private-label manufacturing, branded sales, and strategic acquisitions, according to CEO Bill Sweedler.
"We license in and out," Sweedler notes. "The company is divided into brand management with brands we own: JOE BOXER, Change Daily!, Hathaway, Pivot Rules, and Navy Cutter, as well as an operating company. We supply product from mass retailers to department stores. We sell products, not just our own, but what we license, too. We license Alexander Julian (sweaters, sport shirts), Geoffrey Beene and Ron Chereskin (loungewear), and Stanley Blacker (sweaters and knit shirts)."
Department store partners include Bloomingdale's, Marshall Fields, Federated, May Co., Dillard's, Saks Inc., Belk, SSI-StageStores, Bon Ton, Boscovs, Gottschalks, Von Maur, and Fred Meyer. Mid-tier clients are JCPenney, Sears, and Goody's. Retailers at the mass-market level include Wal-Mart and Kmart.
Windsong is looking beyond apparel, according to Sweedler, "There have been many discussions regarding non-apparel. We already have the JOE BOXER home category, which runs from mini-fridges to bedding, and we are exploring new avenues for Hathaway.
"The future of our brand management business is certainly to partner with retailers. We feel it's the only way to maximize and exhibit the brand potential."
Fast Facts
Product categories: Apparel, homeBrands licensed in: Alexander Julian, Geoffrey Beene, Bill Blass, and Ron Chereskin are exclusively licensedBrands licensed out: Hathaway, JOE BOXER' CHANGE DAILY!, Pivot Rules, Navy Cutter
Woolrich Company
Nearly two centuries ago, John Rich went from logging camp to logging camp selling socks, coverlets, and yarn from the back of a mule. That energy and commitment evolved into the Woolrich Company in the 1820s. After the opening of the first Woolrich woolen mill in Plum Run, PA, in the 1830s, the company continued to grow as the need for durable outerwear heightened with an ever-expanding and industrialized America. In 1939, Woolrich outfitted Admiral Byrd's famous expedition. It is said Woolrich was the first company to put zippers in men's pants. Today, the company provides an array of indoor, outdoor, and children's clothes, accessories, and items for the home such as blankets, throws, and furniture.
"Woolrich first became involved in licensing five years ago," explains the company's manager of domestic licensing, Alan Levy. "Initially, we sourced outside the company and then decided to bring licensing in house, knowing Woolrich and what the brand stands for."
Levy maintains there is a "direct synergy" between the Woolrich brand and the categories to which it is attached. "Woolrich has entered license agreements with firms for handbags and backpacks for women, small leather goods and belts for men and women, slippers and shoes, socks, giftware, apparel for boys and girls, optical wear and sunglasses, and hats and caps for men and women." In the future, he says, Woolrich plans to license watches, camping equipment, and home furnishings.
As for retail initiatives, Woolrich is especially focused on in-store signage and concept shop furniture. There is an effort, Levy says, "to house the brand in one location in the retail environment, along with brand advertising."
Woolrich's brand equity is closely knit with its long American history. "Woolrich is one of the leading and recognizable brand names in the outdoor industry," Levy says. "It has character that many brands just don't possess. America's oldest apparel company, Woolrich is the original outdoor clothing company. It offers immediate consumer recognition, with a leadership role in the outdoor industry."
The Woolrich channels of distribution are those retailers that cater to the outdoor industry, including Gander Mountain, Bass Pro, Galyans, G.I. Joes, R.E.I., and Cabelas.
FAST FACTS
Licensees: Elan-Polo; Tandy Brand Accessories; F&M Hat Company, Inc.; Hart Specialities/NY Eye; Rays Apparel; Hadley Collection; Nester Hosiery, Inc.; Stagg Industries; W.P. Lavori in Corso (Europe); Tomen (Japan and Korea)
Subscribe and receive the latest news from the industry.
Join 62,000+ members. Yes, it's completely free.
You May Also Like
Loading..