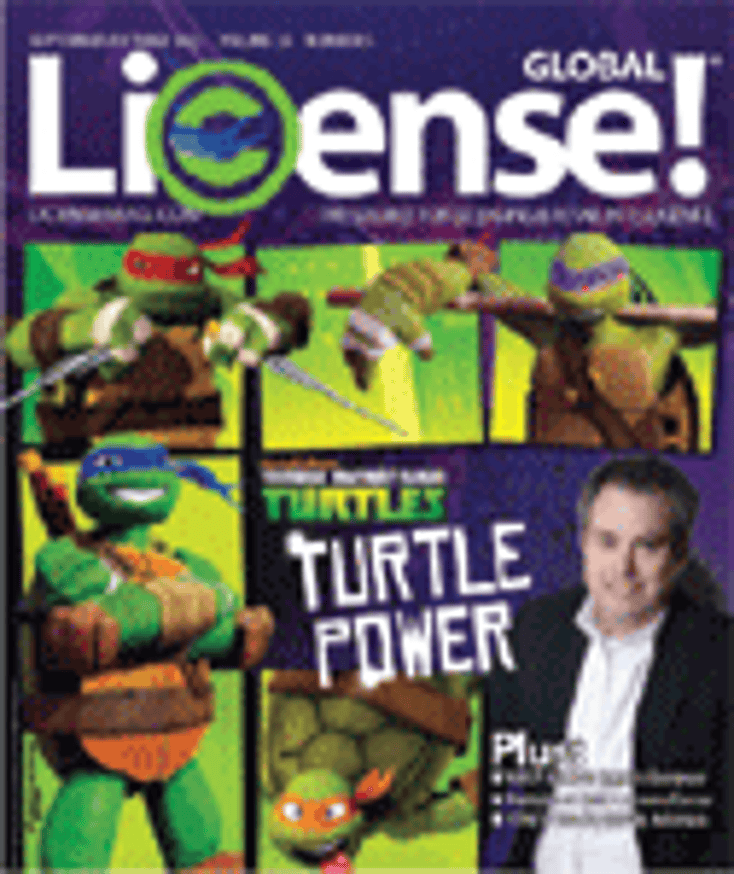 Since its launch in February 1998, License! Global has been an indispensable source of news and intelligence for retail and brand licensing executives. Now, 15 years later, the editors take a look back at some of the stories and trends that have shaped brand licensing and the publication that has chronicled it.
In the late 1990s, licensing was just beginning to emerge as a business strategy in its own right, so when the prototype issue of 
License! Global 
was presented at the Licensing Expo in 1997, the positive reaction was immediate. As the dimensions of the licensing world expanded,
 License! Global
 quickly became its voice.
Since its genesis, 
License! Global
 has been closely tied to the Licensing Expo as its official publication; both are part of parent company, Advanstar, along with Brand Licensing Europe.
Here's a look at some of the moments from the last 15 years that have helped transform brand licensing into a sophisticated, bona fide business that drives retail sales worldwide.
From the beginning, 
License! Global
 packed a punch, with a debut cover that depicted Madonna and Michael Jordan battling it out for licensing supremacy. While the celebrities have changed over the last decade-and-a-half, the power of celebrity brands has not, with new celebrities entering the scene every year, touting products ranging from dolls to fragrances.
In 2000, Britney Spears dolls from Play Along Toys were "flying off the shelves." Fast forward 12 years and Spears has long since been replaced in toy stores by new brands like the teen band One Direction, which created a frenzy at the 2012 Licensing Expo when they launched their doll line with Hasbro.
While fresh new faces drive celebrity licensing every year, there is a small echelon of stars that manage to build a lasting brand, including License! Global's first cover girl Madonna, who, following the success of her first Material Girl collection, launched a second lifestyle brand last year.
Other successful celebrity brands include Spears' contemporary, Jessica Simpson, who has parlayed her musical fame into a thriving fashion brand that expanded in 2012 to include a maternity line, her 23rd category; former supermodel Kathy Ireland, who celebrated the 20th anniversary of her lifestyle brand by delivering the keynote at the 2012 Licensing Expo and appearing on the cover of License! Global; and despite years of scandal, the merchandising craze that followed the death of Michael Jackson in 2009 proved that his legacy and brand have remained strong.
Another big story in the first year of the magazine was the delayed response to
Titanic
–not at the box office of course, but on shelves. After the film broke all records, licensees were forced to play catch-up with a licensing program that had largely been an afterthought. That mistake was not to be repeated with future blockbusters such as the 
Harry Potter
 series, the teen phenomenon 
Twilight
, and James Cameron's other blockbuster, 
Avatar
, which broke records in both ticket sales and licensing (two months before the film's release, Fox had already introduced 125 products at retail). A sequel is now in the works.
The early years of the magazine were exciting times for the industry as whole, with licensors and licensees branching out from traditional business models. In May 2003, 
License! Global
 highlighted the emergence of furniture as a category in its own right. Other new categories began to develop as well, with brands creating extensions into live events, food, homewares and electronics, building the diverse range of products that have become commonplace today.
At the same time, corporate brands like Mr. Clean, Roto-Rooter, Jeep and Ford, which until then hadn't been part of the traditional licensing paradigm, began to expand beyond their core business. Licensing had become much more than just toys.
In 2007, 
License! Global
 analyzed the force that is Star Wars as the brand celebrated its 30th anniversary. After buzz from the films started to die down in the mid-80s, Lucasfilm kept the brand relevant by creating fresh content, first in a series of licensed books and then with the release of 
Episodes I-III
 in the late 1990s and early 2000s. The new content spawned years of robust licensing activity that will likely get another boost in 2015, with Disney announcing plans for 
Episode 7
 following its acquisition of Lucasfilm in 2012.
Also in 2007, the magazine officially added the word "global" to its name, reflecting an ongoing shift within the licensing sector toward a more international approach. 
License! Global
recognized that the Internet had fundamentally shifted the way the world worked–country and regional borders mattered less, which made the market for brands that much bigger. "Think Global, Act Local" was, and still is, the catchphrase of the day, as licensors work to meet the demands of a global audience in a way that resonates within different cultures.
In response to this globalization trend, 
License! Global 
launched its daily e-news in early 2008, creating a daily touchstone for licensing and retail executives. This year,
License! Global
 has begun working on new initiatives to share content with key partners in other territories. The first such agreement, with 
Bugg Toys & Licensing
 in Australia, was announced in January.
When the bottom dropped out of the U.S. economy at the end of 2007, evergreen brands, with their already established fan base, rose to the top. Activity shifted from creating new franchises to capitalizing on old ones.
Over the last five years, Warner Bros. ramped up activity for Looney Tunes; Sanrio's Hello Kitty celebrated its 35th anniversary; Iconix, which had previously focused on fashion brands, acquired the classic Peanuts franchise in 2010; LEGO diversified its offerings through crossover lines with other evergreens like Marvel and DC superheroes, The Lord of the Rings and Star Wars; Hasbro rebuilt its Transformers brand; DreamWorks acquired Classic Media and its slate of classics including Casper the Friendly Ghost and The Lone Ranger; and Nickelodeon's Dora the Explorer remained a constant on the kids' scene.
Licensors that didn't already have strong evergreens, and even those that did, looked to the past, causing a rash of retro revivals, from CBS's Star Trek to Nickelodeon's recent reboot of the Teenage Mutant Ninja Turtles.
Despite the ailing economy, in 2010, Haim Saban created the brand management company Saban Brands and re-launched Power Rangers. The company plans to re-introduce two more retro brands this year–Digimon and Popples.
And then of course, there are the superheroes. While no one can quite explain the current craze, a large part of the success behind these brands lies in their longevity. These characters have been around for decades, and yet have the very superhero-esque ability to come back to life again and again, fresher and more appealing every time.
In 2011, Warner Bros.' reorganization of DC Entertainment led to an abundance of feature films, the most recent of which (2012's 
The Dark Knight Rises
) brought in more than $1 billion in ticket sales alone. But in the arena of superhero franchises, Marvel's 
The Avengers
 takes the prize; the film broke box-office records and inspired hundreds of licensed products in 2012. Both DC and Marvel have also expanded their content to the small screen with superhero-themed TV shows like "Ultimate Spider-Man" on Disney XD and "Green Lantern: The Animated Series" on Cartoon Network.
For the last few years, and likely many to come, technology has been the driving force of new innovations.
Despite only being around since 2008, apps are now a staple of most licensing programs, and some of the top new brands in recent years–think Angry Birds, Moshi Monsters, Annoying Orange–have come from the digital arena.Even physical products are incorporating some kind of digital interactivity. Activision's Skylanders video game series, which integrates physical toys with console games, introduced a new model to the toy industry. In January, Disney announced a partnership with the Jakks Pacific joint venture, DreamPlay Toys, for interactive toys of its own.
Technology is also the driving force behind the shifting relationship between retailers and licensors.
There is no such thing as plain old commerce anymore. There is e-commerce (shopping online), m-commerce (on mobile devices) and increasingly t-commerce (shopping from the television). Retailers must now take an omni-channel approach to create a consistent consumer experience across their digital and brick-and-mortar stores.
Similarly, licensors are finding an omni-channel approach is essential to product roll outs, which has made relationships with retailers increasingly important.
The pace of our world has increased, business models are shifting and there's no telling what the next 15 years will bring, but one thing is for sure–
License! Global
 will be there.
Since License! Global began ranking the world's licensors in April 1999 (the first report was called the "Nifty Fifty"), Disney Consumer Products has topped the list.
The series of acquisitions and strategic moves the group has made over the last 15 years have only served to increase its clout and solidify its position as the standard bearer of global brand licensing.
In 2006, Disney acquired Steve Jobs' Pixar, revitalizing their animation business and, at the same time, bringing one of the most innovative minds of a generation into the fold. Then in 2009, Disney brought Marvel under its umbrella, a move that balanced out the powerhouse's portfolio, which up to that point had been girl-brand heavy. And just last year, Disney acquired Lucasfilm, adding brands like Star Wars and Indiana Jones to its roster.
Much of the success of DCP over the last 15 years can be attributed to its former chairman, Andy Mooney, who nearly quadrupled the division's retail sales during his tenure. In 2012, Mooney retired and passed the torch to 18-year Disney veteran Bob Chapek, who was featured on the June 2012 cover of License! Global.
Chapek is now continuing the winning strategy that his predecessor instituted and moving toward Mooney's long-standing goal of reaching $50 billion in annual sales of licensed merchandise worldwide.
While bolstered by a continual slate of studio content, DCP is also working to grow its business outside of films with independent franchises like Disney Fairies, the continued expansion of classic characters like Mickey Mouse and Winnie the Pooh, and a focus on digital and social media integration.
Subscribe and receive the latest news from the industry.
Join 62,000+ members. Yes, it's completely free.
You May Also Like
Loading..