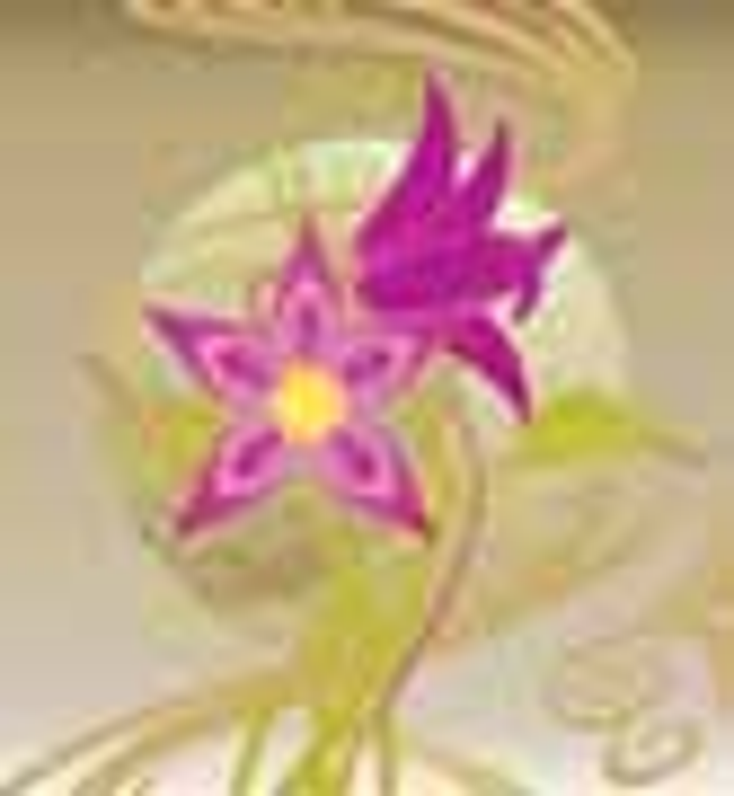 ]>
"Many happy returns of the day", called out Pooh. "Thank you, Pooh, I'm having them", said Eeyore gloomily. It's Pooh's 80th anniversary and fortunately for licensees and Pooh fans there is very little to feel gloomy about, not least a global franchise worth over $5bn. In this retrospective we ask why and how has the Bear of Very Little Brain become one of licensing's biggest success stories. During Winnie the Pooh's eight decades, he has developed from a children's literary character into a multi-billion dollar property. According to a recent article in Forbes magazine, Pooh is the second highest earning fictional character, behind only Mickey Mouse, with an estimated annual income of $5.6bn. Not bad for a Bear of Very Little Brain with a penchant for honey and an expanding waistline. So just what is it about Pooh and his chums from Hundred Acre Wood that has created one of the biggest literary franchises of all time? Pooh was created by author A. A. Milne in 1926, appearing in a series
of children's books based around a little boy called Christopher Robin (named after Milne's son, Christopher Robin Milne) and characters derived from his collection of stuffed animals. Two story books (Winnie-the-Pooh and The House at Pooh Corner) and two poetry collections (When We Were Very Young and Now We Are Six) make up the total literary collection and are the foundations on which the Pooh franchise is formed. With illustrations by E. H. Shepard accompanying Milne's witty, rhythmical prose the books were an instant hit and continue to sell well to this day.
The turning point in the story of Pooh comes in 1961 when, following Milne's death, his widow sold the rights to Winnie-the-Pooh to Walt Disney Productions. Walt Disney's daughters were fans of the books. A series of animated featurettes followed, including Winnie the Pooh (note how his hyphens vanished) and the Honey Tree (1966), Winnie the Pooh and the Blustery Day (1968) and Winnie the Pooh and Tigger Too! (1974). Whilst keeping the themes of friendship, adventure and learning so inherent in Milne's stories, the characters were given a Disney 'makeover'. The DNA from Shepard's original drawings was definitely there, but the Hundred Acre Wood's inhabitants became brighter, fuller and more suited to animation. At this point we should make the distinction between Classic Pooh and Disney Pooh. Disney produces both styles. For Classic Pooh it takes inspiration from Shepard's original drawings. Interestingly, Disney's Winnie the Pooh always wears a red t-shirt, whether on screen or on a product. This is not the case for Classic Pooh who mostly does without clothes. Despite the first plush toys being produced in the 1960s, Pooh's most significant commercial growth came in the mid-1990s. Daniel Ifcher, VP home EMEA Disney Consumer Products explains. '1995 was a big year for Disney merchandising, coming on the back of the success of the Lion King the year before. Film merchandise tends to have a spike in popularity whereas Pooh took off and just kept growing.' Pooh's cross-generational appeal is clear in the range of available products. Baby merchandise including feeding bottles, baby grows and baby furniture draw on the fact that new mums have grown up with Pooh and see it as 'a lifestyle rather than a character,' according to Daniel. NPD's License Tracker finds Pooh consistently the number one property for the 0-3s. Toys and educational devices appeal to pre-schoolers. There is a strong boys range up until the age of about nine (Tigger is the favourite for older boys who can appreciate his energy levels). High-end merchandise, such as gardening products from Henri Studios and Marlip's textiles, in particular appeal to adults buying for children. Adults (especially women) also purchase Winnie the Pooh for themselves.
'Pooh is timeless for all ages. We can relate to the lessons, relationships and adventures in the books and connect with the simplicity of the characters,' Daniel says. Naturally, he puts much of the success of Pooh down to Disney's careful management of the property. 'Our brand management team in Burbank considers the controlling principles of the brand; in Pooh's case, friendship, adventure, learning etc. Managers ensure these principles are followed through into product. Our real strength lies in coordinating across products and categories. Winnie the Pooh products look consistent,' says Daniel. For the 1000 or so Winnie the Pooh licensees in Europe, the benefits of a partnership with Disney can be great. New licensees approaching Disney for rights to Pooh are subjected to a rigorous examination of their finances, marketing activities and where materials are sourced. It might seem like a laborious process but Disney needs to make sure it has a shared vision with its partners. As part of a joint business practice, Disney and its licensees ensure that the best range of products are being sold to the right people through the right channels. Disney has a good relationship with retailers and assists licensees with the sell-in. Disney is always on the look out for new licensees and new category areas. 'We move with the times and constantly review how our properties are managed,' Daniel explains. 'While some product categories will dip, others grow. There's the partnership with V-Smile and even the new Pooh trinkets for mobile phones, for example.'
Disney's careful management of Pooh has been essential but most consumers over a certain age agree that Pooh's spiritual home lies in publishing. The original books have been translated into over 30 languages, including Latin, and are particularly popular in Nordic regions and the US. Pooh is a national hero in Poland, where the translation was done by Irina Tuwim, a famous Polish poet, and a street (Ulica Kubusia Puchatka) is named afer him. Similarly, in Germany, the books were adapted for the German market by a famous German author/actor so he doesn't sound too 'English'. Egmont inherited the rights to Milne's books in the 1990s following the acquisition of Reed children's books and, with it, Methuen. Since then, Egmont has produced over 500 editions of Pooh ranging from books costing less than £1, to last year's Folio Society edition which cost £80. Sue Parish, senior publisher at Egmont has worked with Pooh on and off for seven years. She believes its success is down to the quality of Milne's prose. 'There is great subtlety about the writing and the development of the characters which is distinctive and consistent throughout the books. You always know how Eeyore is going to react, for example. There are lots of emotional pulls - you don't laugh at the characters,' she says. 'Unlike other animal stories, the characters are not anthropomorphic, they are themselves,' Sue continues. 'Pooh Bear is not afraid to ask Christopher Robin for help. Or he asks Owl who pretends to know the answer. The humour isn't lost on children, it's very subtle.' 50 titles, predominantly aimed at children, make up Egmont's current Pooh range, including abridged, re-written, re-illustrated and novelty versions. Younger readers are not the only ones who connect with Milne's books. A successful range of Winnie the Pooh books for adults including The Wisdom of Pooh and Positively Pooh series take a more philosophical approach. Sue suggests Pooh's childlike character is the reason for the success of books like The Tao of Pooh. 'Pooh is very happy - he just Is,' concludes Sue. There is something special about a character that can appeal equally to pre-schoolers and academics, something taken to its extreme with the publication, in 1964, of The Pooh Perplex, a very popular satire on literary criticism of the day. Its author recently completed a sequel, the equally shocking and very funny Postmodern Pooh. Unlike Disney, Egmont has the rights to use Shepard's original illustrations (which he coloured for the first time during the 1970s) and only amends or recreactes them when the originals don't work in particular formats, such as die cuts. 'Consumers may not notice that Disney's Classic Pooh is not the work of Shepard but its very obvious to us!' says Sue. Regardless, she still believes Disney has been good at protecting the values of Pooh and has helped to preserve the property.
The estates of A. A. Milne and E. H. Shepard are involved to monitor and approve all that is published by Egmont and play a consultative role for Disney to ensure consistency and quality prevail. Outside publishing, Pooh merchandise is a massive industry with estimates suggesting there are over 5000 Pooh products available worldwide with some 1000 licensees in Europe. Kerena Bishop is the marketing and creative director at Gemma International, the UK-based greeting card manufacturer that has worked with Winnie the Pooh for ten years. 'Pooh has consistently been one of our top licences,' she explains. 'Pooh is everyone's friend - all of the characters are great mates, which is very important in greeting cards.' And why does Pooh endure in the greeting card market? 'Think of the adult bear market - it's huge but there's only one Pooh. It has no competitor. And it suits every age, every season, every emotion. Retailers always take a Pooh range and if we're doing an own brand for a retailer, they always choose Pooh,' says Kerena. By creating sub-segments, Gemma appeals to wider markets. Two years ago, for example, it introduced the Love and Friendship collection which consisted of a soft-looking Pooh for the cute adult market. The success of the range had a positive impact on customers' perception of Gemma, taking it into the adult female market where previously it had focused on children's ranges. Kerena admits that the eight-strong team of designers occasionally get 'Poohed out' but also that they get very excited when a new style guide arrives! Disney has released three successful Pooh films in recent years; there is a TV series (The Book of Pooh) on air at the moment and another coming next year. All are popular, but licensees say that TV and film releases have very little impact on the rate of sales of Pooh product, with the exception of DVD releases that attract cross-promotional activity. To mark Pooh's 80th birthday, The Disney Store chain will hold a 'national cuddle' day. In June, Pooh will attend Buckingham palace, along with 1000 other party-goers, to celebrate The Queen's (also 80th) birthday. In keeping with Pooh's home, the Hundred Acre Wood, Disney will launch a charitable initiative in support of the Woodland Trust, a conservation charity dedicated to the protection of the UK's native woodland heritage. Pooh's Secret
It has been difficult to attract sophisticated comment from the licensing professionals we talked to about why Pooh has endured so successfully for 80 years or about why he appeals seamlessly across age groups and international boundaries. 'It's because he's cute,' said one. Another: 'because it's all about friendship'.
Actually mothers are more in tune. 'If you're going to a kids party and you want a safe present, you'll take Pooh - it's accepted across social and age divides,' one told us. Another, 'it's because Pooh product is usually good. You can rely on it to make a good impression.' One design licensee points to the timing of the books' release. 'It was publishing for the middle classes at a time when the number of books on the market was exploding. So it was one of the first to reach a critical mass, which has an effect that can last for six to eight generations.' The idiosyncratic supporting characters and made up words and names are also given credit; in our poll, when asked for a favourite character, no one chose Pooh (or did no-one dare to choose Pooh?); they mostly chose Tigger.
A Blueprint for success?
If you were to go back to 1924 and draw up a blueprint for creating one of the two most successful properties on the planet you probably wouldn't start with four simple books, written by some-one relatively inexperienced in the children's market and illustrated in black and white by a Punch magazine cartoonist. You wouldn't go on to advise decades of messy legal wranglings nor the sad, resentful life of the boy on whom the only human character is based. Nor would you suggest that the original concept be given a total makeover in its 40s by Walt Disney himself and expect the original to continue as a best seller, in parallel. But this is what has happened. It doesn't make an easy precedent for propety creators today.
To get anywhere near understanding why Pooh is so suited to his international life of success you have to get close to sounding like Frederick Crew's literary satire but, without a doubt, the answer lies with the original four books. To begin with, A A Milne's Pooh (and the other characters) is never sentimental; it is only readers and consumers who are sentimental about him. Being A Bear of Very Little Brain means he is uncomplicated, like a blank sheet of paper and the perfect vehicle for other imaginations and sentiments. As Egmont's Sue Parish has already identified here, the strong characterisation means we desribe humans as being like Tigger or like Owl rather than vice versa. But most commonly admired is the fact that the stories of Winnie-the-Pooh can be understood on many levels. Infants, children, adults, hippies, academics, teens, philosophers can all find something about Pooh that is funny, meaningful or entertaining and this best sums up the skills of Milne and Shepard.
Unlike Mickey Mouse, Pooh is not a trend-setter and is unlikely to ever be a design or fashion icon in quite the same way. DCP's Guenther Hake explains Poohs appeal to the German market is because of 'his quiet and peaceful existence in an ideal world living close to nature. Or, in summary, his 'Pooh-ness.' If you take this passive, subtle, something-for-everyone story with all its irresistable humour and add the power of Disney to market, refresh and protect it, you come close to explaining how the bear has attained heights unimaginable for any other property. But could it have happened for any other property? Could it have happened without 60 years of being seeded in the consciousness of book loving children and families? And would the whole thing vanish in a puff of fairy dust if it wasn't for those four small books. We will never know.
1882
A. A. Milne born in Scotland
1879
E H Shepard born in London
1920
Christopher Robin Milne born in London
1924
A. A. Milne's When We Were Very Young book of children's poetry published, includes poems about Pooh.
1926
Winnie-the-Pooh published. The first collection of stories about Pooh and his friends Christopher Robin, Eeyore, Piglet, Rabbit, Owl, Kanga and Roo - and their adventures in the Hundred Acre Wood.
1926
Now We Are Six published, another collection of poems
1928
The House at Pooh Corner published. Tigger is introduced.
1929 - 1932
A. A. Milne assigns Pooh merchandising rights for US and Canada to literary agent Stephen Slessinger.
1931
E H Shepard illustrates Kenneth Graham's The Wind in the Willows
1960
Winnie ille Pu, Alexander Lenard's Latin translation of Winnie-the-Pooh becomes the first foreign language book to feature on the New York Times Bestseller List.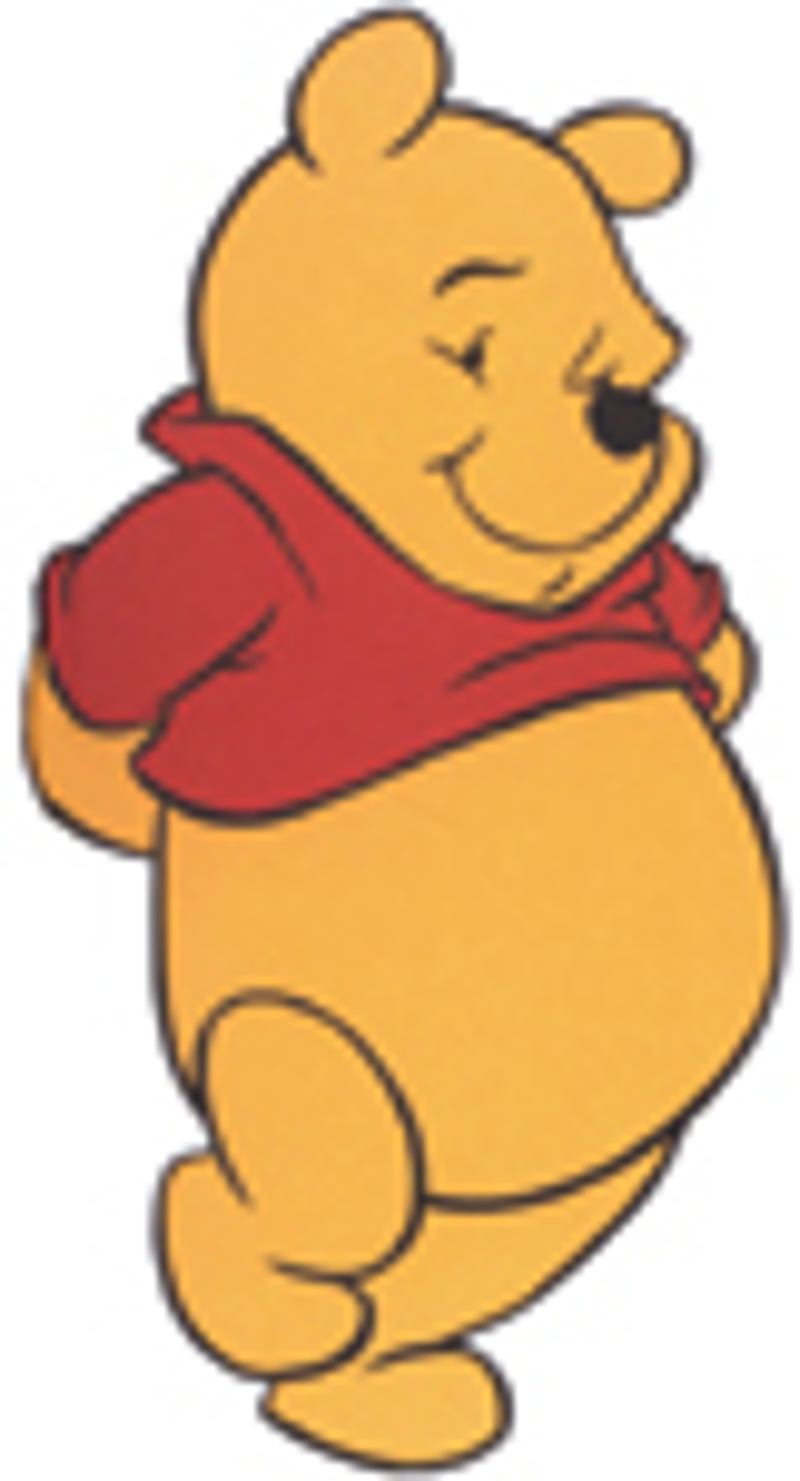 1961
Walt Disney Productions buys film and other rights to Pooh. Walt Disney re-draws Pooh to make him suitable to animate and gives him his trademark red shirt. Disney Pooh hasn't been withouth his red shirt ever since. Winnie the Pooh and the Honey Tree, Disney's first Pooh featurette, released. Other featurettes include Winnie the Pooh and the Blustery Day (1968) and Winnie the Pooh and Tigger Too! (1974).
1977
The Many Adventures of Winnie the Pooh released. Disney's first full-length feature, includes a new character called Gopher who admits 'I'm not in the book, you know!'.
mid-1990s
Fresh from the success of Lion King, Disney puts all its marketing efforts behind Winnie the Pooh to establish it as a classic children's brand.
1996
Christopher Robin Milne dies.
1997
Pooh's Grand Adventure: The Search for Christopher Robin film released.
2000
The Tigger Movie film released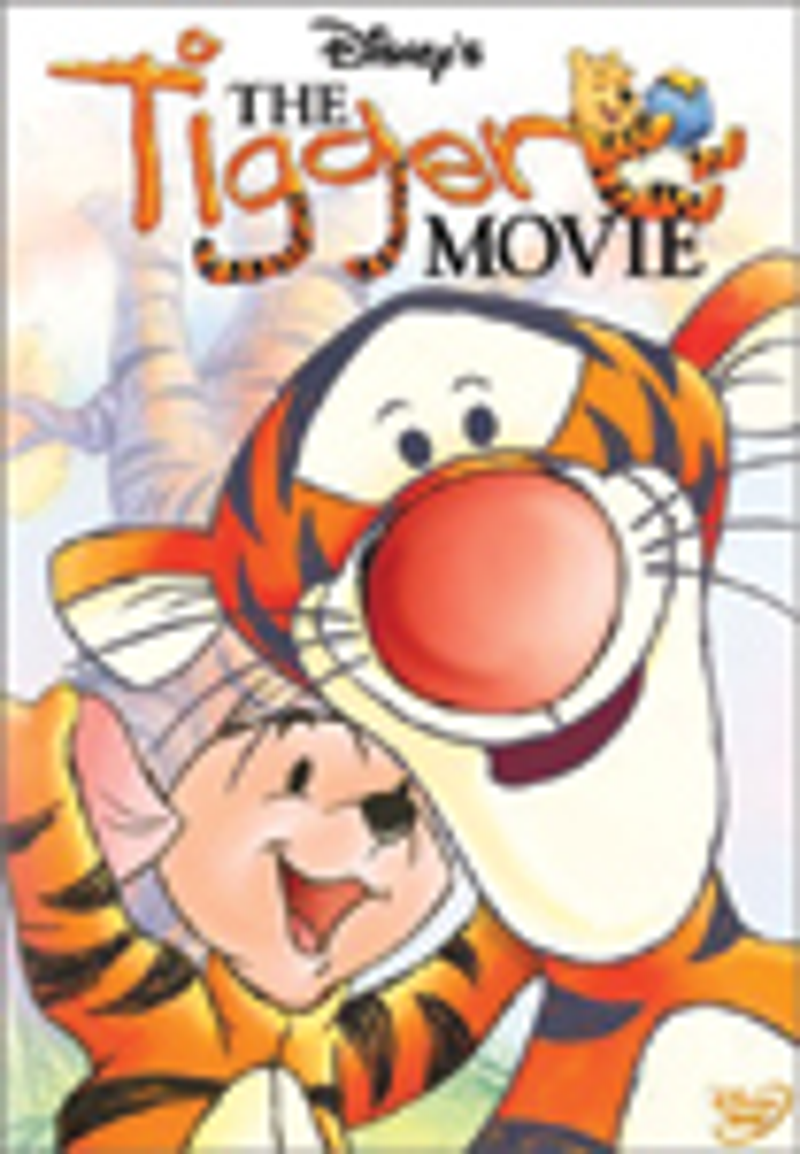 2003
Piglet's Big Movie film released.
2005
Pooh's Heffalump Movie film released. Includes Lumpy the Heffalump character for the first time in a Disney production.
2005
Disney announces a new character, a red-haired tomboy, for the new series set for 2007.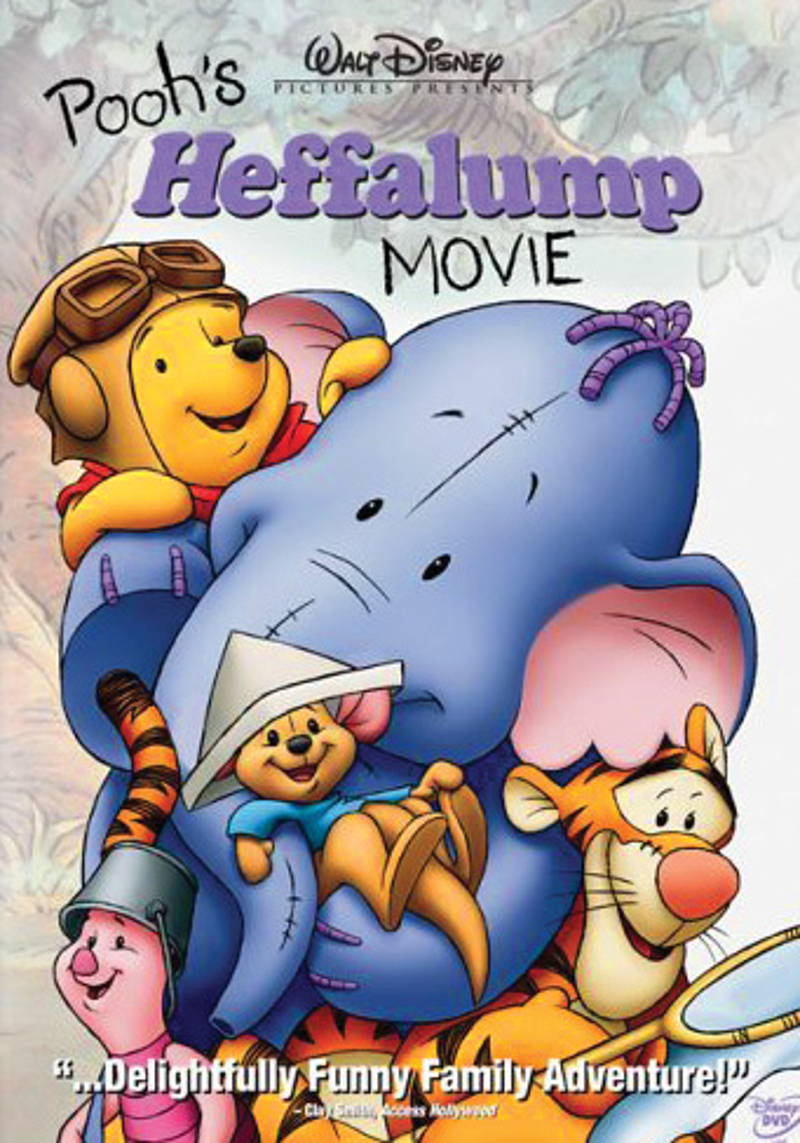 2006
Winnie the Pooh celebrates his 80th anniversary. He is the second highest earning fictional character (according to Forbes magazine), worth $5.6bn a year.
Pooh's first appearance
Here is Edward Bear coming downstairs now, bump, bump, bump, on the back of his head, behind Christopher Robin. It is, as far as he knows, the only way of coming downstairs, but sometimes he feels that there really is another way, if only he could stop bumping for a moment and think of it. And then he feels that perhaps there isn't. Anyhow, here he is at the bottom, and ready to be introduced to you. Winnie-the-Pooh.
Opening paragraph from Winnie-the-Pooh by A. A. Milne.
Pooh in international consciousness
"Ernest Shephard's illustrations are so brilliantly drawn and so definitive that no illustrator, as far as I know, has had the temerity to attempt to re-illustrate these stories".
Shirley Hughes, Children's author.
"I must confess I don't greatly care for Wallace and Gromit. Thats like saying you don't like Winnie the Pooh; in our culture it is not allowed".
Simon Hoggart, The Guardian.
"Pooh works flawlessly as a comedy of errors for five-year-olds but its also a hall of mirrors whose intricacy bears comparison to the best of Conrad, Kafka, Broges and Pynchon."
(The fictitious) N Mack Hobbs in Frederick Crew's Postmodern Pooh
And it was eleven o'clock. Which was Time-for-a-little-something.
The House at Pooh Corner
The Disney Artist: Stephane Kardos
Stephane is one of four artists drawing Disney characters for Disney Consumer Products Europe. He's been doing it for over six years; he specialises in the Pooh characters and he was kind enough to show us, in person, how Winnie the Pooh takes shape.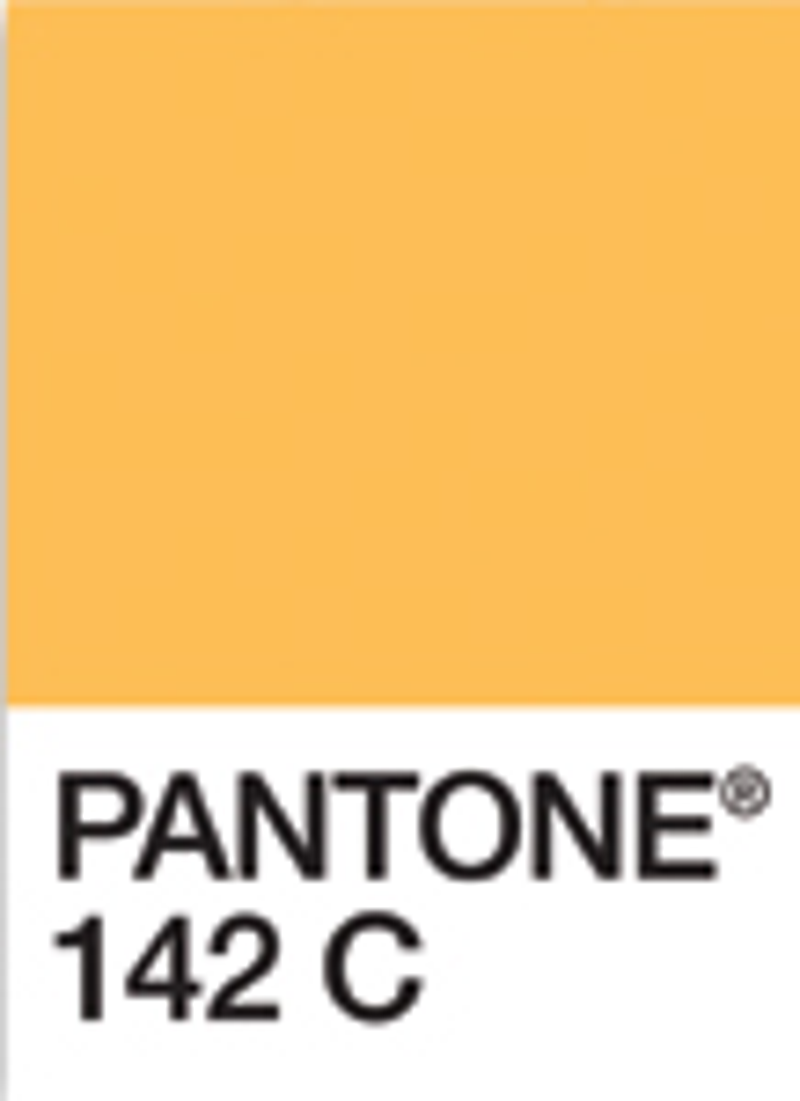 The creative team work up original drawings through a four-stage process: create (the first, sketched idea); clean; ink (defining the line is very important) and finally adding colour. Pooh has very few features and no joints, so he's a particular challenge to draw in the different poses and compositions that are necessary for products. 'The silhouette is very important for clarity of character,' says Stephane. 'I ask, can you really see what's going on?'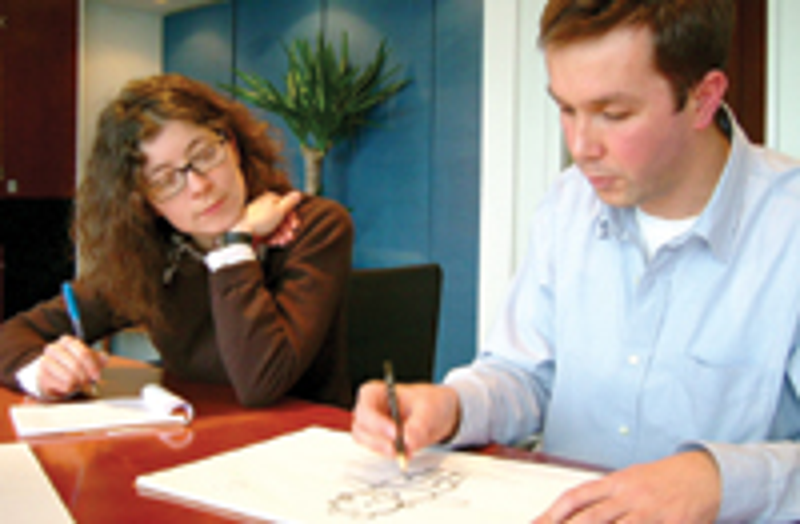 It takes about 18 months of training to learn how to draw a new character and Stephane produces both Classic and Disney Pooh designs. 'Pooh is all about balance and volumes,' he says. 'You have to think about how the character would look from the back, too.' Pooh is also clumsy, so Stephane creates movement in the composition rather than with Pooh himself. And his eyes, being round dots with no whites (cf Mickey Mouse) means his emotions must be expressed through his pose. Look closely next time and you'll see, for example, that Tigger is generally drawn without thumbs, unless he needs to hold something and that Tigger's stripes and Eeyore's mane are consistent in every design.
Who is your favourite Pooh character?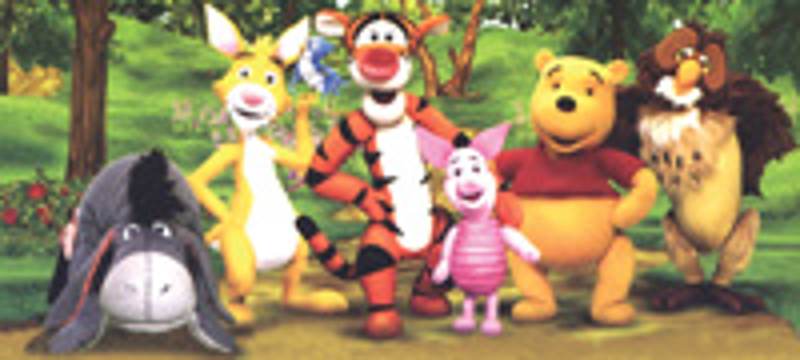 Sue Parish,
senior publisher, Egmont:
Eeyore - because he's so accepting of the way things are!
Daniel Ifcher,
VP Home Disney Consumer Products, EMEA:
Tigger - I can associate with his boundless energy!
Kerena Bishop,
marketing and creative director, Gemma International:
Tigger!
Emma Sherski,
marketing and licensing director, Vivid Imaginations:
Tigger - because I admire his energy and bounce-ability (is there's such a word)?
Guenther Hake,
VP Disney Consumer Products, Germany:
It's Tigger. I'm too fast to be Pooh, too brave to be Piglet and too positive to be Eeyore!
Winnie L'Ourson
The Global popularity of Winnie the Pooh has resulted in some interesting local variations on his name:
France:
Winnie L'Ourson (Winnie the Little Bear)
Finland / Sweden:
Nalle Puh
Subscribe and receive the latest news from the industry.
Join 62,000+ members. Yes, it's completely free.
You May Also Like
Loading..