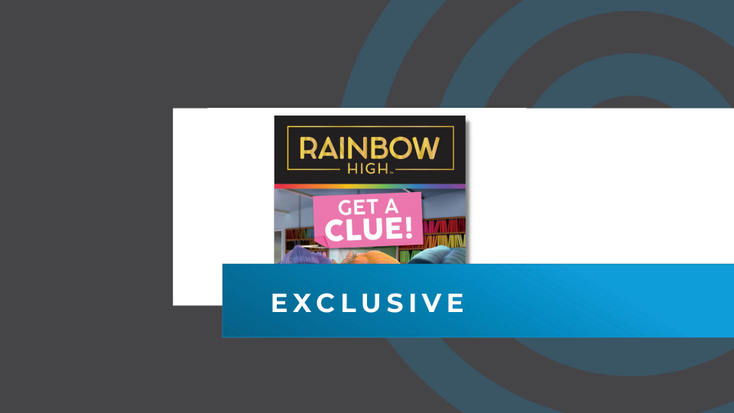 "Rainbow High: Get a Clue !" Book No. 1
MGA Entertainment
MGA Entertainment's
"Rainbow High" has its series on
and will release a children's book series from
based on the doll line.
The first release, "Get a Clue!," will debut on March 7, with parts two and three coming to readers by the end of the year. 
In this exclusive interview, Mindy Puente-Escalera (senior vice president, global licensing, MGA Entertainment) and Alexandra West (editor, HarperCollins Publishers) share details on the newest "Rainbow High" release, as well as an excerpt from "Get a Clue!" 
License Global: What was it about "Rainbow High" that translates from the screen to the page?
Alexandra West:
I think of properties as multiple doorways. Kids experience brands differently for a more immersive experience, and that's what "Rainbow High" properties offer, from toys to entertainment to books and more. We built this publishing program to fit the "Rainbow High" demographic and stay true to what the brand represents in the doll line and animated series. 
Mindy
Puente-Escalera:
The brand focuses on the theme of friendship and being yourself, including values of encouraging creativity, celebrating diversity and always letting your true colors shine. It's super easy to jump from doll to page because the animated series embodies those values. We're taking the story kids already know and love and putting it in this narrative form.  
West: The publishing program was launched with the official "Rainbow High Yearbook." We leaned into the high school yearbook concept, which included 96 pages and full color for a yearbook look and feel, as well as the seven classic "Rainbow" characters and their interests. The book even includes actual stills from the animated series to bring the digital and physical characters to life. We've put the "Rainbow High" world in a yearbook that acts as a primer for our readers. The chapter book series then tells a continuous story about what goes on in the animated series across multiple episodes, starting with "Get a Clue!" launching March 7. We've reconfigured the episodes' stories from a publishing perspective, so two episodes are communicated in each book, complete with additional side storylines. 
Puente-Escalera: Kids will want to collect all three books in the story to experience that full, continuous storytelling from start to finish. Now, the doll line, series, books, and other merchandising take our core "Rainbow High" values and communicate them to kids via multiple pathways for a 360-degree approach that stays true to the brand's DNA.  
 What are the differences between the new doll line based on the book series and what is currently on the market?  
Puente-Escalera: The characters featured in the book are the seven classic "Rainbow" characters/dolls from the original line, initially launched in July 2020. The newest "Rainbow High" dolls line is separate from the chapter book series' storylines. The new dolls are the "Rainbow High" Spring 2023 Collection Fashion Dolls and the Shadow High Spring 2023 Collection Fashion Dolls, both recently released at the start of 2023. 
 Will Netflix.shop support the book and doll sales based on "Rainbow High" on its platform?  
West: It's still early days, so nothing is confirmed with Netflix.shop yet, but we do try to cross-promote across retail to leverage our books and sell the dolls, exposing consumers to all touchpoints for the brand for a truly immersive experience. When it comes to licensed books, we excel with retailers that carry and support the brand. Our "Rainbow High" books are available online and in-store at key retailers like Target and Barnes & Noble. They are also available online at Amazon and Walmart.com.
 Are there more books planned after the third release in September? Will a "Rainbow High" series be based on the book on Netflix or YouTube? 
West: Not at the moment – this is "Rainbow High"'s first foray into licensed chapter book space.  
Puente-Escalera: We're excited to see how this performs, and more opportunities could potentially come later down the line. In the meantime, "Rainbow High" has also been licensed across multiple categories in retail, including sportswear, footwear, sleepwear, home goods and more, again speaking to the brand's 360 approach. 
West: "Rainbow High"'s foray into the book world gives fans yet another opportunity to connect with their favorite "Rainbow High" characters in unique ways and more importantly, encourage fans to embrace the power of literacy while connecting young readers to the brand's values. We're excited to see where the first chapter book series takes the brand.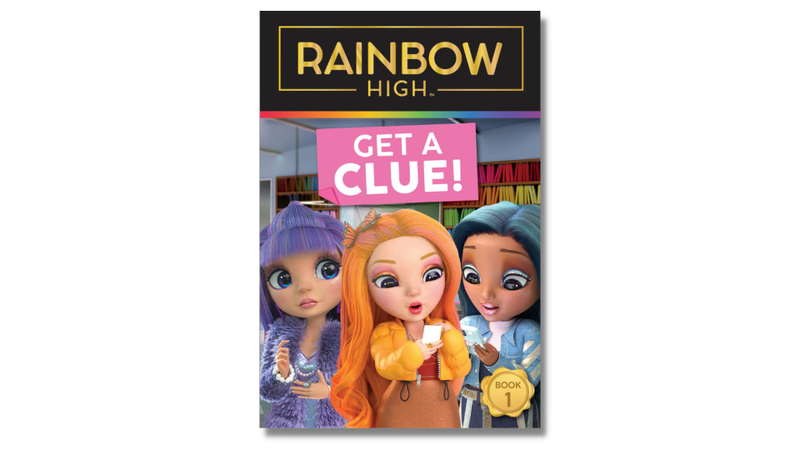 "Rainbow High: Get a Clue !" Book No. 1 cover, MGA Entertainment
EXCERPT: "Rainbow High: Get a Clue !" Book No. 1 
"Hi-hi from Vi-Vi! My followers know what's up!" Violet Willow – Vi-Vi to her fans – swung her selfie stick around, making sure her live-stream got a good look at the multicolored lockers lining the walls. 
It was a big day for Violet, and she was dressed to impress in head-to-toe purple. 
"We're stepping in for day one at Rainbow High, the number one visual-arts high school anywhere!" Violet narrated to her streaming followers. 
Violet was used to sharing her life with her fans. And her best friend, Sunny, following behind her, loved being Vi's most frequent guest star. They totally just clicked that way. 
"So who's ready to – " Violet stopped mid-sentence.  
Three of the coolest kids she had ever seen had just turned the corner, their outfits perfectly styled. "Do they ... go here?" she whispered. 
The flawless trio strutted toward Violet. She couldn't take her eyes off of them. 
"Are you staring at us?" the girl in the center asked, her hair glittering in the light. 
"N-no!" Violet stuttered, tucking her own purple hair behind her ears. 
"Maybe a little," Sunny admitted, despite her BFF's bluff. 
Violet took a deep breath. This was the biggest day of her life, and she wanted to make a good impression on these new (supercool) classmates. 
"I'm Violet Willow," she said, extending her hand. "I'm filming my online reality show, The Vi Life. I'm sure you've heard of it. I have five hundred thousand followers across all of my social media accounts." 
The only boy in the trio gave Violet a confused look. 
"Uh … no," he replied. "And you can't take videos here without permission." 
Violet wouldn't let his harsh response get her down. She reached into her bag and pulled out a clipboard. "Permission forms – here you go!" 
As the cool kids signed Violet's forms, Sunny stepped out from behind Violet to properly introduce herself. 
"Hi! I'm Sunny Madison, Violet's BFF from forever," she said, her smile beaming as brightly as her yellow hair. 
"Can you believe we both got into Rainbow High? We're, like, twinsies!" Sunny said, squeezing Violet's shoulders. 
"Not exactly twinsies," Violet quickly added, shuffling away. "I'm digital media focus, and Sunny's computer animation." 
Every student at Rainbow High specializes in a particular type of art – and every student is very good at what they do. That's what makes the school so elite. If you're not setting the trends, someone else is going to snatch your spot before you know it. 
Read more about:
Subscribe and receive the latest news from the industry.
Join 62,000+ members. Yes, it's completely free.
You May Also Like
Loading..