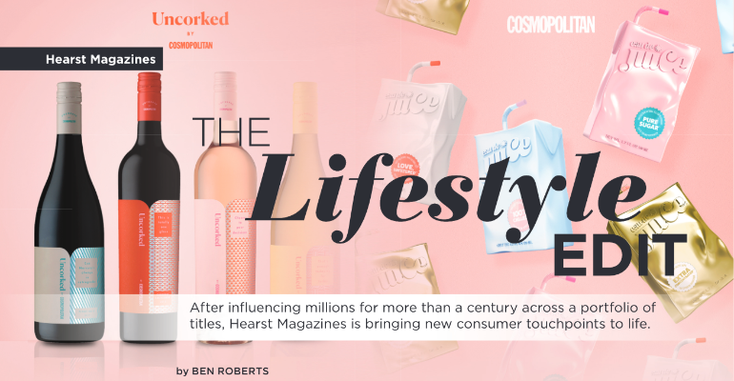 Hearst Magazines is a powerhouse of cultural influence. It has an audience of more than 165 million readers and site visitors, direct engagement with 70 percent of all Millennials and 69 percent of all Gen Z over the age of 18 (source: com-Score/M R I 1-20/S19).
Consisting of 25 brands in the U.S., more than 250 global editions and 200 websites, Hearst Magazines is plugged in to the cultural fabric of life, reflects every aspect of the modern zeitgeist and has a direct connection with its readers. 
"We have access to the industry-best insight on what our audience is planning to learn, make, do and buy, which is possible from the data intelligence built from our digital content, product reviews and branded shops," says Angela Kim, senior director, global licensing, Hearst. "Hearst Mag-azines is a leader in key marketing practices to build a brand, engage with the public and sell to consumers. When we strategically combine these two strengths, setting the path for our consumer product strategies
becomes not only natural but clear. We can develop a licensing program with an evident understanding of our readers' purchasing and media consumption habits."
The titles within the global media company –Esquire, Cosmopolitan, Country Living, ELLE, Men's Health, Women's Health and Delish – are using licensing to take each title's connection with its readership to new places. Moving its content into consumer goods such as wine, fragrance, home décor and lifestyle, Cosmopolitan is one example of Hearst's ever-extending brand portfolio. 
"Cosmopolitan is the largest young women's brand in the world," says Kim. "The brand has been accompanying generations of young women in more than 40 countries through various macro and micro moments in their lives. Through it all, Cosmopolitan has built a relationship with its readers, becoming more relevant than ever across various media platforms. When there is this strong mutual trust, the relationship between the brand and the consumer can only grow. When consumers see Cosmopolitan on products, they know that the product will be high-quality, priced right for the stage of life that they are in and will celebrate them in an unapologetically fun way. As an example, towards the end of last year, we launched Uncorked by Cosmopolitan in the U.S., one of the few wine brands currently targeting young women. Through our data intelligence, Cosmopolitan knew that its audience is a huge demographic of avid wine drinkers – its readers had more than 32.7 million glasses of wine last week alone and spent $166 million on wine last year. Our approach to a category like this makes perfect sense and is an organic extension of the brand."
Understanding the reader, and therefore the consumer, is the core strategy behind programs such as Cosmo-Living, a home décor and lifestyle brand taken straight from the pages of Cosmopolitan, working with best-in-class licensees to provide the exact feel of a Cosmo page in your home.
Read more about:
Subscribe and receive the latest news from the industry.
Join 62,000+ members. Yes, it's completely free.
You May Also Like
Loading..