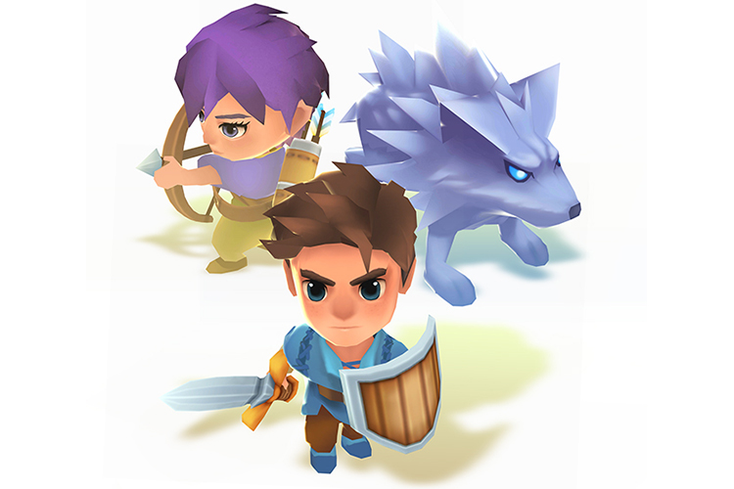 C oolabi Group, an independent international media group based in London, specializes in creating and managing children's and family intellectual property rights. The company acquired Working Partners, the publishing packager whose stable of writers and editors created Beast Quest, in 2012.
"Once you get past the 10-year mark, the brand almost becomes a contemporary classic," says Michael Dee, director of content, Coolabi Group. "People start to remember it from their childhood. We're refreshing the brand, but the stories still resonate, and we still have new readers coming in."
The series, published by Hachette, has been translated into over 30 languages and has sold more than 20 million copies. With 120 titles in the series, the IP is on its way to becoming an evergreen brand.
"The titles are obviously resonating. There's a collectability about them," says Dee. "Adam Blade, the nom de plume of our writers, is one of the top five most-borrowed authors in U.K. libraries. That includes adult
and children's books."
Targeted to boys and girls, ages 7 to 10, Beast Quest is a favorite among both parents and teachers for its ability to attract boys as loyal readers, says Coolabi.
"Boys tend to be quite tricky to entice as readers," says Dee. "The books are specifically designed to be short so that boys feel they've achieved something when they've read one installment."
While each book is constructed as a contained adventure, stories are linked from one book to the next to keep kids reading. To retain its young readers, the writing team employed techniques used in gaming strategy when creating the series.
"They wrote the books with a gaming formula in mind," says Naomi Dare, head of digital, Coolabi Group. "They focused on action and reward and were smart about increasing the intensity of the experience."
That strategy has come full circle as Coolabi Group has extended the property into the digital space with a "Beast Quest" gaming app, which it co-produced with Miniclip for iOS, Android and Windows Phone. Fans take the role of Tom, who, together with Elenna, enters the land of Avantia to battle monsters who have fallen under the spell of the dark wizard Malvel.
"The heroes aren't trying to kill the beasts; they are trying to release them from evil," says Dare. "And the two characters are working cooperatively together." 
The app has more than 10 million downloads worldwide since its debut in 2015. "Miniclip saw a huge potential for translating the brand into a mobile app," says Dare. "It's still very popular, with half a million downloads just last month. That's unusual for a game that's been available for a few years, which is quite a long time in the app space."
Last April, Coolabi Group partnered with Maximum Games for the launch of the "Beast Quest" console game for Xbox and PlayStation 4.
"Children roleplay as the character Tom, but the premium game offers expanded new graphics, and expanded challenges have made the game a hit with fans of the series," says Dale.
Maximum Games is already receiving re-orders in key territories, such as the U.S. and the U.K. The game's fanbase is continually replenished as children age into the book series and seek new ways to experience the brand.
"We still see huge potential for further gaming projects for this brand, and we see room for several titles in the app store space," says Dare.
A new app from Coolabi Group and Animoca Brands Corporation Limited will debut in early 2019. The new "Beast Quest" mobile game uses the tower defense game engine from the hugely successful "Crazy Defense Heroes," and Coolabi Group expects the app will widen the IP's appeal beyond fans of the Beast Quest series to gamers who may not even know the books.
"Players battle with different cards and characters to strategically defeat an enemy," says Dare. "It's a different type of game play we hope will appeal to different sorts of gamers."
Coolabi Group is also extending Beast Quest 's reach through innovative partnerships for live experiences. In one exciting new activation, Coolabi Group has teamed up with Hampton Court Palace, the former home of Henry XIII.
"One of their missions is to increase visits from families with children so we've had the wonderful opportunity to develop a live experience that brings to life some of the fantastical beasts that appear in the architecture and decoration of the palace," says Dee.
The Coolabi Group team has created animation for these beasts and has woven a story around them to create a 75-minute live experience in which fans follow Tom and Elenna through the palace on their adventure to free the beasts. The program launches its first 10-day run this month and will be repeated next year. Also this month, Coolabi is launching We Love Beast Quest magazine with Signature Publishing that will feature the palace experience.
A partnership with The Birmingham Stage Company, one of the world's leading producers of theater for children and their families, will provide another live experience for Beast Quest fans.
"That's very exciting. The tickets will go on sale this October, and the show will run this Autumn," says Dee. The live experiences present opportunities for licensed merchandise, an outgrowth Dee is exploring with licensing partners.
"Even though the gift shop at Hampton Court is not that big, we're proposing a licensed program of stationery, pencils, key rings and other small items. We anticipate that the palace will also carry the magazine and some books," he says. The team is working on a new style guide that will likely be modeled on the 60 beast characters that have been adapted digitally.
"We feel there is great potential for collectibles," says Dee. "Once you have that toy partner under your arm, you can harness a wide range of other licensing partners, so that's going to be a huge focus for us. Our licensing team is also talking to apparel manufacturers."
With a steady stream of new books and new characters, the property is in no danger of growing stale. Three new books are due to be published in the first quarter of next year, and Hachette has re-signed as publisher through 2026. While Dee says "television is always on the burner," for Beast Quest , the Coolabi Group seems content to remain rooted in publishing.
"Some people might think books are not the most exciting medium, but books are something kids can tap into any time," says Dee.
Read more about:
Subscribe and receive the latest news from the industry.
Join 62,000+ members. Yes, it's completely free.
You May Also Like
Loading..