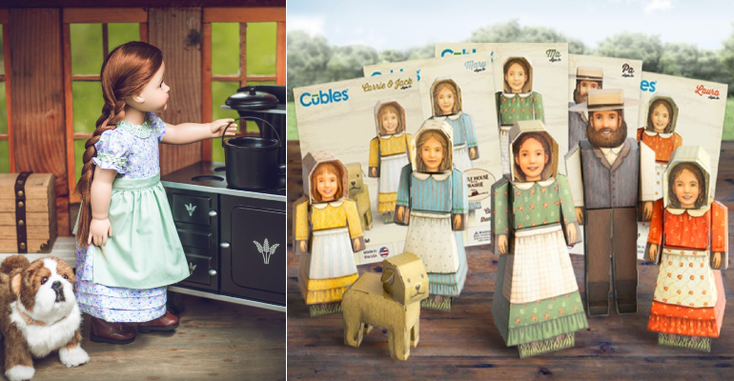 "Little House on the Prairie" licensees Cūbles and The Queen's Treasures are poised to continue their work with new "Little House on the Prairie" products planned for 2021.
"We are very pleased with the continued success of our licensees as they expand their 'Little House on the Prairie' collections for children to engage in creative play," says Trip Friendly, chief executive officer, Friendly Family Productions.
For 2021, The Queen's Treasures will continue to expand the "Little House on the Prairie" collection with an 18" doll version of a classic cast iron wood-fired cook stove, which coordinates with cookware and table accessories already in the line. The Queen's Treasures also has plans to expand the collection's age range by launching a new toddler toy grouping based on elements from Little House in the Big Woods later this year. The company already produces "Little House on the Prairie" 18" dolls, and doll clothing, furniture and accessories.
"
The Little House on the Prairie
books have
always been popular in home-schooling communities and, when parents had to take on the role of homebound educators because of the pandemic, many of them connected with the material as well," says Joann Cartiglia, The Queen's Treasures.
The fully assembled 1890s-style wooden stove sized for play with 18-inch dolls is available for preorder now and will ship in late May. The "Little Bears on the Prairie" line will feature handmade mini-jointed teddy bears and several Little House wooden structures with furniture, including a cabin, mercantile, school and church.
Minnesota-based Cūbles launched its line of "Little House on the Prairie" Cūbles for children to assemble unique paper toys of each member of the Ingalls family. The collection launched shortly after the pandemic shutdowns began in the spring of 2020 and quickly saw customers embrace them as a STEM activity that engages children in the process of building toys.
"We will expand our line in 2021 with the release of ColorMe 'Little House on the Prairie' Cūbles which are the same as the current 'Little House' Cūbles, but designed for kids to color them first so the finished toy is like a coloring book come to life!" says Joel Morris, inventor and chief executive officer, Cūbles.
"It's wonderful to see 'Little House on the Prairie' still inspiring licensees and captivating fans with stories of pioneer life set a century and a half ago and to know its themes of family, community, courage, optimism and perseverance still resonate and are worth celebrating today," says Carole Postal, president, Spotlight Licensing and Brand Management, the agency appointed by Friendly Family Productions to manage the "Little House on the Prairie" merchandise licensing program.
Read more about:
Subscribe and receive the latest news from the industry.
Join 62,000+ members. Yes, it's completely free.
You May Also Like
Loading..