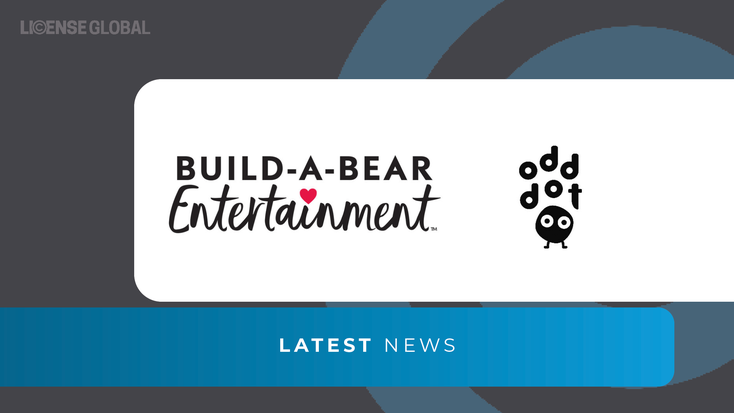 Build-A-Bear Entertainment and Odd Dot logos, respectively.
Build-A-Bear
Build-A-Bear
Entertainment, a subsidiary of Build-A-Bear Workshop, and Odd Dot, a division of Macmillan that publishes children's books, have announced a new content development relationship designed to create and produce a wide offering of books inspired by the characters and stories associated with the Build-A-Bear brand. 
As Build-A-Bear envisions extending its entertainment footprint further by bringing new adventures to life in different ways, this relationship with
will expand the reach of intellectual properties by creating board books, picture books, chapter books, sticker and activity books that will bring Build-A-Bear characters and stories to life across multiple genres for a wide age range of readers. The properties include the  Build-A-Bear product line, Honey Girls, currently seen as a live-action feature film on Netflix, as well as the upcoming Christmas 2023 film, "Glisten" and the Merry Mission, based on Build-A-Bear's multi-million-dollar holiday offering.  
Build-A-Bear
has been captivating guests and audiences with its approach to the creative process and storytelling since its inception in 1997, when the company introduced experiential retail where consumers could make their own stuffed animals. As the brand grew over the past 25 years, Build-A-Bear has also developed a library of intellectual property, many of which have been recently translated beyond retail and plush, through the creation of content including feature film and music. With 225 million "furry friends" sold over the last quarter century, the brand has also created millions of relationships spanning generations of kids and adults.  
Build-A-Bear has been executing a strategic corporate evolution that includes a digital transformation, an expanded multi-channel business model, the extension of the addressable market and the reimagination of the company's entertainment division, all aligned with the continuation of its mission to bring a little more heart to life. The company intends to continue and expand its high engagement touchpoints and creative content.  
"Storytelling and creativity have always been at the center of the Build-A-Bear experience, each personalized furry friend created by our guests celebrates unique stories, and our partnership with Macmillan allows us to share new ways for guests to interact with their beloved and favorite Build-A-Bear characters by bringing them to life through stories, books and activities," says Sharon Price John, president and chief executive officer, Build-A-Bear Workshop. "We are delighted to expand the love and appeal of our brand and encourage further creativity for children, tweens and teens." 
Odd Dot Publisher, Nathalie LeDu, will oversee the imprint for Macmillan, and Foundation Media Partners, which orchestrated and structured the deal, will be overseeing operations for Build-A-Bear. 
"We're thrilled to be partnering with Build-A-Bear," says Le Du, publisher. "Their experiential retail locations and hands-on approach to storytelling could not have been a more natural fit for Odd Dot's expertise in imaginative play, creating one-of-a-kind novelty experiences and family-friendly activities. The ethos of connection and creativity will be at the core of all the books Odd Dot dreams up with Build-A-Bear." 
"Because of their reputation for innovative and engaging content that inspires kids and kids at heart to explore, learn and have fun, we were confident from the beginning that Odd Dot and Macmillan would be the perfect match for Build-A-Bear," says Patrick Hughes, founder and chief executive, Foundation Media Partners. "As we continue to strategically extend the widening entertainment footprint of the Build-A-Bear brand, it is crucial to have the right partners who understand the importance of integrating brands and traditional entertainment through the creation of engaging content designed to impact the market in unprecedented ways." 
Subscribe and receive the latest news from the industry.
Join 62,000+ members. Yes, it's completely free.
You May Also Like
Loading..