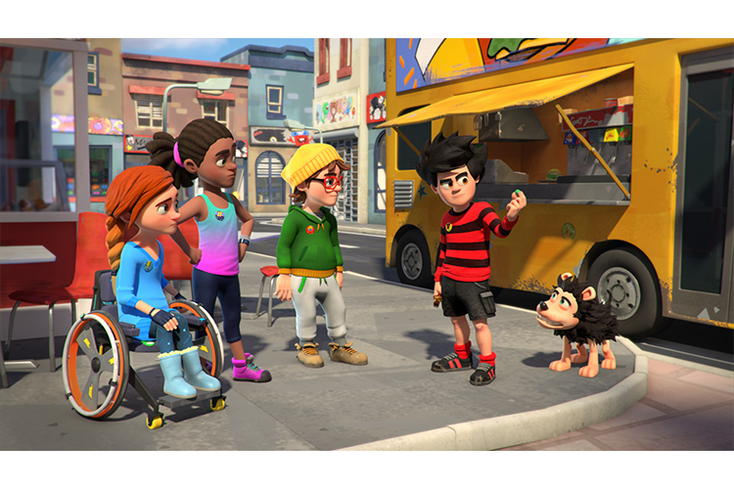 With the creation of Beano Studios in 2016 and the breakout success of the brand's first CGI-animated series "Dennis and Gnasher Unleashed," Beano is exponentially expanding its brand–and creating a plethora of licensing opportunities along the way.
"The Beano" was first published as a children's comic book in 1938, and its iconic leading character, Dennis, first appeared in 1951. Though the comic strip has since become a British national treasure, the relatively recent launch of Beano Studios is scaling the brand globally.
"Beano Studios was set up to extend the brand IPs into new markets, create a global kids content platform (Beano.com) and produce entertainment across a range of media including digital, TV and film," says Angeles Blanco, director of global licensing, Beano Studios.
Beano.com, which launched in 2016, is a digital entertainment network that is positioning itself as the "BuzzFeed for kids." Among children ages 6 to 12, Beano.com is the fastest growing digital destination
in the U.K. and has raked in 1.6 million unique visitors since its launch, according to the company. The website pulls in 2.1 million monthly monetizable views and has a monthly reach of 4 million across the network, Beano reports.
Beano.com has also earned multiple awards, including Best Original Web Channel and Best Digital Children's Content at the Broadcast Digital Awards.
The digital platform's success can be attributed largely to the company's insight-driven approach, which places a massive emphasis on data on children's viewing habits and preferences. Via analytics and an informative weekly panel comprised of children, the company gleans extensive knowledge about what children want.
"We generate unique insight from our Beano Trendspotters–a group of 9-to 12-year-olds who share the latest crazes, trends and opinions from the playground," says Blanco. "This enables us to know kids better than anyone else in the market."
In addition to its digital focus, Beano Studios' animated series "Dennis and Gnasher Unleashed" has further expanded the brand globally. The 52x11 series, which brings the Dennis character to CGI for the first time, was the highest-rated show on the U.K.'s CBBC on the week of its launch and pulled in an impressive 230,000 viewers during its peak episode, according to Beano."
Our first step is always to place the series with key broadcasters–preferably FTA channels for reach in the international territories," says Blanco. "We work hard to ensure that any dubbing which is needed is on brand as well as supporting the broadcaster in their marketing efforts. We're planning to appoint a local licensing agent in relevant territories to work with us to develop a local licensing program for the series."
According to Blanco, "Dennis and Gnasher Unleashed" will be broadcast across ABC Kids Australia, Super RTL (Germany), TVE (Spain), SVT (Sweden), Kidz (Israel), VTM (Belgium), RTE (Ireland), TVNZ (New Zealand), SIC (Portugal), YLE (Finland), among other major networks.
The explosive expansion of the brand's digital properties is providing a host of licensing opportunities that will likely require the help of licensing agents.
"Outside of our No. 1 kids annual and our weekly comic, which continues to sell more than 35,000 copies a week, we currently have more than 23 licensing partners on board covering the U.K. and Ireland," says Blanco. "As we appoint international licensing agents we plan to expand the roster of partners internationally."
Beano-branded product categories include gifting, paper goods, publishing and high-end apparel.
"Over the years, we have had many notable partnerships including Stella McCartney, who launched a range of apparel in 2017 using our characters and recently a follow-up collection featuring characters from 'The Dandy' and Beano's 'Minnie the Minx.'
"The first collection with Stella McCartney in AW17 featured Beano Studios' iconic comic strip series 'The Dandy,'" Blanco continues. "The comic designs formed a bold print in [McCartney's] ready-to-wear designs. The styles included an all-in-one outwear jacket lined with the print, dresses and separates, t-shirts, denim jeans and a sweatshirt with embroidery applique."
Beano's most recent collaboration with McCartney was for a line of children's fall/winter fashion that featured classic "Beano" and "Dandy" characters, including Minnie the Minx, Korky the Cat and Cuddles and Dimples.
"The range featured a total of 40 bespoke pieces, 30 starring 'Dandy' characters and 10 with 'Minnie the Minx' characters," says Blanco. "The AW18 range was designed for girls, boys and babies–available in sizes from newborn to 14+ years."
Beano also teamed up with Debenhams and Ted Baker to create the Beano Baker range of boys' apparel, which launched in 150 stores across the U.K., according to Blanco.
Other partnerships for the company include heavyweight brands Nickelodeon, Amazon and Apple.
As part of the comic's 80th-anniversary celebrations, Horace Panter developed a range of collectible pop art canvases reinterpreting "Beano" characters. Horace Panter and Beano teamed up with the Apple Store on Regent Street in London to create in-store experiences that incorporated all three brands.
In the coming months, Beano Studios plans to rapidly expand its content offering, making way for even more licensing partnerships.
"Beano Studios is actively developing different IPs to suit different age groups and broadcasters," says Blanco. "Our upcoming content includes animated long-form, live-action comedy, drama and live shows."
"The first of these commissions is SO Beano! from Sky Kids," Blanco continues. "It's our new 11-minute magazine format that sits exclusively on the 'Sky Kids' app and platform and NOW TV. It celebrates traditional values of friendship and fun and is a contemporary nod to the days of the classic Saturday morning TV shows. The show is hosted by Beano crew presenters and brings together all the jokes and mayhem you'd usually expect from 'The Beano' with original toons, comedy sketches and round-ups of all the coolest online videos."
Beano is planning a live-action version of "Minnie the Minx" called "The Magnificent Misadventures of Minnie." The company is also planning to launch a range of "Beano"-branded collectible coins and medals in partnership with Westminster Mint and a range of "Beano"-branded postage stamps via The Isle of Man post office.
And those exciting partnerships are just scratching the surface for this fast-evolving brand, according to Blanco."We will continue to work closely with our licensees to create innovative products and find new partners to complement the ranges, which will help us to continue to engage with the consumers.
To see the article as it appeared in print click
Read more about:
Subscribe and receive the latest news from the industry.
Join 62,000+ members. Yes, it's completely free.
You May Also Like
Loading..