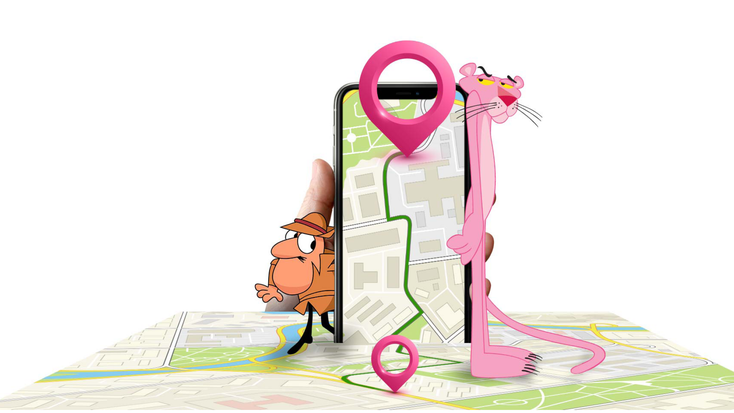 Inspector Clouseau and The Pink Panther in a promotional image for "The Pink Panther and the Case of the Missing Diamond."
Bounce
Pink Panther
continues to attract new generations of fans around the globe. Now, in partnership with
, the Bounce app will give users, known as "Bouncers," an interactive, app-navigated outdoor adventure, "The Pink Panther and the Case of the Missing Diamond." Players, led by Inspector Clouseau, navigate through the city, stopping at different locations. Each location unlocks new parts of the story, suspects to interrogate and clues to uncover. 
"The exciting thing about this interactive Bounce app experience is that decisions have consequences and sometimes you only have one chance, so you have to stay on your toes, pay attention and look beyond the obvious," says David House, founder, Bounce, and creator, "The Pink Panther and the Case of the Missing Diamond" app experience. "Not to mention, Bounce is designed to take you to areas of the city you may have hoped to see, locations you might want to return to later or local hidden gems that deserve to be seen as well. We want you to have fun, play and explore. Discover the city you were hoping to see, not the version that you're 'supposed' to see."     
Bouncers
can enjoy "The Pink Panther and the Case of The Missing Diamond" solo or in groups.  
"I'm a fan of Bouncing in a group, that way you can explore all the options and get more answers, and maybe find an easter egg or two," says House. 
"'The Pink Panther and the Case of the Missing Diamond' is a first-of-its-kind, innovative experience marrying groundbreaking technology with the fan-favorite sleuthing of Pink Panther and Inspector Clouseau," says
, executive vice president, global consumer products and experiences, MGM. "It's the perfect way to uncover new city sites and spend time with friends and family exploring new places." 
"It's fundamentally important to Bounce, when bringing the beloved Pink Panther brand to local communities and tourism hot spots, that it's not only engaging, but easily accessible to everyone," says House. "We worked hard to make this experience just that. We are ecstatic to partner with MGM for this Pink Panther launch, and we know this is a milestone in revolutionizing how we experience travel and entertainment in the future." 
"The Pink Panther and the Case of the Missing Diamond" will be available in multiple cities across the U.S., including Austin, Chicago, Las Vegas, Los Angeles, Nashville, New Orleans, Philadelphia, San Francisco, Seattle and Washington, D.C., with additional destinations scheduled for future release. There's also an option to request the experience to be created in your own city or neighborhood. This can be done in the app or via the Bounce website,
Experiencebounce.com/pink.      
Read more about:
Subscribe and receive the latest news from the industry.
Join 62,000+ members. Yes, it's completely free.
You May Also Like
Loading..