From her very first video in 2009, this multi-talented teenager and social media phenom has established a mega fan base to become one of the most popular YouTube stars, fashion trendsetters and beauty advisors in the world, and she has only begun to scratch the surface.

This unassuming 19-year-old says she has always known what she wanted to do. In some ways, it's hard to imagine that a young woman with such a following across all forms of social media remains so grounded and committed to building her brand.
Bethany Noel Mota (or Beth as she prefers), who has the continuous support of her family and parents, Tony and Tammy, stays remarkably focused on her video content and the key elements of her emerging fashion empire while keeping a grueling schedule–and okay–finding a little time to have some fun. Most recently, Mota traveled to Texas, India and beyond to meet her fans, reinforce her star power and popularity and to promote her fashion collection with Aeropostale.
"The growth of the channel
was never my main focus," recalls Mota, who began to express her opinions through videos on YouTube at age 13 as a way to cope with bullying she suffered in the 8th grade. "My focus was always on creating new content. I never expected it to happen this way. I remember when I hit 100 subscribers, I was over the moon."
Today, Mota's YouTube channel has more than 8.5 million subscribers and more than 685 million views.
"It has become an amazing platform to share my opinions and thoughts," says Mota.
In addition, she has 1.6 million Facebook likes, almost 2.5 million followers on Twitter and 4.5 million followers on Instagram.
With her captivating smile and charismatic style, Mota has skyrocketed to stardom while building a licensing business that makes her the very first individual YouTube star to make
License! Global's
Top 150 report with $80 million in retail sales of licensed merchandise in 2014.
The majority of Mota's retail sales at this point can be attributed to her partnership with fashion retailer Aeropostale, which operates 766 stores in 50 states, 61 stores in Canada and 239 locations in the Middle East, Asia, Europe and Latin America. Aeropostale's revenue hit $1.83 billion in 2014. The partnership, which began in December 2013 with a Bethany Mota holiday collection, has grown significantly and now includes seasonal collections with 50-60 SKUs each. Recently, bedding and fragrance products were launched, and Mota has big plans to continue to expand into other categories.
"When I'm designing, I don't necessarily look at all the trends," Mota admits, "because what's unique about my collection is that it's authentic. I always get inspiration from my audience and I think that is cool for them, especially because I ask them what would they like, and sometimes I go on Twitter to ask them what they want to see.
"They have a creative input into the line, which is unique because customers don't usually have that voice in the actual design process," she adds. "I am constantly being inspired by my audience. When we launched the collection, I showed a series of one-minute behind-the-scenes clips with the design team in New York. My audience feels like they are part of it because I showed them the making of the brand."
The key factors of her success and the popularity of her brand are based on originality, style and a real-life approach.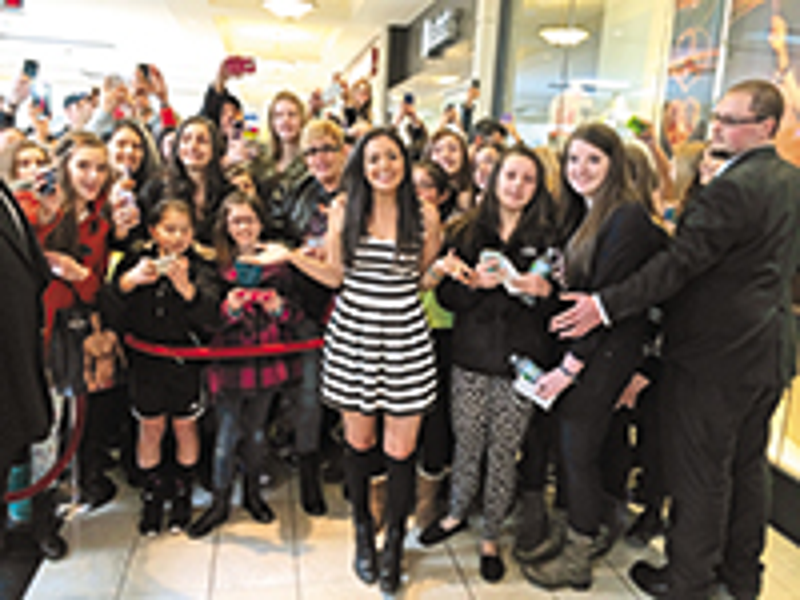 Mota recalls a recent mall visit when a girl ran up to her and gave her a hug.
"At first, I questioned myself: 'Do I know this girl?' This fan approached me as if we were best friends, yet we have never met before. But because she watches my videos, she already knows me. That's what has built my connection with my audience," says Mota. "Since the first video I uploaded in June 2009, fans have watched a real, authentic teenage girl growing up online."
In addition to her own videos, Mota has garnered an even greater following as a result of her many fan meet-and-greets and numerous personal appearances that include ABC's "Dancing With the Stars" and "The Ellen DeGeneres Show" in April. She was also the first YouTube celebrity on the cover of
Seventeen
magazine last October, and
Time
magazine ranked her as one of the Top 25 Most Influential Teenagers in 2014.
"I was shocked and honored," Mota says of the
Time
article. "It reminded me that people are actually hearing my voice and that I truly have this impact on a younger generation. Even though my channel is about lifestyle, I always try to include personal and inspirational messages about body image, self-confidence, being positive and having a good outlook on life."
For the future, Mota says she will continue to expand into new product categories including beauty and home décor, broaden her international audience, create new channels incorporating even more about her personal life and more advice videos about confidence, body image and inspirational messages. Mota says she also wants to do more as a singer and music artist following the release of her first single, "Need You Right Now," last October.
Mota will also work diligently to stay connected with her fans and what they want and also remain focused on her mantra: "Be who you are and say what you feel, because those who mind, don't matter, and those who matter, don't mind."
Read more about:
Subscribe and receive the latest news from the industry.
Join 62,000+ members. Yes, it's completely free.
You May Also Like
Loading..