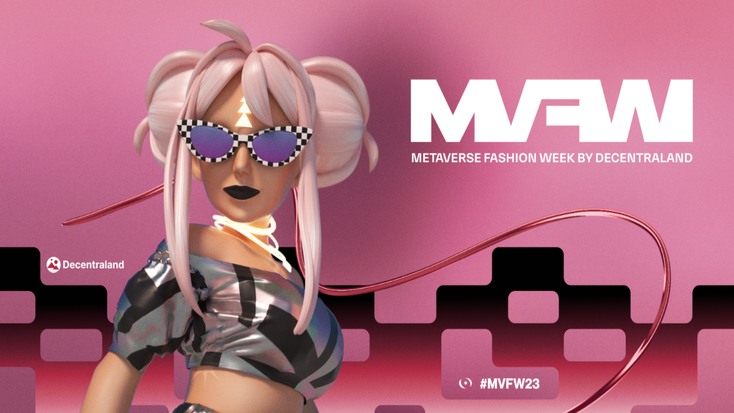 Promotional image for Metaverse Fashion Week.
Decentraland
Last week marked
's 2023 Metaverse Fashion Week. Unlike other fashion weeks across the globe, anyone (as long as they know how to enter the metaverse) can attend.  
This year's theme was "Future Heritage," a challenge to connect the next generation of creators and traditional fashion designers, showing the potential of fashion to bridge realities and worlds. The event shines a light on today's fashion industry, proposing a diversity of aesthetics across metaverses, connecting innovation to tradition, and looking back to the great moments of fashion to build the future. 
The metaverse, which includes gaming platforms like "
" and social platforms like Decentraland, is quickly growing steam. It has over 400 million unique visitors each month,
, a website dedicated to tracking developments in the metaverse.   
Here, License Global looks at all things Metaverse Fashion Week 2023.  
Big, Big Brands 
Since its debut last year, Metaverse Fashion week has continued to bring some
of the biggest brands into the virtual world. This year, it featured a fashion show from Vivienne Westwood, an exhibition celebrating Cristóbal Balenciaga, a unique four-floor boutique from DKNY and more.  
"An important part of Metaverse Fashion Week and Web3, in general, is to involve the creator community," says Tamra Knepfer, president, METABRANDS, a company that helps bring IRL brands into the metaverse. "Web3 values collaboration and creativity, so brands should invite users to be part of the story. A great example is how DKNY tapped into the Decentraland creator community to create Web-3-inspired versions of the landmark DKNY Soho Wall. One of the creations by artist Kirzoz is featured on the exterior of DKNY3, DKNY's virtual building in MVFW23, opposite artwork of the original DKNY Soho Wall. A free wearable T-shirt within the building also features Kirzoz's art. Then other artists' creations are featured in DKNY3's Art Gallery, with each artist's name included alongside their creations. This also supports one of Metaverse Fashion Week's themes of 'Neodesigners' – celebrating classic designs while taking a step into the future with the next generation of creative talent." 
Interactive Moments  
Walking through Metaverse Fashion Week, there was something to do at every turn.
had an opportunity to "explore" their Tabby handbag,
and adidas showcased ways to bridge the gap between physical and digital fashion and Alo Yoga hosted multiple sessions during the week focused on bringing mindfulness to both the metaverse and IRL.  
The social aspect of the week also allowed newer users like myself a better chance to understand what was going on during the event. I was able to interact with other users to get their thoughts on wearable fashions, ask panel questions and invite them to different events and "booths" for participating brands.  
The Future is Now  
Since the metaverse is all about pushing the envelope, the last day was dedicated to new and emerging talent. HBO hosted a runway show, and Vogue Singapore had a panel focused on the future of metaverse fashion. 
A standout from the day was the Future Rewind Competition, hosted by Dolce & Gabbana, alongside UNXD, an NFT marketplace dedicated to taking previous D&G designs and not only updating them to focus on current trends – but also making them digital wearables.  
While the metaverse is still in its infancy, this past week helped prove that it may, in fact, be here to stay.  
Read more about:
Subscribe and receive the latest news from the industry.
Join 62,000+ members. Yes, it's completely free.
You May Also Like
Loading..