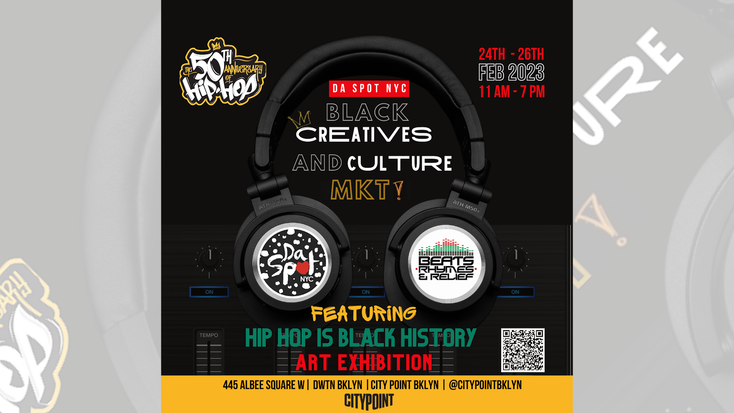 Pop-up promo photo.
The Brand Liaison
Hip-hop will mark its 50th anniversary this year on Aug. 11. Leading up to the anniversary, License Global has already announced several licensing deals and celebrations. Last year,  
's 
celebrated the 50th Anniversary of Hip-Hop with guest stars from hip-hop royalty performing their hits.  Last
, New York City, announced it was planning to honor the 50th Anniversary of Hip-Hop by hosting 50 events throughout 2023. As part of that ongoing celebration, the 50th Anniversary of Hip-Hop team of Legends Recordings, Beats Rhymes and Relief and
have announced "Hip-Hop IS Black History," an art installation pop-up that celebrates 50 years of Hip-Hop and Black History Month through the lens of social justice. The installation will be part of the 3rd Annual Black Creatives + Culture Market curated and hosted by DA SPOT NYC and City Point.  
"At DA SPOT, we create to elevate," says Michelle Cadore, partner, market curator and founder, DA SPOT.
"Since launching Black Creatives + Culture in 2021, our goal has been to empower Black business owners by providing visibility, economic opportunities and community connections. Two years later, we are honored to partner with Beats, Rhymes and Relief in celebration of New York City's 50th Anniversary of Hip-Hop." 
Highlighting Black excellence, spotlighting local creativity and amplifying the impact of hip-hop culture, the event will take place Feb. 24-26 at City Point, located in the heart of downtown Brooklyn, New York. The celebration will conclude at the Black Tie and Sneaker Ball, where Ice-T will present the mayor of New York City, Eric Adams ,with an award for his commitment to the hip-hop industry. The three days of programming are free and open to the public with the Black Tie and Sneaker Ball being by invitation-only. 
Highlights of the three-day event include DA MARKET showcase of fashion, beauty, wellness, art and lifestyle brands; DA MUSIC STAGE showcasing performances and DJs and DA ARTIST LOUNGE's "Imaginary Lines" exhibit featuring 15 local BIPOC artists representing a range of disciplines. 
"Hip-hop is Black history and our mission through this exhibit is to uplift 50 years of hip-hop through a social justice lens and live art show," says Rameen Aminzadeh, founder, Beats Rhymes and Relief. "We are thrilled to be presenting this point of view with our synergistic partners, DA SPOT and City Point." 
As part of NYC Mayor Eric Adams' ambitious goal of producing 50 events in NYC for 50th Anniversary of Hip-Hop, Legends Recordings and Beats Rhymes and Relief will introduce events and experiences throughout the year. As
announced in November, Legends Recordings and Beats Rhymes & Relief have teamed up to create a hip-hop community fund, with the goal of raising $250 million. The Brand Liaison will continue to launch exclusive merchandise and licensing for the cause.   
Read more about:
Subscribe and receive the latest news from the industry.
Join 62,000+ members. Yes, it's completely free.
You May Also Like
Loading..