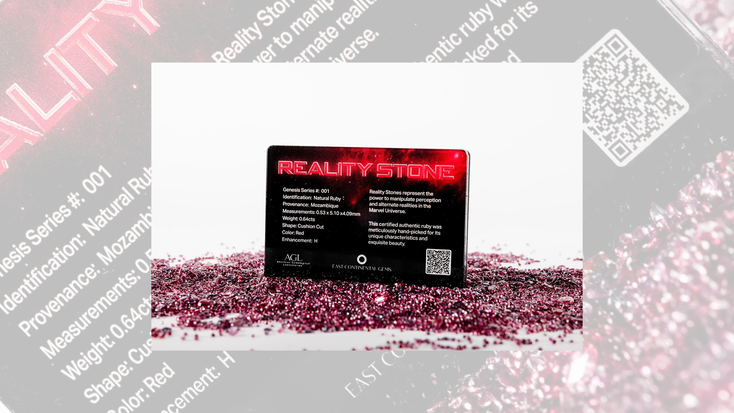 Infinity Collection of Gemstones - Ruby.
Marvel
Marvel
and East Continental Gems are launching a new Infinity Collection of Gemstones, the Genesis Series – the first Stones comprise real gems that can be purchased by fans and collectors. East Continental Gems curated the collection, which will start with the Reality Stone, a red ruby. 300 Reality Stones are now available for presale (official on-sale date is Nov. 15), ranging from $1,500 to $20,000 at Eastcontinentalgems.com. Each gem is numbered and will come sealed in custom packaging and shipped in a durable carrying case. 
The Reality Stone in the
has the power to create tasks, realities, concepts and visions.  
East Continental Gems will follow the release of the Reality Stone with unique collections of the five additional Infinity Stones from the Marvel Universe – Time, Space, Mind, Power and Soul. Anyone who purchases all six stones will be eligible to purchase a hand-crafted Infinity Gauntlet to house all the stones. 
The Genesis Series comes on the heels of the
monumental unveiling of the Infinity Gauntlet at San Diego Comic-Con this past summer. The Gauntlet features one-of-a-kind versions of all six stones totaling more than 150 carats with an estimated value of $25 million – making it one of the rarest collectibles to debut at SDCC. The Infinity Gauntlet was customized by Gentle Giant, maker of high-end collectible toys and consumer products sold worldwide. 
"On the heels of our successful reveal of the Infinity Gauntlet, we wanted to provide Marvel fans and collectors the unique opportunity to take a piece of this Marvel treasure home with them," says Paul Gitter, senior vice president, Marvel Consumer Products. "We're proud to collaborate with East Continental Gems to bring these six, quality Infinity Stones to life."    
"This just keeps getting better," says Adam Mirzoeff, president, East Continental Gems. "We were so excited about the interest and excitement surrounding the unveiling at Comic-Con, however, our real interest was in creating Infinity Gems accessible to more fans of the Marvel Universe."  
Each Stone is hand-selected to be the finest quality and will be certified by one of the world's leading agencies, American Gemological Laboratories. 
"Gemology is all about the love of, passion for and scientific investigation of gemstones," says Christopher P. Smith, owner and chief gemologist, American Gemological Laboratories. "Integrating all of that into a further appreciation of the Infinity Gauntlet and the Infinity Gems Collection, as a long-time comic book fan, is really something akin to a dream come true."  
Read more about:
Subscribe and receive the latest news from the industry.
Join 62,000+ members. Yes, it's completely free.
You May Also Like
Loading..