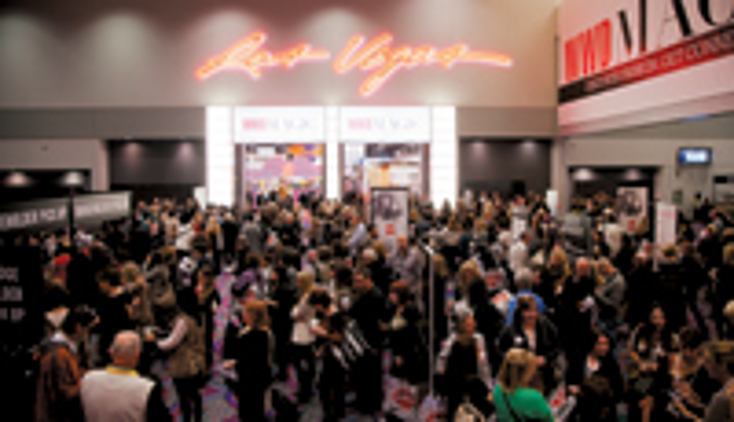 Fashion's premiere event, the bi-annual MAGIC Market Week, is here again, bringing together the international community of apparel, accessory and footwear professionals. The show, which takes place Aug. 19-21 in Las Vegas, Nev., is the preeminent place to drive the business of fashion–from previewing trends to closing deals.
Thousands of attendees from more than 80 countries, which include an influential network of buyers, brands, media and decision makers, descend on the MAGIC Market Week show floor to shop the 5,000-plus established and emerging apparel and accessory brands showcased at WWDMAGIC, FN Platform, Sourcing at MAGIC, Project, the Tents @ Project, Project MVMNT, MAGIC Men's, POOLTRADESHOW, ENKVegas and [email protected]
WWDMAGIC
Billed as "fashion's most comprehensive collection of women's apparel, accessories and footwear," WWDMAGIC showcases more than 2,000 emerging and established junior's and young women's brands across multiple price points and trends. The show is a collaboration with
Women's
Wear Daily
.
The show occupies the floor of Central Hall at the Las Vegas Convention Center and continues to grow, now moving its former North Hall business upstairs to the South Hall to strengthen its position in the market. The new area, WWDWHITE, will include brands in the better bridge category. Also moving upstairs is young contemporary, women's sportswear and dresses and Heart of Prêt, a partnership with the European fashion salon Prêt a Porter Pàris.
WWDMAGIC will also include its SWIM area, which is comprised of more than 200 new and established swimwear brands.
FN Platform
FNPlatform is North America's most influential shoe business forum in the U.S., where the leaders and innovators of the industry converge to shop and sell shoes.
FN Platform is merchandised into several lifestyle environments: Black Diamond, which houses heritage labels and high-end luxury brands; Cosmo, which comprises an assortment of designer and contemporary women's fashion footwear; Camp, with its "athleisure" and advanced contemporary sport-inspired shoes; Bond, which houses designer to contemporary men's footwear; Zen, which showcases stylish, yet comfortable, footwear; and Play, which present collections of junior's and kids' shoes.
Sourcing at MAGIC
This is the place to find the most comprehensive sourcing event, offering access to more than 40 countries representing the world's key markets. Sourcing at MAGIC showcases more than 1,100 apparel and accessory resources, conveniently merchandised by country and category: contract and original design manufacturers; fabric, trim and component suppliers; and service and technology providers.
At this show, Sourcing's focus country is India, which will be emphasized with 150 apparel, accessories, footwear and homeware booths, double the number from previous shows.
Footwear at Sourcing is also growing, with more than 500 companies at August's show from key countries around the world including China, Mexico, India, Taiwan, Thailand, Bangladesh and more.
Project, The Tents @ Project and Project MVMNT
Project is curated and expertly merchandised, presenting attendees and buyers with the forefront in fashion and apparel from the leading and most relevant brands in the advanced contemporary and denim market.
The Tents @ Project serve as a focused platform for inspired high-end contemporary men's and dual-gender fashion labels. Curated and housed under, naturally, a tent, the collections are presented with the goal to present a "strong vision of the American fashion marketplace by bringing together the most influential brands, retailers and press outlets in the contemporary community."
Finally, Project MVMNT is the portion of the show that reflects the spirit and goals of youth culture. Young and hip, this is where you find the next big brand.
POOLTRADESHOW
Pool, as it is known, is where independent brands and retailers are introduced and marketed to the fashion world. Curated established and upstart brands, with an emphasis on art and design-driven labels, can be found on its show floor, representing items that "will keep the boutique and lifestyle market at the pulse of emerging trends."
ENKVegas
Advanstar, parent company to MAGIC Market Week and
License! Global
, acquired ENK International in November 2012. The acquisition brings ENK, best known for its global fashion events such as Fashion Coterie, Intermezzo Collections and Accessorie Circuit under one umbrella, uniting it with the MAGIC events.
With more than 50 percent of footwear sold in the U.S. being either "fast" fashion and/or private label, according to Advanstar, [email protected] represents the most comprehensive and only show that is completely focused on servicing this demand.
[email protected] represents comprehensive affordable fashion and factory-direct sourcing segments for the footwear business, including all major U.S.-based suppliers and affordable apparel and accessory resources.
Sourcing exhibitors include factory representatives/finished goods suppliers from China as well as other global sourcing bases. Show attendees from over 60 countries consist of major retail chains and independent shoe stores as well as design, development, and sourcing teams from the leading branded suppliers.
Read more about:
Subscribe and receive the latest news from the industry.
Join 62,000+ members. Yes, it's completely free.
You May Also Like
Loading..