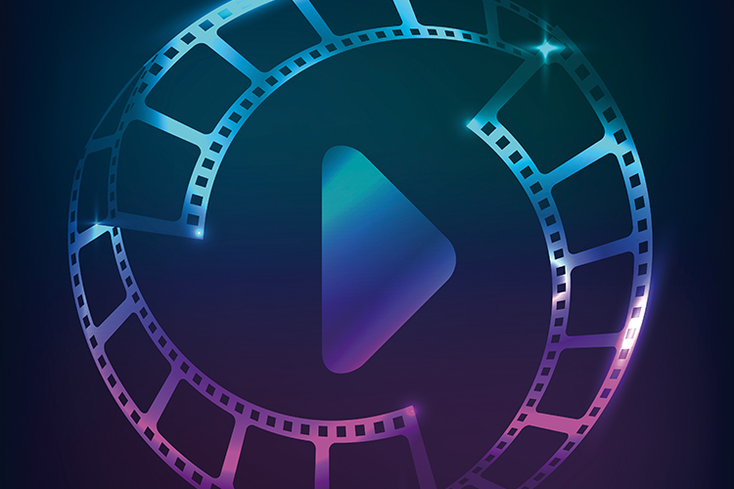 The film industry is in the midst of a sea change. For starters, there is no one way to watch a movie. Ten years ago, the only way to see a highly-anticipated film was to visit the nearest movie theater. In 2018, some film companies are bypassing the big screen altogether in favor of the personal laptop or smartphone screen.
Streaming services like Netflix, Amazon and Hulu are now major players in the entertainment industry, producing original TV series or film, featuring everything from superhero franchises to independent movies.
Variety reports that the number of Netflix subscribers went up by 7.4 million in Q1 2018, an increase of 1 million users compared to the same time in 2017. A closer breakdown shows 1.96 million new streaming subscribers in the U.S. and 5.46 million internationally–that's 125 million total subscribers worldwide who are ready to binge on programs such as season two of "Luke Cage."
Hulu has more than 20 million subscribers as of this month, according to Kidscreen, up
7 million from the last report in 2016. Hulu's canon of video is vast, with 1,700 TV shows and more than 75,000 episodes, ranging from original programming like "Marvel's Runaways" to vintage TV shows.
Recently, Hulu announced a deal with DreamWorks Animation to launch multiple kids programs, a first for the streaming network.
Companies like Netflix and Hulu have influenced how moviegoers are buying theater tickets. MoviePass, the subscription-based service for movie theaters launched in 2011, dropped its monthly fee to $10 in August 2017 and subsequently increased its base by 20,000. With more than 2 million subscribers now, anyone with a MoviePass can see a movie a day. However, consumer confidence is shaky. According to movie industry consulting firm National Research Group, 32 percent of current MoviePass subscribers doubt the "too good to be true deal" will last. This month, MoviePass reverted back to its $10 monthly fee after a promotion with iHeartRadio raised its rate to $30 and four movies per month, much to the dismay of its subscribers. The company also announced a no-repeat viewing policy to cut back on fraud.
On the consumer products front, licensees and licensors may have an uphill battle. Bloombergreported that sales for Star Wars lagged in 2017 and didn't match the anticipated fanfare of previous Star Wars product roll outs. Although loyal collectors snapped up the newest toys for Star Wars: The Last Jedi, the film didn't seem to resonate with children as it did with Star Wars: The Force Awakens. In the Bloomberg article, an analyst for BMO Capital Markets attributed the lack of sales to Millennial and Gen Z's increasing preference for streaming services.
If consumers suffered from movie fatigue in 2017, then they were revitalized earlier this year with Marvel's Black Panther. According to Dateline Hollywood, since its release in January of this year, Black Panther passed $600 million in box office sales internationally, beating out Iron Man 3 and The Fate of the Furious to become the No. 12 world film release ever.
While most licensees will announce rollouts of consumer products to coincide with a film release, sometimes the zeitgeist has other plans. Now movie theater excursions are becoming an event not just for fans of the comic book series, but for the general public. Chances are you've seen filmgoers decked out in homemade costumes inspired by Black Panther on your social media news feeds.
On-demand marketplaces like Merch by Amazon and Redbubble are on the rise, and these too are helping to get product to market at the speed of customer demand and allowing licensees, or your average maker fan, to capitalize on less predictable hits.
Redbubble puts the creative control in consumers' hands. Said Eric Morse, senior vice president, partnerships and general manager, global licensing, Redbubble, (as first reported in the LicenseGlobal.com article, "The Redbubble Dilemma–Can Fan Art and Licensing Live Together?" published in February): "Redbubble as a marketplace is not the retailer. The actual, independent artist is the retailer. They are the seller in this case–they choose what they want to sell, how they want to sell it and we provide the service of connecting them with third parties to fulfill and ship the product."
The print-on-demand movement gives fans a way to make movie merchandise not suited for mass market retail, such as viral content from memes or obscure film phrases, available within minutes.
Merch by Amazon works with licensors, licensees and content creators to create, promote and sell branded merchandise without risk and without any up-front costs.
"We noticed that many app developers have a few things in common: a fan base, creativity and design skills and no easy or natural path to get their own branded merchandise into the hands of fans," says Miguel Roque, director, Merch by Amazon. "With that in mind, we developed Merch by Amazon to help developers increase revenue through the sale of branded merchandise designed by them and produced, sold and shipped by Amazon." (From the April issue of License Global, "Merch On-Demand.")
Licensors and licensees have recognized that producing consumer products around hit films for retail must happen faster than ever. During the "Need for Speed" session at License Global's NYC Licensing Summit in February, the panel of licensing industry vets talked about how striking while the iron is hot is more important than ever for retail.
"We're looking to interpret the pop culture zeitgeist," said Brian Mann, vice president, head of licensing and new business development, Loot Crate, at the event. "It's a distinct point of view that feels personal."
For consumer product companies to predict consumer trends, monitoring social media closely can help.
"In a perfect world, if you can let licensors see what's in the story, it's a goldmine," says Cindy Levitt, vice president, general merchandise manager, Hot Topic and BoxLunch.
Hot Topic was tapped by Marvel to produce a line of Black Panther-inspired apparel to fulfill and meet fan demand.
In short, traditional product launches in support of film events aren't going away anytime soon. Entertainment companies will still collaborate with toy, apparel and gaming companies year after year to get as many consumer products with film tie-ins to retail. However, they may be paying closer attention to social media trending topics, to make sure the customer is getting what they want.
Subscribe and receive the latest news from the industry.
Join 62,000+ members. Yes, it's completely free.
You May Also Like
Loading..