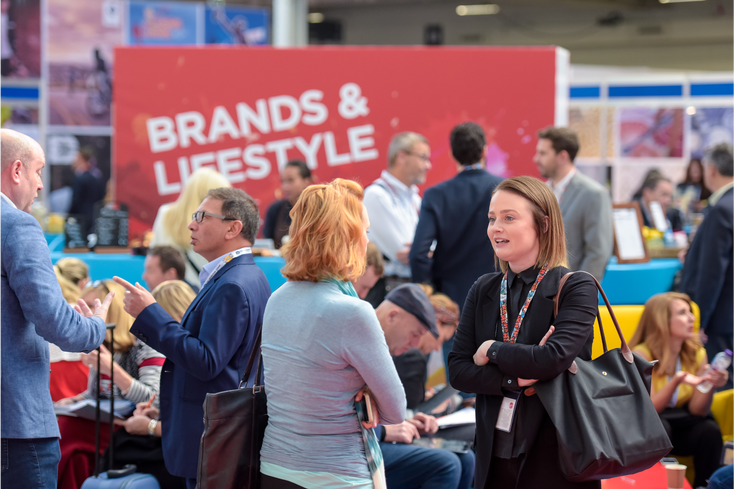 Brand Licensing Europe took place this week (Oct. 1-3) at London's ExCeL. While walking the show, attending seminars and talking to exhibitors,
License Global
picked up on key trends that are defining the way the licensing community does business.
Fashion has a Sustainable Future
Fashion, the core theme of BLE 2020, was teased everywhere at this year's ExCeL debut. Mannequins featuring some of the most progressive collaborations – from retail appeal to haute-couture design – lined the show, and the discussion of fashion's place in licensing is just as apparent.
"Fashion licensing is at an interesting place right now," says Anna Knight, vice president, licensing, Informa Markets, the organizer of BLE. "There's so much going on, from sustainability discussions to haute couture collaborations. It's providing a new way to open up brands and we want to shine a light on that, show how experiential it has been and how it links back to brands, lifestyle and art. Fashion and licensing is Zeitgeist-led, it's visual, on-trend, inclusive
and ticks all of our boxes for BLE 2020."
With carefully considered collaborations showing no sign of slowing down, this also comes with the conversation of how these pieces are created in the future. Sustainably sourced materials and ethical collaborations are making noise (such as Tiger Tim's partnership launch with Cotton Made in Africa, announced at BLE), and as fast fashion retail experiences stressors (think the recent Chapter 11 filing for Forever 21), this new balance could signal from consumers a sea change in how they allocate their spending.
Heritage Licensing Becomes an Export
U.K. heritage licensing has gone from small, niche gifting products to carefully curated consumer products in demand across the globe. These brands are now known for licensing artistic and educational archives with genuine authenticity, and the latest revolutions on display at the Heritage x Interiors activation stands are a testament to the work underway in new verticals.
U.K. heritage licensing has become an export, making its way to new markets such as China. The V&A is one such brand leading the way in new territories.
"It's been a year of success and growth in China for V&A brand licensing who have been working with their exclusive agent in the country, Alfilo Brands, to push forward ambitious plans for licensing, retail collaborations and pop-up stores," says Lauren Sizeland, head, business and licensing development, V&A. "In the last year, the V&A has grown the number of licensees within East Asia by 15 percent. Recent collaborations include a range of luxury luggage from ITO, inspired by 1920s art deco travel posters; three collections from lifestyle retail store The Beast, including The Modern Times range featuring mugs, candles, diffusers and prints, and the Beauty in Bloom range with silk pajamas and scarves; arts-and-crafts-themed tea giftsets with Twinings; and a shoe collection with Basto, who reworked the V&A archive of travel posters and Japanese Ukiyo-e prints into an exceptional footwear collection."
This push into China with intricately designed projects is also leading the V&A to learn more about the consumer tastes of the region to increase their focus and develop new products.
Big Brands are Getting Better with Age
Major milestone anniversaries are being celebrated across the show floor, with Hasbro bringing the long-lasting brand of Monopoly to the people in special editions for its 85th, Batman marking his 80th across the year with global projects and gaming icons Activision and "Pac-Man" continuing to grow at 40.
"Thomas & Friends" is also marking its 75th, and as brands mark more milestones, the consumer products are starting to reflect not only decades of growth, but a future of creativity in terms of product design.
Rovio's 10th anniversary brought forward a new collaboration with K-Swiss, for example, that takes the color and the mischief of the mobile game and brings it straight back to the personality-driven consumer market.
Publishing is having a moment too as classic continues to stay in style.
Peter Rabbit
continues to display innovative licensing programs, while
Horrible Histories
matures into a retro property as author Terry Deary gave us his insight into the property at BLE's publishing activation, Beyond the Book.
The Players have Spoken
Gaming continues to grow as esports, multiplayer and narrative-driven content experiences keep us coming back to our consoles. The list of exhibitors on display at BLE 2019, from Playstation and Nintendo to Ubisoft, Activision Blizzard, Sybo Games and Rovio, means the gaming industry investment in licensing is real, and as the gaming culture continues to grow, so will the business opportunities.
A central highlight of BLE was The Arcade, a gaming and esports activation that celebrated gaming history and allowed visitors to interact and engage with properties and product from participating brands such Rovio, Sega, Difuzed, Bandai Namco, Disguise, Activision, Bioworld and Sybo.
Long Live the Movie Franchise
If there's one trend to re-appear year-on-year, it's the long-lasting appeal of sequels, reboots and title returns. With "Trolls: World Tour" and "Minions 2" being presented with pride by Universal, or "Wonder Woman: 1984" by Warner Bros., "Top Gun: Maverick" by Viacom Nickelodeon and "Ghostbusters" by Sony Pictures, the consumers are driving huge demand to see the characters they love again and again and that there is guaranteed pick-up at retail for such properties.
"We no longer license movies, we actively build licensed franchises and sequels as an integral part of our content strategy," says Hannah Mungo, country director, U.K. and Eire, Universal Brand Development. "They allow us to introduce new characters, themes and music and they provide an event moment for retailers and licensees to build new and refreshed programs around. In a world of disruption and fragmentation, consumers are looking for strong and stable brands that they know and trust, sequels answer this brief by affording fans the opportunity to build deeper and more meaningful connections with our properties."
"Franchises such as 'Ghostbusters' have a built-in audience that grow from generation to generation," explains Jamie Stevens, executive vice president, worldwide consumer products, Sony Pictures Entertainment. "For licensing, it gives us the opportunity to provide products that feed the super fans as well as new consumers who are entering the franchise for the first time."
"Retailers are placing big bets on movie franchises, and Paramount Pictures' 'Top Gun Maverick' and 'The SpongeBob Movie' are two great examples," says Mark Kingston, senior vice president, Viacom Nickelodeon Consumer Products. "These franchises have strong emotional connections with generations of fans, and retailers know that the appetite for special-edition product will be strong. Movie releases also give a nice boost for our everyday 'Spongebob' and 'Top Gun' business."
Read more about:
Subscribe and receive the latest news from the industry.
Join 62,000+ members. Yes, it's completely free.
You May Also Like
Loading..