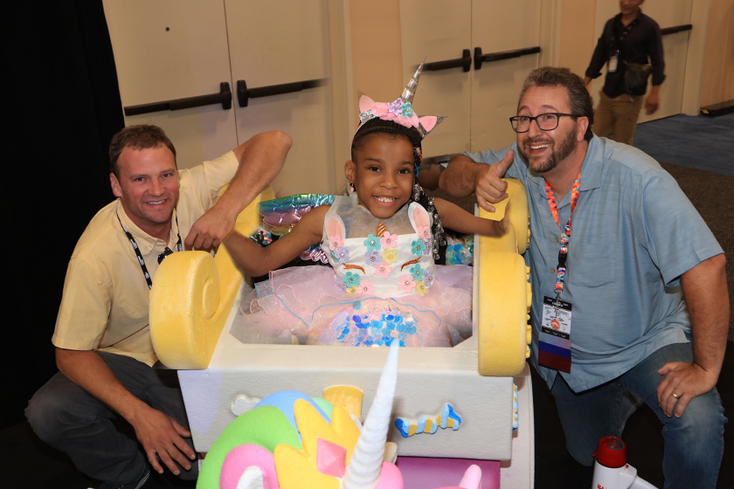 In a heartfelt moment on the show floor at Licensing Expo,
, a nonprofit organization that works to provide epic costumes for youth wheelchair users, revealed a one-of-a-kind creation that brought one young girl's favorite characters to life.
Kendall Walker, a young girl living with Spina Bifida, was presented with a reimagined wheelchair with a "My Little Pony" theme that included Rainbow Dash, Celestia and Pinkie Pie–Kendall's favorite "My Little Pony" characters. The custom wheelchair costume was made possible via the contributions of Monster City Studios, a full-service design and fabrication company whose creative artists, technicians, draftsmen and fabricators left no stone unturned to bring Kendall's custom creation to life.
The wheelchair costume was presented to Kendall along with her mother, Laura, before a crowd–who counted down the big reveal.
Kendall was all smiles upon seeing her new custom wheelchair costume, exclaiming, "I like it!"
"
is truly
magical," says Laura. "These children with physical needs are really overlooked because they're looked at as less than, not on purpose, but it's just naturally so. We feel very thankful, and it's amazing because it allowed me to give Kendall something that I couldn't ordinarily give her."
After being presented with her wheelchair creation, Kendall boldly and charismatically led Licensing Expo's Character Parade in her new creation.
"Kendall is very epic," says Laura. "She looks like Jane with all the sparkle, but then she plays like Tarzan. She is all athlete. She plays adaptive hockey, she plays sled hockey, she does gymnastics, she plays adaptive tennis and she swims. She's everything."
"We are so excited and honored to welcome Magic Wheelchair and Monster City Studios to Licensing Expo along with Kendall and her mom Laura," says Jessica Blue, senior vice president, Global Licensing Group, Informa. "The presentation and reveal of the Magic Wheelchair was one of the highlights of the show for me and for others."
Magic Wheelchair has built costumes for hundreds of families nationwide–free of cost–providing kids in wheelchairs unforgettable experiences.'
"It brings us such pleasure watching the smile on each child's face grow as they see their specialized wheelchair costume for the first time," says Christine Getman, executive director, Magic Wheelchair. "Through working with various brands, we have been able to bring many children's favorite characters to life, ranging from superheroes to unicorns, and spaceships to princess carriages. We're thrilled to bring a Magic Wheelchair reveal to Licensing Expo, not only to meet more brands to potentially work with, but to show people the magic of our collaborative efforts."
Subscribe and receive the latest news from the industry.
Join 62,000+ members. Yes, it's completely free.
You May Also Like
Loading..