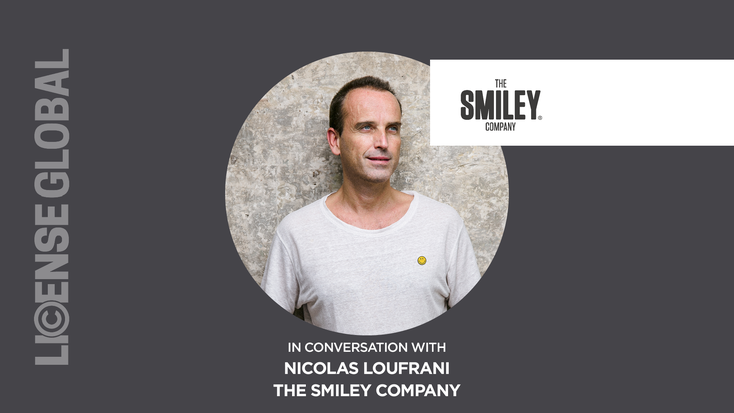 License Global: How would you define location-based entertainment (LBE) and its role in consumer engagement?  
Nicolas Loufrani: We have two different types of location-based entertainment. One is to work on outstanding retail activations with exciting shops and products. An excellent window display is a form of storytelling, and it's about creating an exciting experience for consumers around our products and our brand values of spreading happiness and positivity.  
Then we have the second level, which is really when we start developing retail with it's not about selling the products, but it's purely about the entertaining activation. And for example, to be part of an amusement park, or we're creating fantastic activations with shopping malls, where there is a smiley activity. Interesting art to see throughout the venue. And it's really something that has become very important for retailers. Because obviously, as we know, we need to create something outstanding for consumers to want to shop at retail.  
E-commerce
has impacted the way we work, so we've been developing much more storytelling with retailers over the past five years, and we've been working on all these exciting campaigns when it's also while shopping malls or even entertainment spaces are looking to develop activations with famous IPs that are bringing a very reasonable profit, deliver offender DNA that's going to trigger exciting activities for the consumers.  
What is Smiley's approach to opening new licensing opportunities through LBE? 
As with everything we do, we are proactive. We don't wait for people to contact us. We create our activations. We pitch to shopping mall owners, amusement parks and department store chains. We work with specialized chains, share new ideas and themes, and reinvent Smiley's creative vision around our brand values. This is why we are actually quite successful with our 50th-anniversary campaign, of course, a perfect example of that. We've created an activation with department stores in 15 countries worldwide, such as Nordstrom and Gallerie Lafayette, with the latter featuring skate ramps, tattoos, incredible street art and activations. We've also collaborated with one of the greatest artists in the world and the number one DJ in the world, creating a new song before the incredible music video highlighting our manifesto for happiness. 
Do you have any prime examples of your latest experiential initiatives? 
We're going to do something with one of the biggest shopping motivators in Europe, having an emotional intelligence trail (EQ) with fantastic art developed by artists to express different emotions. This whole trail is about teaching emotional intelligence to kids, and the public and making people understand what they were showing agents is about and how important it is for us to understand better people, and it's about living together. Another benefit we have as a company is creativity, and we always come up with very creative activations. We do a lot in Asia, where every innovation is very different. We try to develop unique projects, which is also working with Smiley. We create unique projects with our partners in mind. We co-create.  
Where do you see the future of the global LBE marketplace going, and what might that look like? 
The LBE marketplace will continue to grow because it's something that consumers need, but they will always have to be increasingly creative. There will also be a mix of real-world and the metaverse. We have a lot of ideas that we are also looking at within Smiley, such as more sustainable activations. Therefore, it will be critical to use sustainable materials. I'm looking at activations that can travel across locations instead of being destroyed at the end of that activation. We also want to create exciting collections of artwork that can be moved from one shopping mall to another, making them more sustainable. 
Read more about:
Subscribe and receive the latest news from the industry.
Join 62,000+ members. Yes, it's completely free.
You May Also Like
Loading..