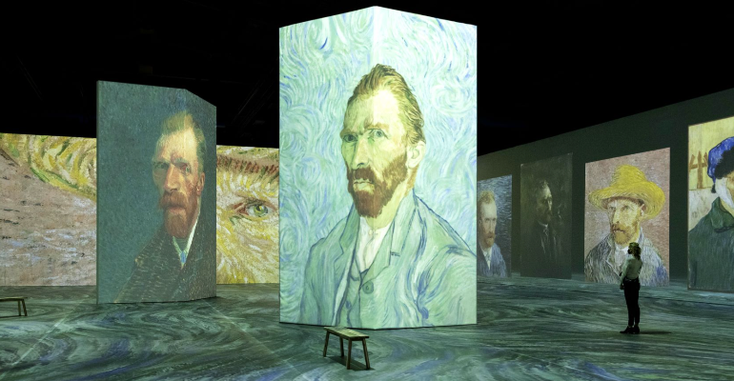 Beyond Van Gogh: The Immersive Experience
Ask anyone about things they missed during the pandemic and enjoying live experiences is sure to be near the top of the list. Fortunately, now that the world is beginning to open up again, we're seeing a growing number of location-based experiences to help people of all ages not only get back out there, but also to reconnect with characters and brands they love. We tagged a few top trends we're seeing in the LBE space. 
During the pandemic, it sometimes felt like the only safe places were at home and outside. Zoos and parks took advantage and we saw a rise in LBEs in these areas. It's a trend we reported on in last fall's November issue of
in our "Special Report: British Experiences." We've seen several brands enter this area, including Acamar Films partnering with the Zoological Society of London. The World of Eric Carle has partnered with both the London Zoo and the Bronx Zoo and has plans to do the same with Zoo New England next summer. Also in the November issue, we shared some of the experiential activities from Magic Light Pictures, including its partnership with Forestry England with 20-30 self-led activity trails at sites across the country. Last fall, Kew Gardens and Kew's wild botanic garden in Sussex offered The Gruffalo's Child Trail, where visitors could search for The Gruffalo's Child and other characters.  
This
winter,
reported 121 National Trust gardens and parklands throughout the U.K. have offered self-led trails featuring the world of "Percy the Park Keeper."  
Immersive art and touring exhibitions 
Touring exhibits at museums are nothing new, but they're becoming more innovative and interactive. Last fall, the "Moomin Animations – Thrills and Cuddles" exhibit, featuring the King Features children's property, Moomin, was on display at the National Children's Museum in D.C. 
Thomas & Friends: Explore the Rails, an interactive and STEM-based Thomas the Tank Engine-themed exhibit, is currently rolling its way through a tour of various U.S. and Canadian children's museums.  
The Minnesota Children's Museum has two traveling exhibits based on the PBS Kids TV series, "Wild Kratts," currently on tour in the U.S. 
These types of LBE offer something for the whole family. Art lovers have been able to literally get inside Impressionist masterpieces in Beyond Van Gogh: The Immersive Experience, which has been touring the U.S. and Canada and is set to open at the Graceland Exhibition Center in Memphis, Tenn., on March 25.   
In October,
reported Hasbro's plans for the world debut of Transformers: The Experience. The exhibition, which will feature hands-on interactives and high-tech immersion, is set to debut and tour North America this summer with a second unit launching later in China. 
Dinosaur lovers and future paleontologists can check NBCUniversal's Jurassic World: The Exhibition, which just opened in Denver and includes multiple touring exhibits in Asia and North American regions.  
Theme parks have always been LBE venues, but they are continually evolving to offer fresh product. As we head into spring, more parks will open, reopen and of course, be adding new attractions featuring newer IPs. Last fall, Six Flags Magic Mountain announced a new roller coaster, the Wonder Woman Flight of Courage, in the six-acre DC Universe area of the park, which is being expanded and remodeled to include a new restaurant and bar experience plus retail locations featuring DC-branded merchandise.  
SeaWorld Parks & Entertainment and Sesame Workshop announced the all-new Sesame Place San Diego theme park opening March 26. The world's first Peppa Pig Theme Park recently opened at LEGOLAND Florida Resort.  
Accessibility is also a growing LBE trend as increasing numbers of venues are becoming more inclusive. The Peppa Pig Theme Park opened as a Certified Autism Center, following in the footsteps of Sesame Place, which has locations in San Diego and Philadelphia that are also Certified Autism Centers, with staff members who have completed autism sensitivity and awareness training. 
Scalable LBEs pop up in retail 
Licensors and licensees are climbing aboard the LBE train on a smaller scale too, bringing experiences – both temporary and permanent – to brick-and-mortar spaces. Shopping centers are driving traffic with far-ranging themed pop-up attractions, from modest kiosks to carved-out expanses in small towns and around the globe. Plymouth Meeting Mall in Philadelphia opened a temporary pop-up bar based on the long-running TV series, "Always Sunny in Philadelphia." While WarnerMedia created a pop-up experience called "The Batman: Unmask the Truth" in Singapore's shopping district.  
Other LBE trends to keep an eye on include sensory attractions, themed accommodations and, of course, the rise of digital experiences, AR and NFTs. As people emerge from isolation and look to merge with others, the words of famed showman, P.T. Barnum, ring forever true: "Nothing draws a crowd quite like a crowd!" 
Location-based entertainment and experiences are the theme for Licensing Expo 2022 in Las Vegas (May 24-26) to get an insight into the latest trends in the market and meet licensors, licensees and market leaders,
click here to register and attend
.
Location-Based Experiences are the theme for this year's Licensing Expo, May 23-24 in Las Vegas. Register 
.
Subscribe and receive the latest news from the industry.
Join 62,000+ members. Yes, it's completely free.
You May Also Like
Loading..