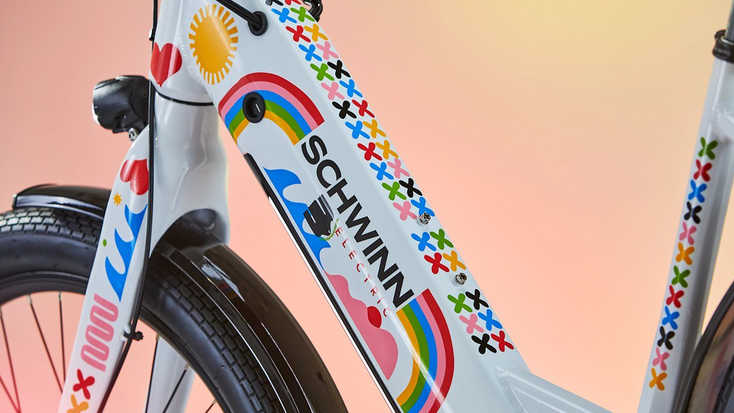 Schwinn pride bike.
Schwinn
Schwinn, a brand of Pacific Cycle, has announced the launch of its first Pride Artist Series bikes in collaboration with LGBTQ+ artists, 
 and 
. 
Congdon's canvas was a Schwinn Coston DX Step Thru Electric Bike and was created using digital art while Senarighi's canvas was a classic Sting-Ray Krate, which he hand-painted. Each bike is detailed with original artwork inspired by the artists' lives as members of the LGBTQ+ community and showcases unity, kindness and above all, love. 
The one-of-a-kind bikes were donated by Schwinn to The Venture Out Project, a nonprofit organization focused on creating a safe and fun space for the LGBTQ+ community to experience nature, which will auction them during the Pride month of June. 
Congdon is a Portland, Oregon-based artist known for her fine art, textiles and graphic design. Her custom Schwinn Coston DX Step Thru Electric Bike design focuses on love, diversity and joy with bright, colorful graphics all over the bike. She has
made art for
, Google, Human Rights Campaign and The United Nations, among many others. 
"There are three things in life that always light me up: bikes, art and being part of the LGBTQ family," says Congdon. "This project is the perfect merging of all of these passions and my interest in making cycling more accessible and enjoyable to every human, no matter their gender, the color of their skin, the size of their body or who they love."   
Senarighi is based in Madison, Wis., which is also Schwinn's corporate headquarters. His design for the classic Sting-Ray Krate bike boldly features hand-painted botanicals and "Trans Is Beautiful" messaging to remind others to not only love themselves, but to celebrate and lift all people in their communities. Senarighi's work has been featured internationally and he has worked with brands including Netflix, GLAAD and Nike. His You Are Loved billboards continue to spread throughout the nation through grassroots efforts and can be seen in more than 200 locations across the U.S. 
"Now maybe more than ever our trans and LGBTQ youth need to be reminded in big bold ways that they belong in sports, that they are worthy and they are loved," says Senarighi. "Hand-painting this bike was an opportunity to meditate on love of community. I hope to inspire everyone to use their own unique gifts to support love, belonging and inclusion. Together, we can shape this world for the better."  
The bike auction will run through June 30 and can be accessed by visiting Schwinnbikes.com/prideseries. Auction proceeds and donations will go to The Venture Out Project to support its vision of a world where queer, trans and LGBTQ+ youth and adults create community, develop leadership skills and gain confidence through the shared experience of outdoor adventure and physical activity.  
"Riding bikes, spending time outside and being with friends in the LGBTQ+ community bring me immense joy," says Perry Cohen, executive director, The Venture Out Project. "I believe in taking action, raising our voices and working for change. And, I also firmly believe in having fun! We are thrilled to be a part of this project and to highlight and celebrate our trans joy in a world that could certainly use more art, more bikes and more laughter."  
"Our goal for the series is to bring visibility to the many voices of the LGBTQ+ community, honoring those who continue to push society forward," says Brianna Purvis, brand manager, Schwinn. "We're humbled to work with these amazing artists to help elevate their art and their work to create a more inclusive world. Pride is not just a single moment in time, we're committed to supporting programs created for the LGBTQ+ community all year long. At Schwinn, all riders are welcome." 
Read more about:
Subscribe and receive the latest news from the industry.
Join 62,000+ members. Yes, it's completely free.
You May Also Like
Loading..