Maximum Cell-Through
Maximum Cell-Through
]> With wireless revenues rocketing to nearly $1 billion in 2004, brand owners, content providers, and operators alike are looking to make wireless a key part of their licensing strateg

]>With wireless revenues rocketing to nearly $1 billion in 2004, brand owners, content providers, and operators alike are looking to make wireless a key part of their licensing strategy. 2004 WAS A BANNER YEAR for wireless data services. According to The Yankee Group's Mobile User Survey, wireless data users totaled almost 47 million by the end of the second quarter, which translates to roughly one-quarter of the total wireless subscriber base, up more than 58 percent from 29 million in mid-2003. Additionally, wireless data revenue jumped 160 percent from around $367 million in the second quarter of 2003 to nearly $1 billion in 2004. As carriers, in partnership with their vendors and content providers, focus on improving the user experience and addressing price and availability-related issues, the future of wireless data services looks bright. So it's no surprise brand owners, content providers, and operators alike are looking to make wireless a key part of their licensing strategy.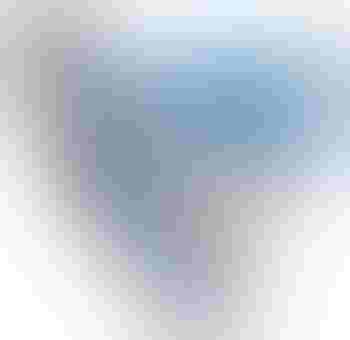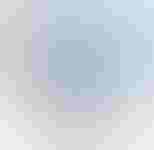 In late 2004, Sprint and TBS, Inc., expanded their current offering of a CNN multimedia channel and launched two new channels—Cartoon Network Mobile and Adult Swim Mobile—that will provide streaming video and audio content for Sprint PCS Vision Multimedia Services. Drawing on Cartoon Network's large library, each channel will cost subscribers $3.95 a month. According to Jim Samples, executive vice president and general manager, Cartoon Network, "We are focused on creating distinctive 'micro-networks,' meaning additional entertainment sources that offer original programming within specific branded environments." Cartoon Network began its mobile push several years ago, and moved steadily toward acquiring the technology needed to bring animated clips to consumers. "Since we own the content," says Samples, "we were able to move a bit quicker, rather than having to acquire third-party content. Going forward, we most likely will use shows that already are on-air and then create pieces of content that are spin-offs designed for mobile platforms." On the video side, TBS also has a relationship with Verizon, whereby CNN is part of its VCast service, along with Nascar.com. According to Bill Stratton, vice president of business development at TBS, Inc., costs differ slightly between operators, because their offerings are somewhat different. "Standardization is just being worked through, and there are still incremental costs associated with different carriers, but we've set up our offerings as a way to augment programming creation with wireless creation." For the last two-plus years, Nickelodeon Online has launched several wireless products and services, and now distributes content to all major U.S. carriers, including three SpongeBob SquarePants wireless games and one based on The Fairly OddParents. In addition, Nickelodeon Online launched a branded Nick ringtone and graphics service with carriers including Verizon, Cingular, and T-Mobile, and also distributes polyphonic ringtones and static and animated screensavers to other carriers. "We offer a premium text messaging service through Virgin Mobile and convergent wireless messaging services to its audiences around key events," notes Paul Jelinek, vice president, business development and e-commerce operations, Nickelodeon Online. "For example, as part of this year's Kids' Choice Awards, we offered kids the chance to vote for the different categories via text messaging."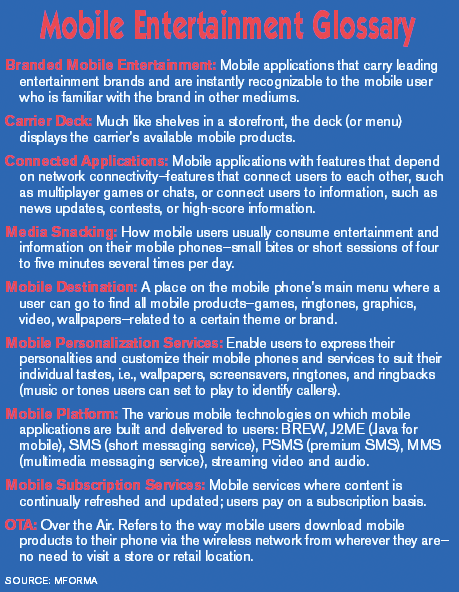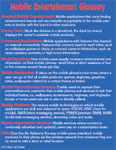 Since 1999, Nelvana has been designing and building its own Websites and PC games via its interactive team, but for applications where the company does not have the internal development capacity, it seeks partners that can fully exploit the potential of the intellectual property in each interactive category. In Canada, Nelvana entered into a multi-property content distribution partnership with m-Qube, a developer and distributor of mobile content and applications. The initial offering includes Babar and Franklin the Turtle images and ringtones. "m-Qube also is developing a mobile storefront for our sister company, Treehouse Television, which will carry wireless Nelvana content online at TreehouseTV.com, says Scott MacMillan, senior manager, licensing, Corus Interactive. "We've also signed TV For Mobile as a licensing representative for Babar, Braceface, and Beyblade." For Beyblade, TV For Mobile will look for European opportunities for personalization graphics, and for Babar and Braceface, the company will seek personalization graphics in Europe and mobile games worldwide. "We're exploring all forms of wireless content," says MacMillan, "but we're finding that some products such as ringtones and images often are easier deals for us to do, as they don't overlap with other product categories as much as video and games." GlobalFun AB signed an agreement with Breakthrough New Media, Inc., to develop and publish a mobile game based on the Atomic Betty animation series produced by Breakthrough Animation, Atomic Cartoons, and Teleimages Kids. The game will feature original, repurposed content and will be available this month. According to Michael McGuigan, managing partner for Breakthrough New Media, "We'd also like to explore ringtones, since Atomic Betty has a lot of original music that would lend itself well to this service." McGuigan believes the mobile market currently is underexploited by entertainment companies. "It's amazing the content some of the new phones on the market are able to provide." As for limitations, McGuigan admits he'd like to see phones able to handle more robust content. "At the same time, you don't want to price yourself out of the market, so it can't come with a high price tag." Proving that mobile content is not relegated to TV-based properties, Tokyopop and GoComics recently launched three manga titles for wireless use: "Princess Ai," "@Large," and "Shutter Box." A division of uclick/Andrews McMeel Universal, GoComics offers a mix of comics for mobile phones, including product lines that feature Garfield, Doonesbury, and FoxTrot. Meanwhile, Jamdat acquired the worldwide publishing and distribution rights, excluding Korea, to Activision, Inc.'s Tony Hawk's Pro Skater title, and will publish a 3-D version of the sports game. Operators and brand owners alike rely heavily on content providers. Scott Jensen, vice president of licensing and brand partnerships at Mforma, says, "Operators need to provide a service that connects with consumers on an emotional level. Without branded data, you won't get an emotional response. Through relationships with content providers, carriers become associated with well-known brands. On the other end, brand owners are able to connect with consumers in a very personal way because the vast majority of people carry their phones with them at all times." Operating in 39 countries, Mforma provides interactive mobile entertainment content—including text messaging, picture messaging, wallpaper, and ringtones, as well as a large catalog of Java, BREW, SMS, MMS, mophun, and WAP games—to more than 100 of the world's operators, according to Jensen. Mforma represents more than 20 brands, including Marvel, World Poker Tour, CBS SportsLine.com, and Billboard. "One of the most important objectives is to work closely with our brand partners to understand their goals," says Jensen. "For example, we worked with Activision on Call of Duty and found that one of the essential aspects of the game is the ability to play with other people. In our mobile game, we knew we could not match the visual experience of the video game, but we created a unique way to control other characters on the mobile phone. Marvel, on the other hand, was most concerned with finding a partner that would enable it to reach the broadest consumers geographically." Despite its rapid growth, there still exist a number of limitations to wireless content and devices. Formatting content for mobile screens is a challenge, says Corus' MacMillan "For wallpapers alone, we have to create more than a dozen different images under various file-size, resolution, and color-depth restrictions. We generally require the licensee to format the content and then pass it through our product approvals department to ensure the quality is acceptable." It's true that almost every carrier has a different platform, adds Breakthrough's McGuigan, and it would be nice if the platforms were uniform. "But on the plus side, the cost of mobile game development is far less expensive than other areas. Unlike with console models, you don't have to make various discs that will sit on retail shelves." In addition, says Jensen, console or PC games require a substantial time commitment. In general, the mass population is not willing to give that much dedicated time, and that's where mobile comes in. "At the same time, we are not trying to compete with video games or television," notes Jensen. "In fact, I think mobile is complementary and can be used to up-sell other product lines."
Subscribe and receive the latest news from the industry Article
Join 62,000+ members. Yes, it's completely free.
You May Also Like
---