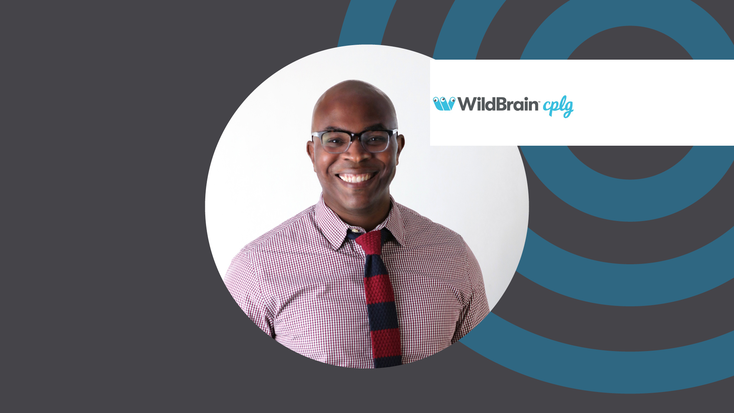 Jasen Wright.
WildBrain CPLG
License Global: What is WildBrain CPLG looking to achieve/announce at Licensing Expo this year?
Jasen Wright: We're excited to be back at Licensing Expo. We will be showcasing the robust portfolio of brands that we represent both in North America, including WildBrain's own
and Teletubbies. We'll also be featuring our
, the dedicated home for Corporate & Lifestyle brand representation. And we'll be highlighting how our recent
, with teams in China, Singapore, Taiwan and Korea, offers brands truly global reach.   
Under our North America operations, we have a strong team of industry leaders in place who are excited to reconnect with colleagues across the business and wider industry after two and a half years of being apart. The team includes: Michelle Dean, Director Partnerships, who manages our licensor relationships and strategy development; Alyssa Gourley, Director Business Development, who handles softlines; Jeannette Hudson, Director Licensing, managing hardlines; Jenn Sandberg, Product Development Lead, who leads our creative services; Michella Domenici, Licensing Coordinator, who works across our team to support us in many ways; Karyn Schneider, Business and Licensing Strategy consultant, who works across softlines and domestics categories, and Liz Heard is joining our team at the end of the month as Director Retail Development.   
What does WildBrain CPLG look for in a licensing partner, and what advice would you give those looking to make the most of the show?   
We're
looking for partners who share our entrepreneurial business approach above all. We want our partner brands to have solid backgrounds in their sectors. Still, it's also important that they bring a strategic vision combined with a yearning to seek new opportunities by category, territory or channel. This is key, as we're always keen to find opportunities that drive consumer touchpoints and incremental revenue in unexpected and surprising places.   
How have you seen the licensing industry change with the acceleration of specific trends?   
The pandemic compelled us to find new ways to engage with our most beloved brands and content. The proliferation of devices in households means that IP owners now need to create an omnichannel strategy that allows consumers to experience a brand non-physical and new spaces. For example, Web3, the metaverse, social platforms and YouTube are all now part of the channel strategy for licensing. In the past, we relied solely on brick & mortar and more traditional advertising channels.   
Licensing is now an integral part of a brand's 360-marketing strategy, and we'll see more integration between core and licensed products. In many instances, licensing will be used to help drive content across digital channels as brand owners welcome licensed partnerships across advertising and marketing platforms.   
How are expansion plans going across North America?   
Our expansion plans are in full swing! Our North American portfolio has grown rapidly, and we have a robust team to continue building our roster of global brands, keeping us engaged and busy.   
We're particularly excited about the growth of our local program for WildBrain's own Strawberry Shortcake, which is back with a cool new look and confident, savvy attitude for today's kids and a popular new animated series, "Berry in the Big City," on Netflix and YouTube. The classic Strawberry Shortcake brand is also enjoying a surge in popularity with
signed across North America. As we celebrate the 25th anniversary of the iconic Teletubbies, we'll be launching new partnerships across apparel, collectibles and experiences. The brand is so deeply ingrained in pop culture that we're excited to continue building upon its success and influence around the world.  
As well as representing evergreen brands and introducing them to a new generation, the 360-degree approach to content, distribution, marketing and consumer products that we offer under the WildBrain umbrella is a strong asset for us as we work with new IP. For example,
and Akedo, and "emojitown," a digital-first series and consumer products extension of emoji.
What can you tell us about the launch of ASPIRE? What was the market demand behind this new lifestyle division?  
Corporate and lifestyle brands have such a strong emotional connection with consumers. The impact of these brands is long-lasting as they often have crossed generations and, in many ways, been stalwarts in our daily lives. Our portfolio of represented Corporate & Lifestyle brands has expanded and diversified rapidly over the last two years. We see a huge opportunity for growth, so we launched APIRE to offer dedicated talent and resources to support and drive this new opportunity for partners.   
ASPIRE aims to partner with influential and innovative brands, creating exciting opportunities to utilize licensing as a way of opening up new access points for consumers and revenue streams. With the impact of the pandemic, we're seeing that Corporate & Lifestyle brands are looking at new ways to engage with consumers outside of their core business.   
It also feels like the ideal time to launch ASPIRE as we're seeing major consumer packaged goods (CPG) brands, institutions, and automotive brands looking for new marketing avenues to deliver relevancy, channel expansion and additional revenue streams that can offset some of the pricing and cost challenges coming out of the pandemic.   
Our growing portfolio features such brands as Malibu, Harvard University, the University of Southern California, renowned international artist Romero Britto and, most recently,
and SentrySafe as well as
and its Alfa Romeo F1 Team ORLEN. With expert local teams across 20 offices worldwide, digital expertise and consumer product experience, we're well positioned to offer a 360-degree global solution for Corporate & Lifestyle brands looking to meet consumers in new places.   
Subscribe and receive the latest news from the industry.
Join 62,000+ members. Yes, it's completely free.
You May Also Like
Loading..