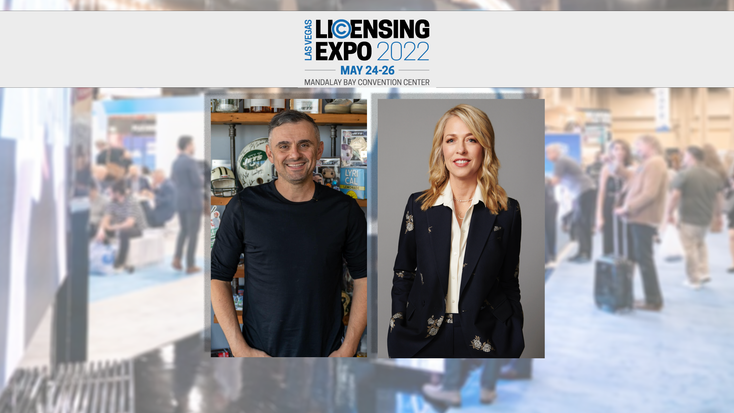 Licensing Expo
, produced in partnership with industry trade association
, today revealed Paramount and VaynerMedia, two of the world's largest and respected brands in the entertainment and NFT industries, will be delivering the Opening Day Keynote. Slated for May 24, 2022, at the Mandalay Bay Convention Center, this highly anticipated panel brings together the most respected visionaries in the industry for trend-driven presentations.
Pam Kaufman, president, consumer products and experiences, Paramount, and Gary Vaynerchuk, chairman, VaynerX, chief executive officer, VaynerMedia and creator and chief executive officer, VeeFriends, are gearing up to discuss the opportunities that lie ahead for the $292-billion licensing industry. The pair will arm the audience with key takeaways and take a peek into how our connected world will impact the business of brand licensing. Spurred by continued technological advancement and creativity, the world is more connected than ever, presenting immense opportunities to elevate how and where brands reach consumers.
"Brand
extension and the burgeoning digital space are a perfect match; there are so many opportunities for IP owners to engage with consumers in ways we couldn't even have fathomed a few years ago, like NFTs," says Anna Knight, senior vice president, Global Licensing Group, organizer of Licensing Expo. "Technology is a game-changer for the licensing industry, catalyzing new ways for brand owners across categories to meet consumers across the globe on whatever platform they're on and create new revenue streams. We are so excited to share the news that Gary and Pam, two of the world's most respected experts in their fields, will address the Licensing Expo community to discuss what's next for our dynamic industry – this will be a once-in-a-lifetime opportunity that you won't want to miss."
"We are thrilled to share this keynote presentation with the licensing community," says Maura Regan, president, Licensing International. "Education is part of our ongoing work to foster the growth and expansion of licensing around the world, and also a cornerstone of Licensing Expo. Pam and Gary are innovators in their fields and their expertise and insights will inspire the Licensing Expo audience, driving the business forward."
Details on the Opening keynote panel:
Located in the Licensing U Theater on May 24 from 2-3 p.m.
Consumers today are more connected than ever, which means there are endless possibilities available to the IP owners, creators, licensees, and retailers that want to engage with them. Join Paramount's Pam Kaufman and VaynerMedia's Gary Vaynerchuk as they explore the most effective ways to meet consumers where they are (everywhere they are).
Following the Opening keynote address, executives from Falcon's Beyond, Robert L. Ward, Moonbug and Bay Laurel Advisors (moderator) will deliver the 2nd Day Keynote on May 25 in a panel held from 12–1 p.m. The expert-led discussion will explore "From Dream to Reality: The Power of Brand Licensing for Location-Based Entertainment."
"Licensing opens so many opportunities across categories for IP owners, retailers, and manufacturers alike to reach new audiences, a recurring theme throughout this year's keynote presentations," says Knight. "People are looking to experience again, and location-based experiences (LBE) and digital collectibles, for example, are becoming increasingly popular no matter what industry you're in."
Pam Kaufman,
president , consumer products and experiences, Paramount,
oversees the global Consumer Products business, representing well over $5.5 billion in worldwide retail revenue, and Experiences including Gaming, Broadway, Themed Entertainment, VidCon and Live Tours. Pam has oversight of worldwide product merchandising and licensing as well as business development, marketing, franchise planning, creative strategy, retail sales and consumer insights. Pam also oversees the company's NFT creations, in a collaborative cross-functional effort driven by Consumer Products. Receiving many awards and accolades throughout her career, Pam was honored with the Wonder Women Mentorship Award, Women in Toys, 2019; Women of Inspiration, Delivering Good, 2018; Women to Watch, Multichannel News, 2015 and Entertainment Marketer of the Year, Advertising Age, 2003.
Gary Vaynerchuk,
chairman, VaynerX, chief executive officer, VaynerMedia and creator and chief executive officer, VeeFriends
,
is considered one of the leading global minds on what's next in culture, relevance and the internet. Known as "GaryVee," he is described as one of the most forward thinkers in business – he acutely recognizes trends and patterns early to help others understand how these shifts impact markets and consumer behavior. Whether it's emerging artists, eSports, NFT investing or digital communications, Gary understands how to bring brand relevance to the forefront. In addition to running multiple businesses, Gary documents his life daily as a CEO through his social media channels and hosts a podcast '
,' which ranks among the top podcasts globally. He is a five-time New York Times Best-Selling Author and one of the most highly sought-after public speakers.
Subscribe and receive the latest news from the industry.
Join 62,000+ members. Yes, it's completely free.
You May Also Like
Loading..