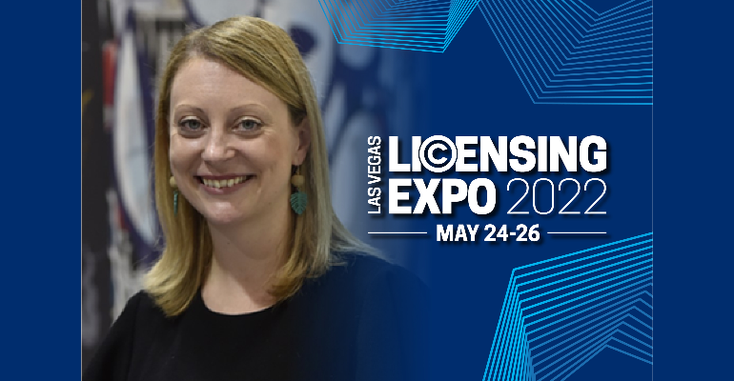 A new breed of consumer is emerging from the pandemic. We spent an unimaginable amount of time in our homes, streaming show after show, taking mixologist 101 courses, re-decorating our rooms, shopping online and lots of it, all while wearing our pajamas. Between the deluge of content readily available at our fingertips and rising interest in new hobbies, we were introduced to a diverse array of brands that span categories.    
And while we're not confined to our sofas anymore as COVID-19 restrictions relax across the globe, people bring their newfound interests and expectations with them as life returns to "normal." Brands are amid an unmissable opportunity to lock in their loyal fan base established over the past few years and reach new audiences, i.e., licensing.  
provides small and well-established brands alike access to thousands of licensees and retailers for face-to-face access and sit-down meetings that are otherwise challenging if not impossible to come by. The in-person
event is slated for May 24-26 at the Mandalay Bay Convention Center in Las Vegas, Nev.  
Anna Knight, senior vice president, Global Licensing Group, sheds light on Licensing Expo 2022, the year's biggest and most highly anticipated licensing event. Visitor registration is open; secure your free pass
.  
What makes this year's event so special?  
Anna Knight: We've waited three years to reconvene in person as a community. That's a long time for an industry that relies on face-to-face networking and deal-making to move business forward.  
Licensing Expo is a chance for emerging brands to be discovered and established brands to showcase their upcoming roster of content and reconnect with existing partners. It's a chance for licensees and retailers to spot trends, discover new IPs, make deals and for long-awaited networking to happen in person once again.  
This will be the first in-person gathering for the entirety of our community in 2022, meaning our attendees have a lot of ground to make up for and are ready to sign deals. It's gearing up to be one of the most productive events to date.  
Let's dig into this year's theme of Location-Based Experiences. Why was LBE selected?  
The world is rebounding and society is ready to experience again, so we wanted this year's theme to mirror this fun, exciting trend that poses an immense opportunity for brands to build a deeper connection with consumers.  
We're working on some exciting activations that will really depict the power of LBE and why this is a trend to watch and explore. We will be announcing more details very soon. Still, we can confirm our new Sports Bar and Toy Café that will spotlight these categories and allow exhibitors to showcase their product ranges within these themed spaces to facilitate attendee inspiration. For more information, exhibitors wishing to participate can get in touch with our event director, Ella Haynes (
). 
What else can visitors look forward to at the event this year? 
In addition to the new themed bars and cafes, we will be helping anyone interested in taking the first step into their sustainability journey, thanks to our continued partnership with Products of Change (POC). Attendees and exhibitors can enjoy free consultations in our dedicated Business Lounge to receive guidance on being more sustainable and learn from those further along the process. We will also be offering two sessions on sustainability, both accessible for free to all. 
Separately, networking and relationships are fundamental to our industry. That's why face-to-face is so vital; there's nothing like meeting in person. As such, we offer ample opportunities for exhibitors and attendees alike to reconnect after so much time apart, including the annual Licensing International Excellence Awards, the Opening Night party, exhibitor drinks at Eyecandy Sound Lounge and Bar and more.  
The online platform will open on April 12 for attendees to start connecting and booking 121 meetings with exhibitors in preparation for the show. Schedules fill up fast, so make sure to
to gain access to the platform so you can start booking meetings.  
Finally, industry education is a crucial pillar at the event this year, with the return of Licensing U, organized by Licensing International, helping newcomers get their foot in the door and navigate the licensing industry. Tickets will become available on April 11 on the online platform; secure yours once it opens! We will also be announcing two major keynotes soon, held on Tuesday, May 24, and Wednesday, May 25. And that's complementary to the hundreds of incredible exhibitors taking part!  
Could you share a glimpse of the range of exhibitors confirmed thus far?  
We're approaching 200 exhibitors, which is fantastic, and we're still seeing strong momentum as we approach the show. It's great to see such a cross-selection of categories participating in this year's event, which, I think, is a nod to licensing's burgeoning role in brand extension and growth strategies in non-traditional spaces – a trend we're going to see more of in the coming years.    
The latest brands to confirm exhibit space include Feld Entertainment, Rainbow, Bulldog Licensing, Concept One Accessories and Cloudco Entertainment who will be joining 170+ already confirmed exhibitors including Legendary Entertainment, Hasbro, MGA Entertainment, Warner Bros. Consumer Products, Epic Story NBCUniversal, LEGO, Beanstalk, Buzzfeed, The Pokémon Company, Falcon's Creative Group, TOHO, Ubisoft, NFL Players Association, Shell Oil Company, WWE, Moonbug Entertainment, Peanuts Worldwide, BANDAI NAMCO Entertainment America, Yale University, MGM Studios, Spin Master, Crayola Properties and many more. 
Is there an online element?  
People and businesses are ready to return to live events and the licensing industry is no exception. With that being said, technology isn't going anywhere, and we are using our online platform to enhance the in-person experience. 
We know schedules are packed at the event with meetings, educational seminars and networking. The online platform allows attendees and exhibitors to better manage their time by scheduling meetings ahead of time but also schedule follow-up meetings online until June 3 for anyone they couldn't participate in person. Content will also be recorded and available online afterward for anyone who misses it in person. I, personally, think this is the future, leveraging technology to strengthen the in-person experience.  
Lastly, can you talk to us about health and safety?  
Certainly, our team has worked diligently to provide a safe and comfortable environment that our community feels comfortable conducting business in.  
All event participants must wear a mask while indoors at the Mandalay Bay Convention Center must be fully vaccinated (at least two weeks after final dose) and provide proof of vaccination by presenting either the original vaccination card, a photocopy of the vaccination card, or digital proof. Otherwise, it's required to show proof of a negative antigen COVID-19 test within 24 hours prior to attending the event, or a negative PCR test within 48 hours, and provide proof of a negative result before entering the show alongside a photo ID.  
Don't miss the opportunity to adapt your business alongside the changing consumer landscape and reach new audiences through strategic licensing partnerships.
Register for Licensing Expo today
to be a part of 2022's first event wholly dedicated to progressing the dynamic brand licensing industry, education, establishing new connections and so much more. Secure your free pass
.  
Read more about:
Subscribe and receive the latest news from the industry.
Join 62,000+ members. Yes, it's completely free.
You May Also Like
Loading..