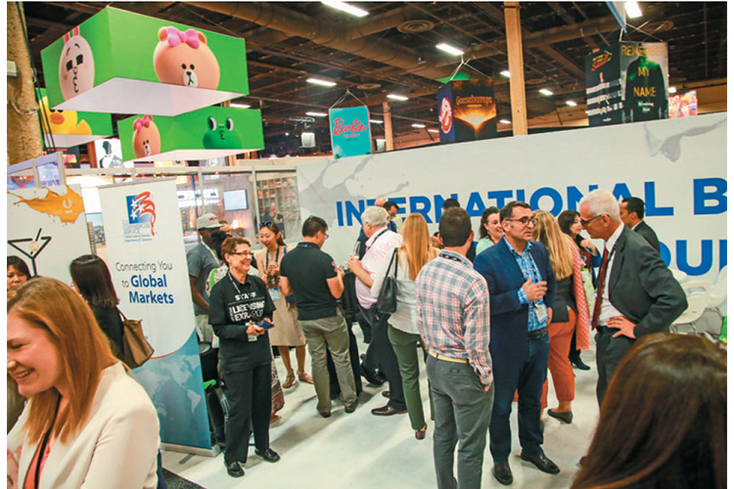 Licensing Expo will partake in the U.S. Department of Commerce's International Buyer Program Select for the second consecutive year.
IBP Select is a government industry initiative that offers thousands of international buyers the opportunity to come to the U.S. for business meetings and networking opportunities with U.S. firms, exhibitors at major industry trade shows.
IBP Select has established itself as a valuable tool for international buyers looking to develop relationships with U.S.-based intellectual property holders and a powerful presence at trade shows that has added hundreds of millions of dollars in new business to U.S. companies while stimulating interest in key properties abroad.
Across most regions, toys, apparel and fashion accessories emerged as the top-grossing licensing categories.
With statistics provided by LIMA's Annual Global Licensing Industry Survey 2017, the Select Program focuses on up to five international markets at a time. Current partners include Canada, Brazil,
China, Ecuador and India. As delegates from each country prepare to make deals at Licensing Expo, The IBP Select team and members of its Ecuador delegation discussed the significance of the program.
Ecuador is a fast-growing market in the licensing industry, and licensed merchandise displays at leading retailers have played a crucial role in the industry's growth. The country ranks 63rd in economy size, and the top three licensing categories in Latin America were toys with retail sales of $1.4 billion, apparel at $1.2 billion and fashion accessories at $981 million.
"The U.S. and most of its iconic brands are very well accepted in Ecuador because of its proximity, cultural similarities and strong influence through movies and TV shows," says Geoff Schadrack, deputy economic counselor and commercial attaché, U.S. embassy, Quito, Ecuador. "The customers of licensed products are not only the usual fans but also customers that look at these brands as fashion statements. Additionally, there are a few in country local initiatives of co-branding with celebrities or local brands that have a unique appeal in the public to create collaborations, especially in apparel. Influencers are also becoming quite important in the increase in sales of licensed product in Ecuador."
The proliferation of streaming platforms and increased access to the internet has presented new licensing opportunities for American properties in the region.
"Internet penetration is about 33 percent in Ecuador, a country with a total population of 16.7 million and 13.5 million internet users," says Schadrack. "There are also 11 million active social media users, which makes streaming and the internet a powerful conduit for spreading information about licensed products from abroad. Social networks and YouTube are quite popular, with Netflix also becoming more known to consumers these days. These means of accessing content, along with a strong affinity for U.S. products, has driven the licensing successes we have seen today."
To complement the IBP Select program, Licensing Expo will also host a panel. The panelists will address the economic climate in their home countries and will touch on licensing topics such as property types, product categories and manufacturing opportunities for U.S. brands.
"We are very excited to provide a platform for the IBP delegation leaders and the U.S. Department of Commerce to further educate licensors and brand owners about these international territories, as well as how the International Trade Administration can help them extend their brands beyond the U.S.," says Deidre Manna-Batten, project manager, international events, Global Licensing Group, UBM.
Licensing Expo takes place May 22–24 in Las Vegas, Nev.
Read more about:
Subscribe and receive the latest news from the industry.
Join 62,000+ members. Yes, it's completely free.
You May Also Like
Loading..