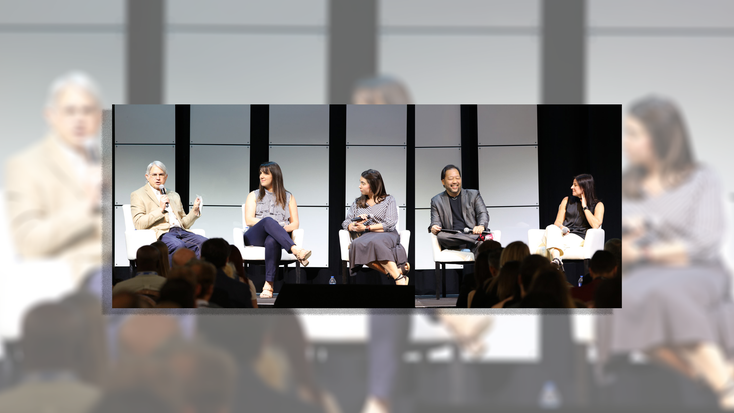 Day 2's keynote panel.
Licensing Expo
The keynote for Day 2 of
was "From Dream to Reality: The Power of Licensing for Location-Based Entertainment." The panel, moderated by George Wade, president, Bay Laurel Advisors, brought together the most respected visionaries in the industry for a trend-driven presentation. Panelists included Cecil D. Magpuri, chief executive officer and co-founder,
; Stacie Cohen, senior director, global branded attractions,
National Basketball Association
; Susan Vargo, head, live events and location-based experiences,
and Stacy Moscatelli, co-president and chief strategy officer, Superfly X. 
The panel discussed what to consider when developing and executing a location-based experience deal (including how best to protect brand integrity). The discussion highlighted location-based experiences over the decades and how they've transformed to fit the desires of consumers. The discussion covered non-licensed LBEs like the Rainforest Café and City Walk
before delving into licensed deals like the
and the upcoming Curiosity Playground,
a collaboration between Falcon's Beyond and Moonbug
. The keynote covered a breadth of different iterations of this cyclical trend. 
"The experience economy is starting to roar back," says Vargo. 
The location-based experience market is experiencing a boom after the COVID-19 lockdowns, with fans wanting more than anything to experience life again – and their favorite IPs. These experiences, now more than ever, offer unique value to a fanbase. 
"Our ultimate fan experience is our live games, but out of hundreds of millions of fans around the world, less than 1% actually get to go to those games," says Cohen. "Location-based experiences can bring a lifetime of value to a fan. That authentic experience is the difference between bringing in a lifelong fan or turning them away from the brand." 
But how does a location-based experience guarantee value to its patrons? The main secret: authenticity. It's important to make the experiences as true to the theme or intellectual property as possible. 
"What a brand brings to the table for
is fandoms that you can tap and leverage," says Moscatelli. "What our licensors bring is they know the brand very well and the audience very well. It's the perfect marriage." 
To create a truly successful location-based experience, brands should focus on fully leveraging the IP: expanding the experience for holiday activations, traveling around the country to create urgency and more. 
"Not all LBEs are leveraging existing IPs," says Magpuri. "[To do well,] you kind of have to be an IP whisperer, if you will." 
If you missed the keynote, check it out on-demand on the Licensing Expo online platform. 
Read more about:
Subscribe and receive the latest news from the industry.
Join 62,000+ members. Yes, it's completely free.
You May Also Like
Loading..