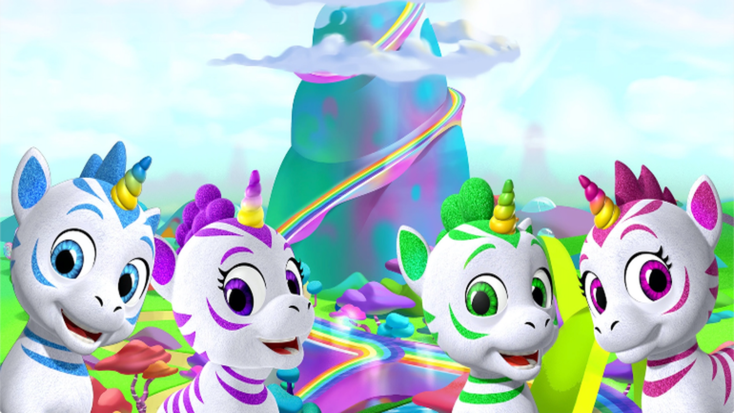 License Global: Why is Zoonicorn exhibiting at Licensing Expo? 
Mark Lubratt: Zoonicorn is far more than a TV series. As kids get to know our characters and their personalities, they are eager to engage and interact with them, away from screens. We know this because we've already seen the appeal of Zoonicorn consumer products. Our original line of plush characters, which were part of Jay@Play's Wish Me line, were a big hit and sold out. Our YouTube music videos have had nearly 4 million views to date. Now, in collaboration with our global production and distribution partner Toonz Media Group, we have given our characters an amazing new look and feel. Zoonicorn is primed and ready to take its star turn on the world stage. We're expecting potential partners to fall in love with them, just as all of us have. 
What does Zoonicorn look for in a licensing partner? 
With charming, engaging characters that live in a unique, creative format, and great music and stories from award winning creators,
we know we have something special. From a licensing viewpoint, we have a very toyetic design that is timeless yet stylish and will make for a smooth transition into consumer products. We have worked very hard to make sure our brand attributes – led by the parent-friendly values of optimism and resilience – are reflected in everything we do. The most important thing for us is that we need our partners to be true to the brand. Zoonicorn is a unique property – there's nothing else quite like it. Our partners need to feel the same sense of brand ownership that we do. 
You created Zoonicorn. What advice would you give someone looking to create their own IP? 
Patience, perseverance and belief! I can't tell you the number of times I heard people say that there is no room in our business for a boutique, independent property like Zoonicorn. But we just kept at it. In 2015, my first year at Licensing Expo, Zoonicorn was a "One to Watch" finalist. That was a great motivator early on. We already had confidence in what we had, and we believed in our brand, but it was so validating to have it recognized by licensing industry leaders. Now we are about to launch global TV and licensing. Sometimes I can't believe we are finally here. But, on the other hand, I always knew what we had. I never doubted that. 
Since the event is in-person this year, how do you think that will be an advantage for the company? 
Talk about perfect timing! With Zoonicorn launching into the global stratosphere even as we speak, Toonz Entertainment is meeting with potential broadcasters and streaming platforms at MIPTV and closing deals in markets all around the world, We are so excited to share the latest news with potential licensing partners. It will be a huge advantage to be able to meet with people in person and actually be able to engage with them directly about the brand. You need to meet the Zoonicorns to fully appreciate them. Zoom calls are great, but there is no substitute for sitting down face to face, doing business in person and letting the characters and the property come alive right before your eyes. 
What's next for Zoonicorn that you can talk about? 
As I mentioned, we are looking forward to the pending global launch of the series on television networks and streaming services all around the world. Simultaneous to that, we are excited about the enormous potential for licensing. We've been saying for a while that 2022 is the year of Zoonicorn. Now it's finally here and it's incredibly exciting to see it all coming together! 
Read more about:
Subscribe and receive the latest news from the industry.
Join 62,000+ members. Yes, it's completely free.
You May Also Like
Loading..