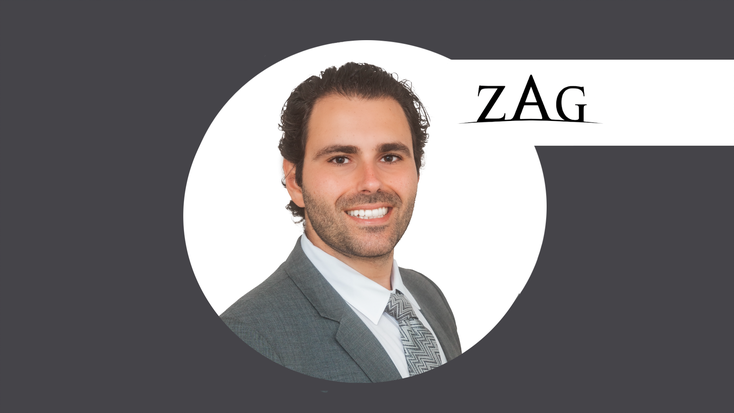 Julian Zag, executive vice president, global operations and consumer products head.
ZAG
Children's entertainment comes in many forms. Animation helps bring many of our favorite characters and storylines to life through strategic storytelling. Animated films seek to entertain audiences through motivating themes and engaging graphics that grab your attention and inspire the viewer. 
Industry-leading entertainment and animation company
reaches consumer audiences through classic stories and iconic characters to create futuristic and unique animated films. 
I had the opportunity to sit down with Julian Zag, executive vice president, global operations and consumer products head, ZAG, to talk about their exciting new products and discuss their role in exhibiting at Licensing Expo this May 24-26 at the Mandalay Bay Convention Center in Las Vegas. 
Register for Licensing Expo
to set up a meeting with ZAG to learn more about their animation process. 
Could you tell us about yourself and how you fit into the licensing industry? 
Julian Zag:
I joined ZAG in 2018 and oversee a global consumer products team of more than 150 executives located around the world,
across retail, licensing, promotions, digital and gaming, and live events, and experiences. Together we develop the consumer products strategy for our ZAG Heroez brands, a label that encompasses all the superheroes from our animated properties for kids and family audiences. Our primary focus right now is on our globally popular "Miraculous – Tales of Ladybug and Cat Noir," a modern-day story of two young, magical, transforming iconic superheroes featuring a blend of genres from action to superhero to comedy and romance; and "Ghostforce," an original comedy-action series that follows three junior high school students who form a secret team to defend their city from the ghastly ghouls haunting it. 
Any recent news you can share? 
Since I joined the company, we have ramped up our team significantly! "Miraculous" season five will launch this fall, as well as our $100 million-plus animated feature which we are really excited about and can't wait to share with our fans. And we have expanded further with new offices in
, Germany, Israel and Dubai. These are in addition to our existing offices in Los Angeles, Paris, and Montreal. 
We continue to work with long-standing global and regional partners including Playmates, Ferrero, PEZ, Crayola, InSpirit Designs and Rubies, and have added new global partners including Volvic,
, Spread Group and
. We now have more than 400 partners around the world! 
This year we have had a
global promotion with Burger King
that first launched internationally across Europe, Latin America, MENA, Asia Pacific and France in January. The U.S. launch was in March in approximately 7,200 participating Burger King restaurants. The promotion featured six branded premium items featuring characters from "Miraculous" including two Ladybug and Cat Noir eye masks, two character light-ups featuring Tikki and Phlagg, and two keepsake boxes, featuring Marinette and Adrian. And this is in addition to the earlier promotion that we had with McDonalds. 
We also launched our first virtual tour in April, which already sold out! Miraculous Paris – Tours of Ladybug and Cat Noir, is a virtual family getaway to Paris! Led by a travel guide, families can join a virtual tour to visit real Parisian monuments, and the event includes original Miraculous content, behind-the-scenes secrets, and games. We will continue the event this summer. 
And I should note that we have one of the best-selling Halloween costumes with InSpirit Designs, a division of lifestyle retailer Spencer Spirit Holdings, that owns and operates Spencer's and Spirit Halloween with more than 1,400 stores across the U.S. 
Also, we are working on more live-experiences for "Miraculous" – in fact we are in discussions with a major theme park, and I'll have more news on that in the coming months. 
"Miraculous" continues to be a digital success – we just hit more than 30 billion views on YouTube, and have 180+ million downloads of the official "Miraculous" app. More than 250 million products have been sold during the past four years and we hit more than $1 billion in retail sales. And we've won more than 25 awards to date. Most recently, in April 2022, "Miraculous" won an award at the Greek Toys Awards 2022 for the Miraculous Ladybug doll in the category of the best toys with dolls; and in September 2021 we won Entertainment Brand of the Year at the Licensing International Germany Awards. And we are delighted that we have been nominated as a finalist in the 2022 Licensing International Excellence Awards in the category of Best Licensed Brand, Entertainment, Character, Toy Brand, Animated.  
What excites you about engaging with your community in person at Licensing Expo this May? 
We are all excited to be back at a physical event where we can meet with our partners. We have achieved so much since we last met in person and we can't wait to celebrate our shared success and develop new strategies to further build on this.  
We also have big plans in the works to share with partners around the launch of our "Miraculous" $100+ million animated feature that will be supported by the debut of an enhanced toy line from ZAG Lab and Playmates, a major QSR program, the launch of our first "Miraculous "console game available on XBOX, PlayStation and Nintendo Switch; two new mobile games; and several co-branded partnerships with some more of the most influential companies across the globe –including a leading automobile company.  
We are also developing our strategy for "Ghostforce" and will meet with current and potential partners at the show. Disney Channel U.S. acquired "Ghostforce" and premiered it on Oct. 4, 2021, on Disney XD. The series also launched in most European countries becoming the market leader in various kids' target groups, with single airings reaching up to 40.9% share among all kids ages 3-14 and 51.2% among kids 6-9! In Latin America, the series launched on Discovery Kids in December 2021 and is performing well. 
As we have added so many new licensing executives over the past two years, it will be extremely beneficial to have us all together in one place!  
What challenges have you faced in the absence of in-person exhibitions, and what do you hope to achieve at Licensing Expo? 
The past two years have been incredible for ZAG despite the pandemic! In fact, as of last year, we've hit more than $1 billion in retail sales for "Miraculous" worldwide. The basis for our success is due to the volume of content that is available at all touchpoints for our fans to engage (free-to-air, VOD, YouTube) – we reach kids and families everywhere; and our broad-ranging consumer products strategy that includes an incredible product offering across retail and e-commerce.  
We are confident that we will be able to continue to build upon this success when we meet with our partners at Licensing Expo! 
Read more about:
Subscribe and receive the latest news from the industry.
Join 62,000+ members. Yes, it's completely free.
You May Also Like
Loading..