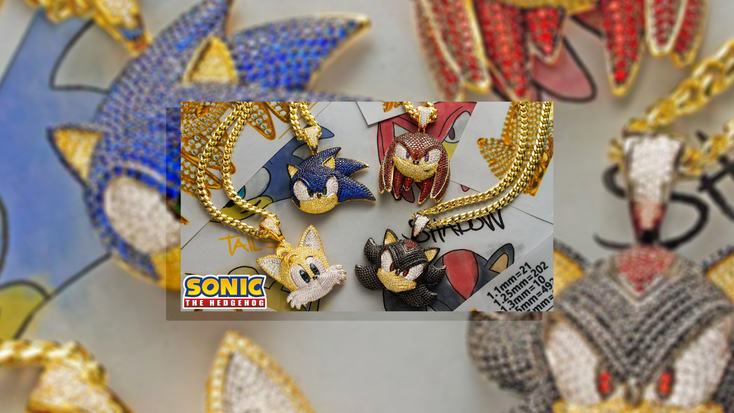 Video games are a pastime, stress reliever, an escape to a different reality. And while the pandemic certainly rekindled people's love for gaming, society's rich history with video games extends far beyond the pandemic years. SEGA's Sonic the Hedgehog is a true testament to fans' long-lasting bond with the characters they engage with on the gaming screen.  
Today, more than 30 years later, Sonic the Hedgehog is one of many beloved characters that, through deliberate licensing strategies, has built a global fan base that brings the story to life beyond the console.  
Returning as a long-time exhibitor, SEGA is gearing up for
with its highly sought-after IP portfolio in tow.  
With Licensing Expo only two months away, slated to take place from May 24-26 at the Mandalay Bay Convention Center in Las Vegas, the long-awaited event marks its first return since 2019 and the first industry trade show this year. Visitor registration is open and free for all – secure your pass
here
here
to book a meeting with SEGA, network with peers, participate in the event's robust educational seminars and more. 
Could you tell us about your role at SEGA and how you fit into the licensing industry? 
My name is Alex Gomez, and I am the senior director of consumer products for the Americas and European regions, SEGA of America. I have the dream-come-true assignment of overseeing licensing for all SEGA properties, including one of the hottest properties in entertainment – Sonic the Hedgehog! 
Any recent news you can share?  
Absolutely – tons, actually! As you may have seen, "Sonic the Hedgehog 2," the sequel to the hit movie "Sonic the Hedgehog," was just released by Paramount on April 8, and fans are loving it! Fans are also enjoying the consumer products program we built to support the film, including everything from toys, apparel & accessories, costumes, publishing and food & beverage. Paramount has already announced a third movie and a Knuckles TV series, so those are just two of many upcoming programs we're excited to share more about at Licensing Expo! There is also an animated series being created in partnership with Wildbrain/CPLG and Netflix and huge new games in the Sonic series. All of these programs are open for licensing, and we'll be sharing more info about each program at Licensing Expo.  
How do you continue to innovate?  
Well, I think it's extremely important to keep the content and value proposition of the products you create for fans interesting and exciting, especially as you gain new fans and have the challenge of retaining them for years. It's also vital to have the right licensees onboard and lean on their expertise to bring product to life. From a strategic and product development perspective, I believe it's critical to always keep fresh eyes and an open mind on the programs you create and aim to develop products specifically for certain parts of your demographic. Keeping up with current trends and paying close attention to consumer behaviors and preferences is critical to understanding where the market is going. Only when you have a true pulse on the market can you really understand how to create truly innovative products and will get fans excited. Finally, you need a strong team of creative and strategic thinkers around you. The team I work with now is world-class and is a huge part of SEGA's licensing success. 
What drew you to return to Licensing Expo? 
Oh, I'm well into the double digits in Licensing Expo attendances (chuckles)! Licensing Expo is my favorite show of the year. No other tradeshow brings as many licensing professionals and brands together under one roof. It's an incredible week of meeting new people, discovering new business opportunities and simply catching up on what's new and happening in the industry. This year will be particularly great to finally see everyone in person after two years of connecting via video screen. There is nothing quite like in-person engagement, and while virtual meetings accomplish the task, face-to-face meetings' personal touch or essence just can't be duplicated. I would welcome everyone to come see us at the SEGA Booth Q226! 
What challenges have you faced in the absence of in-person trade shows, and what do you hope to achieve at Licensing Expo?   
I think the biggest challenge of not having in-person events is not being able to meet new people and discover new business opportunities. 2022, 2023, and 2024 are massive years for SEGA from a content perspective, including new games, movies, TV and mobile content. And with the business growing as quickly as it is, it's challenging to align schedules and meet everyone via video conference – plus, there are far fewer walk-ins. Licensing Expo provides an excellent opportunity to connect with a wide variety of people, from current partners to new partners.  
What excites you about engaging with your community in person at Licensing Expo this May?  
I'm honestly really excited to see everyone at Licensing Expo in May – it feels like it's been so long! There's just a buzz and energy about the show that makes it so great, and with this year being the first Licensing Expo since 2019, I would imagine I'm not the only one eager to reconvene with the community. 
Register for free
to schedule a meeting with SEGA at Licensing Expo 2022.  
Read more about:
Subscribe and receive the latest news from the industry.
Join 62,000+ members. Yes, it's completely free.
You May Also Like
Loading..