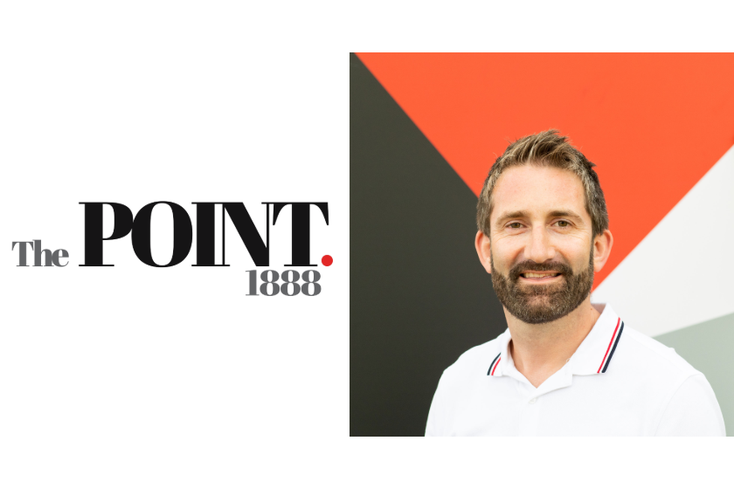 The Point.1888 is comprised of a team of dedicated licensing and brand extension experts, looking to drive genuine innovation through unconventional means. Agency founder Will Stewart speaks to
License Global
to discuss connecting companies with chemistry and driving product innovation to inspire consumer demand.
License Global:
What is your process when connecting potential licensing partners?
Stewart:
When we bring people together, we primarily look for shared values. We're trying to identify nice people who can recognize the opportunity that we're offering, so we can understand how to help them achieve their biggest goals. We don't buy into the aggressive sales strategy of the past. I don't want to be forcing deals with manufacturers. We are looking to build long-term relationships between licensees and licensors.
How we do that is to identify the benefits for both sides. We start with chemistry meetings for both partners; I like to think of it as your parents meeting your partner's parents.
People might not click as much as you want them to and actually have shared values. It's about long-term sustainability for us, so we do the work, and we're open and honest from the start, so we know we can invest in the product properly and together.
What role have trade shows played in your outreach strategy for The Point. 1888?
Trade shows are vital. The trouble is they're expensive, and when you start, cashflow is so vital. But as an agent you need to have a presence at trade shows. For me, [Brand Licensing Europe] is the best show in the world. We're coming back for our third year–and it's vital for our current clients that we exhibit but also key for our future. It's a time to celebrate, discuss and share best practice.
We did a presentation on food licensing last year; we want to share knowledge, improve the industry as a whole and bring retail buyers to get involved in licensing. They're vital for successful licensing partnerships. We've found loads of clients and customers in the past, but the real opportunity is the random walk-on out of a thousand meetings. That little gem can help you achieve something really special, so if you weren't there, you would miss that.
How do you see the licensing industry changing in the next five years?
This industry is defined by change; it's changing hugely and faster than ever before. Everyone needs to be thinking about retail first. That's the real game-changer. Retail is struggling. Everyone needs to think about how they work with retail going forward. Licensing will get much, much harder; people will have to work smarter and think about how brand partnerships really work for both sides. Instead of impulse shelf candy products, we need to create products that actively drive social change rather than, 'here's another
Spiderman
lunchbox.'
One of the visions of my company is to change the world, and we can do that through building some amazing products that support worthy causes and change human behavior.
Which of these changes can be nurtured to continue the industry's growth?
We have a socially progressive responsibility as a business, so we look at causes or charities that each partnership could support. Maybe a charity that has an emotional connection, or a cause that the brand in question wants to promote.
Youth knife violence is on the rise in my hometown of London because we don't have enough police officers; they're totally underfunded, so with the Met Police brand licensing program, we've agreed that every penny goes back into frontline policing. If we do our job right, less children will get murdered–there's no greater cause than that.
When we speak with ASDA or Tesco about police outfits and dress-up products, if we can create an official Met Police outfit where a percentage of those profits stop children getting stabbed to death, there's recognition to that product, consumers buy into that ,and today they generally want to make the world a better place.
Also, Generation Z are so digitally aware. They're also aware of corporate and social responsibility; they make different choices. They hold brands to account much more so than in the past. So, what can licensing do? In my mind, all licensing deals should have money going toward a charity or cause that can make a difference. River Cottage is a brand of ours, for example, so there's a lot of bee's wax companies which offer a solution to the throwaway plastic clingfilm problem. They can be used over and over–it may be a small thing, but if 10,000 buys into it, it can make a huge difference.
You have some major brands in your portfolio. How did the avoidance of convention help you produce breakthrough solutions, and what are some of the key examples?
We are extremely non-conventional; you could argue our portfolio is chaotic. It's exactly how we want it to be. Variety is the spice of life after all. We want to work on brands that we're passionate about, and we want to drive change.
For example, with Team GB, we're still in early days, but there's a real focus on driving unity in our nation at a time of such division, and getting people active is central to the whole program. Innocent smoothies, my favorite brand in the world, don't do licensing. They said they didn't want to do shower gels or gift packs, as it wasn't part of their brand. But I helped them identify a problem: their core consumer was getting older. They do have the amazing Innocent Big Knit wooly hat campaign that generates money, a lot of money, for Age UK. So, I decided to choose a retailer young people love–which was Oliver Bonas–engage with them to create wooly hats for adults and children, gave them some presence in the store, and we raised $26,000 for Age UK; meaning 2,619 older people received a visit from Age UK at Christmas, which for many is the loneliest time of year. LEON is another. It's fast food, tasty, healthy and great with allergies and free-from. Before us, they were focused on the out-of-home position but wanted to get in consumers' homes. If people are cooking recipes at home, that will build a stronger relationship with the brand.
We went to John Lewis and did an exclusive partnership with them to develop a range of incredible products in cookware. It closes that loop. They can have lunch at LEON, go to John Lewis, buy the products and the book and cook a delicious meal at home. River Cottage is another client of ours. Hugh Fearnley-Whittingstall is a celebrity with clear policies, but we didn't want to work with Hugh as a celebrity, but instead River Cottage as a brand, as they educate people about food and we expanded that, and it's positive for them in terms of brand awareness and raising money for causes. Educating people about food is core to the whole program.
To hear more from licensing thought leaders such as Stewart,
and visit The Point.1888 team at booth C380.
Read more about:
Subscribe and receive the latest news from the industry.
Join 62,000+ members. Yes, it's completely free.
You May Also Like
Loading..