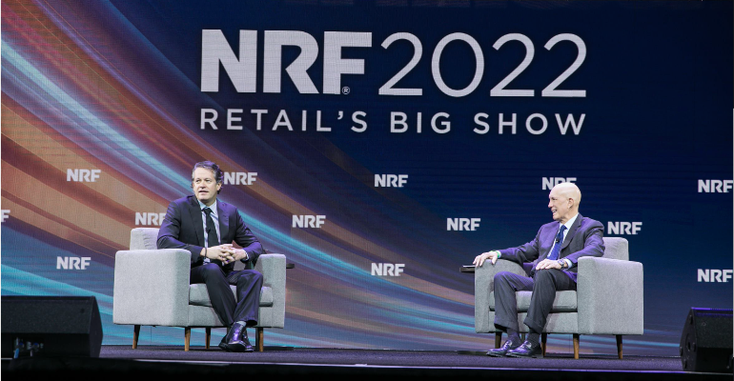 NRF 2022: Retail's Big Show, held Jan. 16-18 at the Javits Center in New York City, packed three full days focused on all things retail. The event included keynotes from some of retail's top vision leaders. Presentations focused on topics from retail tech innovations to bridging the omnichannel gap. To say the conference was busy would understate the level of activity. Throughout the enormous Javits environs, attendance appeared to be very high, with some presentations offering standing room only.   
A good percentage of the featured speakers at the event appeared on-site, while a few opted to participate remotely. Fortunately, attendees and presenters alike are well-accustomed to connecting via Zoom. Executives were on hand from a variety of companies and retail industries, including Disney, Macy's, Best Buy, Authentic Brands Group and Walgreens.  
NRF 2022: Retail's Big Show kicked off with Mike George, former president, chief executive officer, Qurate Retail, who spoke optimistically
on retail's future. Brian Cornell, board chairman, chief executive officer, Target, was joined by Matthew Shay, president, chief executive officer, NRF, for a "fireside chat" about Target's plans for growth and its sustainability goals.   
Sumit Singh, chief executive officer, Chewy, was on hand to discuss the company's phenomenal growth and its focus on providing optimized customer service and earning customer's trust.  
The second day of the show began with a remote keynote discussion with Ken Chenault, former chairman, chief executive officer, American Express, and current chairman, managing director, General Catalyst. Chenault was joined by Maurice Jones, chief executive officer, OneTen, a company that Chenault co-founded. The two discussed OneTen, a coalition of top executives who have made a commitment to train, hire and help advance one million Black Americans over the next ten years.  
Patrice Louvet, chief executive officer, Ralph Lauren, was on site to speak about recent changes and the future of the heritage brand.   
Matthew Shay, president, chief executive officer, NRF, again took to the stage to have a conversation with John Furner, president, chief executive officer, Walmart U.S., who became the new NRF board chairman this year.   
The third and final day of NRF 2022: Retail's Big Show began with a remote keynote session from Pete Nordstrom, president, chief brand officer, Nordstrom, who spoke about the challenges of merchandising through the pandemic.  
The final day also included presentations by chief executive officers from retailers including Lowe's, Best Buy, Old Navy and IKEA.  
 It wouldn't be a retail convention without a discussion of big retail trends. One topic, the global supply chain, was so top-of-mind that it warranted its own stage, The UST Global Supply Stage, where each day saw sessions focusing on the issue. Most speakers seemed to agree that the situation is improving, although far from over.  
Another topic of concern was inflation. However, the consensus was overall positive on that front as several speakers pointed out that most consumers are in good financial shape.   
Labor issues were discussed in several sessions. The ongoing lack of labor was attributed to people who chose to retire early during the pandemic, parents who chose to stay home with younger children rather than reenter the workforce and lower immigration due to fear of the pandemic. There was optimism that retailers are ready to raise wages to help increase the labor supply.  
The pandemic was on the minds of both attendees and presenters. The NRF had a strict COVID-19 policy in place for the event. Attendees were required to be fully vaccinated for COVID-19 and had to show valid proof of vaccination. Anyone without valid proof of vaccination was not allowed into the facility. Once on-site, attendees were required to visit one of the official Vaccination Verification Stations to receive a wristband, which was required throughout the event and to ride the event shuttles. All elevators were shut down during the event to promote social distancing. The NRF distributed rapid self-tests and KN95 masks to all visitors at registration upon request and were available throughout the show. There was also a PCR mobile testing unit on-site at the Javits Sunday through Tuesday.  
Most likely due to concerns over Omicron spikes, several sessions were cancelled over the course of the event and a few exhibitors opted not to show. Despite that, there were still abundant sessions available and plenty of interesting companies to connect with.
Read more about:
Subscribe and receive the latest news from the industry.
Join 62,000+ members. Yes, it's completely free.
You May Also Like
Loading..