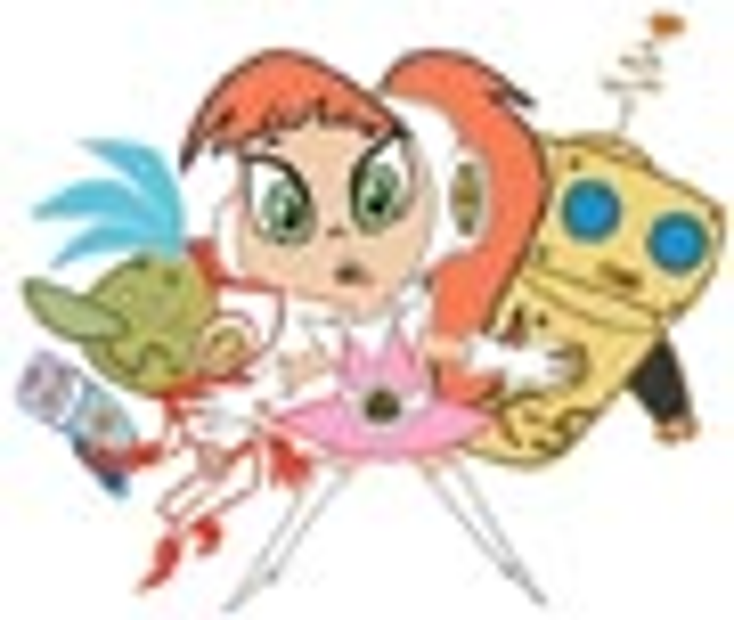 ]>
National and international broadcasters will set their sights on Cannes, France, for MIPTV (March 29 through April 2). Here, creators, developers, and licensing professionals (attendees and exhibitors alike) offer insight into a new slate of programs, programs already on air, and the licensing and merchandising attached to many of those properties.Alliance Atlantis: In
Dragon Booster
(26 x 30 minutes, CGI), Artha Penn is an ordinary teenager chosen to ride Beaucephalis, the dragon of legend. When teamed with Beau, Artha is transformed into the Dragon Booster.
Poko
(32 x 30 minutes), a preschool stop-motion animation series, features 3-year-old Poko, who is just beginning to discover the world around him with his dog, Minus, and his stuffed toy, Mr. Murphy. Poko confronts childhood milestones such as tying shoelaces. Peep &
The Big Wide World
(26 x 30 minutes) is a flash animation series that follows the adventures of Peep, Quack, and Chirp. Original creator of Peep, Kai Pindal (
Karate
Kids
), is creative consultant.Bardel Entertainment: On the heels of worldwide success with the Dragons toy line from Mega Bloks Inc., Bardel Entertainment and Mega Bloks are moving
Dragons
to the big screen. The Dragons toy line is a world of mythology, mighty armies, warriors, and sorcerers that clash with Dragons and a world ruled by mysterious Krystals. The Dragons 3-D and 2-D movie and video feature (
Dragons Fire & Ice
) will launch fall 2004. Breakthrough Films and Television Inc.:
Atomic Betty
(26 x 30 minutes) is a little girl who doubles as an Intergalactic Guardian Angel and Defender of the Universe. The series has been sold in more than 40 countries, including Cartoon Network in the U.S.
Miss BG
(26 x 30 minutes) is a precocious 7-year-old girl whose world changes when her new baby brother, George, comes into the family. Plus,
KidsWorld Sports
(26 x 30 minutes) features two kids striving to become tomorrow's sports heroes.
Britt Allcroft Productions:
Scoobs
(13 x 30 minutes) is a live-action children's series featuring Scoobs, a scuba diving team. Along with a sea lion named Hula, the Scoobs have three things in common: They love the water, solving mysteries, and being together. Merchandising opportunities and an interactive component exist.Carlton International:For
Pocoyo
, Carlton and Zinkia Entertainment of Spain have teamed with Novel Entertainment to develop and produce the preschool series. Novel Entertainment will develop the characters and create the scripts for the 52 x 7 minute series. The series has been commissioned by ITV. Carlton and Zinkia hold the international TV and merchandising rights for
Pocoyo
. For Gerry Anderson's Supermarionation
Classic Thunderbirds
, licensing abounds in Japan. Media Works will release the Japanese edition of the Thunderbirds FAB Cross Sections book. Other publishing deals signed by Tohokushinsha include Takarajimasha's "Our Favourite Thunderbirds," the Japanese version of "The Complete Book of Thunderbirds," Asahi Sonorama's "Thunderbirds Photo Book," Futabasha's "All About Thunderbirds" and "All About UFO," and PHP's Japanese edition of the "Thunderbirds FAB Annual 2003." Toy sales from Takara have been strong; Bandai and Mega Bloks in the U.S. are releasing new toy lines. Pachinko arcade and slot machines (Fuji Shoji) and a ring tone transmission (Daiichikosho Company) also launched. Cinar Corporation:
Caillou
(46 x 30 minutes) is a preschooler whose adventures take him from his backyard to his first airplane ride, all while learning about the world around him.
Arthur
(115 x 30 minutes or two one-hour specials), based on the books by Marc Brown, follows the adventures of 8-year old aardvark Arthur Read; his 4-year old sister, D.W.; and their family and friends. Postcards from Buster is a spin-off of Arthur (see United Media, p. 42).
Mona The Vampire
(65 x 30 minutes) sports a vampire costume and a wild imagination. Mona enlists the help of her friends and Fang, the vampire cat, to track down solutions to mysteries in her town. The story is based on the books by Sonia Holleyman and Hiawyn Oram. Cinar holds North American distribution rights only for
Creepschool
(26 x 30 minutes), where fears and nightmares become a creepy reality, and
Potatoes and Dragons
(78 x 7 minutes), a new 'tween comedy.Corus Entertainment/Nelvana: Based on the books by Chris Wooding,
Broken Sky
(2-D digital, 26 x 30 minutes) is a fast-paced ride through a fantasy world filled with beautiful warriors, evil princes, grotesque beasts, and maniacal machinists. Sixteen-year-old twins Ryushi and Kia, armed with powers fueled by ancient spirit stones embedded in their backs, learn to stay alive as they work to unravel a multidimensional secret. From the creative mind of Bill Joyce
(George Shrinks, Rolie Polie Olie)
comes
Car Town
(3-D, 26 x 30 minutes), an educational preschool concept that follows the adventures of 6-year-old boy car Beep Beep, his pals, their parents, and their community.
Dawgz
(2-D, 26 x 30 minutes) is a canine-centric series that follows the comic adventures of six mismatched best friends who have a habit of stirring up trouble.
Joe Duffy
(2-D, 13 x 30 minutes, targeted at adult primetime) follows the real-life adventures of an average Joe. Joe Duffy lost his job, money's tight, and his wife has decided to adopt a young Chinese boy. What is Joe to do? In
Grossology
(2-D, 26 x 30 minutes), based on the book by Sylvia Branzei, brother-and-sister team Abby and Ty Archer report to the secret government Department of Grossology. Together, these 'tweens investigate crimes too icky for local law enforcement (read: adults). Decode Entertainment:
Kratt Brothers' Be the Creature
a 13 x 1-hour factual show created by and starring the Kratt Brothers. National Geographic U.S. is co-producer of the series, and National Geographic Channels International has picked up cable and satellite rights for broadcast across 145 countries. Decode has worldwide distribution rights for the property and also has presold the show to Canada's CBC. Decode Interactive is in production on an interactive strategy for Kratt Brothers' Be The Creature. A mini-site has been developed and licensed to National Geographic Channel U.S. The site includes personal experiences from the Kratts' field notes, and a creature guide that outlines characteristics of each animal visited by the Kratts. Also in development is an iTV component that works in conjunction with the broadcast. Decode Interactive also is producing a 3-D multiplayer game based on the show.DIC Entertainment: Currently in preproduction for the U.S. debut in fall 2004 are 26 half-hour episodes of Stan Lee's The Phantom Five, combining a pop-art look with anime and traditional CGI animation. Stan Lee's The Phantom Five marks the first project resulting from DIC and POW!'s partnership to develop and produce a slate of original superhero action properties over the next five years under the Stan Lee's Super World banner. DIC also will offer six all-new
Strawberry Shortcake
specials (6 x 45-minute specials or 12 x 22-minute episodes).
Strawberry Shortcake's Best Pets
Yet and
Strawberry Shortcake's Adventures on Ice Cream Island
will be released by Twentieth Century Fox Home Entertainment in the U.S.Discovery Communications: From Discovery Program Sales comes
Kenny the Shark
(13 x 30 minutes), which chronicles the life of tough-talking tiger shark Kenny. Each episode features two comic adventures while presenting facts about this underwater species. Also new is a two-hour special from Oscar-winning Titanic director James Cameron.
Expedition: Bismarc
takes Cameron's deep-sea filmmaking expertise and advanced equipment to the Bismarck, probing the ship's interiors for the first time and bringing its final days back to life. Discovery also presents
Before We Ruled the Earth
, a two-part series that captures early man's fight for survival, combining re-enactments with photo-realistic animated creatures. EM.TV & Merchandising AG: Along with its international subsidiaries, EM.TV & Wavery, Yoram Gross-EM.TV, and Planeta Junior, EM.TV will offer licensing and merchandising opportunities for its library properties Vicky the Viking, Maya the Bee, Tabaluga, Heidi, Pippi Longstocking, and Rainbowfish. EM.TV also will offer merchandising rights to new productions:
Flipper III, Blinky Bill III, Creepschool, Tabaluga III, Fairy Tale Police Department II (F.T.P.D. II), Norman Normal II, Momo, Karlsson on the Roof, and What about Mimi?
.4Kids Entertainment: They're back. Cult heroes Leonardo, Raphael, Michelangelo, and Donatello are committed to battling evil and having some fun in new
Teenage Mutant Ninja Turtles
(26 new episodes, 78 x 30 minutes in total).
Yu-Gi-Oh!
(47 new episodes, 144 x 30 minutes in total) follows the story of Yugi, who pieces together an ancient Egyptian riddle called the "Millennium Puzzle" and becomes the powerful "Game King," an alter ego who morphs into a mighty hero and defeats monsters.
Pokémon
(52 new episodes, 364 x 30 minutes in total) new episodes feature new
Pokémon
, characters from the new
Pokémon
Ruby and
Pokémon
Sapphire game series, and Ash, Pikachu, Team Rocket, and Meowth, among others. That pink protector Warpstar knight-in-training
Kirby
returns with 48 new episodes (100 x 30 minutes in total). When the diabolical King Dedede conjures up all his maniacal monsters, Kirby inhales their powers and gives them back a taste of their own medicine. In
Ultimate Muscle
(26 new episodes, 77 x 30 minutes in total), animated hero Kinnikuman is accidentally displaced as prince of his home planet. To prove his princely heritage, he must compete in the ultimate intergalactic wrestling tournament.
Meet The Winx Club
(26 x 30 minutes): smart, stylish, and magical teen girls. Bloom and her girlfriends are the stars of this animated comedy adventure series.
Shaman King
(12 new episodes, 64 x 30 minutes in total) is an adventure series about a young shaman's quest to become Shaman King. Anything is possible in this world, where spirits and ghosts interact with humans.LevyMann Entertainment:
itty bitty HeartBeats
is a series of 11-minute animated musical adventures for girls and boys ages 2 to 6. CoolHeart, SweetHeart, BabyHeart, GiggleHeart, KookyHeart, DreamyHeart, and HeartAche live in a magical world called HeartLand and help children solve problems and "do things from the heart." To date, licenses have been signed with Penguin Books (master publisher); Fruit of the Loom (boy/girl/toddler underwear); Franco Manufacturing (bedding, towels, pillows, drapes, curtains); and Wormser (boy/girl/toddler sleepwear).Mainframe Entertainment: Beat Freaks is a new CG kids' series featuring a group of monster misfit teens who are not quite the group of rampaging ghouls their parents had hoped for. Binomes takes a preschool audience inside a computer where a mischievous group of characters live, work, and play. Popeye's Voyage:
The Quest for Pappy
, scheduled for holiday 2004, is a new 3-D animated holiday special produced by King Features Syndicate featuring the classic characters of Popeye. Mainframe has distribution rights for the Popeye special in the UK, Australia, and Canada. And Tony Hawk S.H.A.D.E. is a CGI three-part television mini-series and feature-length direct-to-video release based on extreme sports icon Tony Hawk.
Ragdoll: Boohbah
(104 x 20 minutes), a live-action series, aims to captivate and activate children ages 3 to 6. With magical chants and children's laughter, the five Boohbahs are energized and powered into action. A live-action comedy series for children,
Brum
(40 x 10 minutes or 20 x 22 minutes) is a real-life superhero even though he's only a little car. Open A Door is an international program exchange of five-minute films without words showing an event in a child's life. With the completion of Series 4, there is now a total of 52 episodes produced by 36 countries.
A Door, Boohbah, and Brum
are licensed and distributed worldwide by Ragdoll.
Teletubbies
(365 x 30 minutes) and
Teletubbies Everywhere
(52 x 10 minutes or 45 x 30 minutes), created by Ragdoll for the BBC, are set in Teletubbyland where preschoolers relate to bright colors, stories, and games. Teletubbies Everywhere includes live-action inserts of young children growing up in different parts of the world. Licensed and distributed in the U.S. by Ragdoll; licensed and distributed in the UK and the rest of the world by BBC Worldwide.Animated for the screen by Ragdoll and Norma Farnes Management, Badjelly The Witch (29- and 48-minute versions) is a combination of live action and animation based on Spike Milligan's original book drawings. It's already on air in the UK on BBC1; ABC Australia; TVNZ New Zealand; TV12 in Singapore, Hong Kong, and South Korea; and YLE Finland. The program is licensed and distributed in the UK and the rest of the world by Ragdoll.Sesame Workshop:
Play With Me Sesame
(78 x 30 minutes) allows broadcasters to develop customized Sesame Muppets that will have the look and sensibilities of the local country they reside in, and that can be utilized in wraparounds for the series. Nick Jr. introduced the first Australian Sesame Muppet; up next are broadcasters in Eastern Europe and Scandinavia.ShoPro Entertainment: Monkey Turn is a story about the competitive world of mini-speedboat racing. This graphic animation show was launched in Japan in January, and is a lead comic title in Japan's "Shonen Sunday" manga series. Golden Gash Bell is a top-rated Japanese program filled with action-packed stories about a junior high school genius and his demon boy sidekick. ShoPro Entertainment is offering the series to television networks in North and South America.Complementing a successful French launch, Mirmo is heading to Italian TV via Mediaset. A TV hit in Japan since April 2002, Mediaset has optioned 104 episodes. Cyber hero MegaMan NT Warrior continues to blaze a trail on Kids' WB!. A new season of 26 episodes will launch this spring. International expansion is set; cable satellite and terrestrial broadcast deals in major European markets will follow.Tokyopop: Rave Master, based on the manga created by Hiro Mashima, is one ordinary boy's epic story as he discovers he is destined to save the world from evil. Young Haru and two companions travel the globe to retrieve a collection of Rave stones necessary for him to defeat the Shadow Guard.
Rave Master
spawned 21 graphic novel volumes, an animated TV series (51 x 30 minutes), video games for PlayStation and GameCube, a master toy license with Hasbro, and a manga series from Tokyopop. In the U.S., Cartoon Network plans to air the anime as a strip on its Toonami block this year. United Media:
Postcards from Buster
, a new
Arthur
spin-off series (40 x 30 minutes) that blends live-action footage (80 percent) and animation (20 percent), premieres as part of the PBS Kids weekday lineup in fall 2004. Buster, a character on
Arthur
, accompanies his airline pilot father as he flies a fictional Latin rock group on a concert tour of North America. Via a small digital video camera, Buster sends video "postcards" to friends in the form of live-action footage of the places visited in the show. WGBH Boston and Cinar Corporation, in association with Marc Brown Studios, produced the show, targeted to children ages 4 to 8, for PBS. United Media was tapped to represent the North American licensing rights for Jakers!
The Adventures of Piggley Winks
(3-D, CGI animation). Launched this fall on PBS Kids,
Jakers!
is produced and distributed by Mike Young Productions for London-based Entara and features 40 half-hour episodes aimed at kids ages 4 to 7.
Jakers!
follows the adventures of Piggley Winks, an 8-year-old piglet, and his friends, Dannan the Duck and Ferny the Bull, on Raloo Farm in Ireland. International broadcasters include TVO Canada, ABC Australia, TF1 France, RTE Ireland, and SVT Sweden.
Subscribe and receive the latest news from the industry.
Join 62,000+ members. Yes, it's completely free.
You May Also Like
Loading..