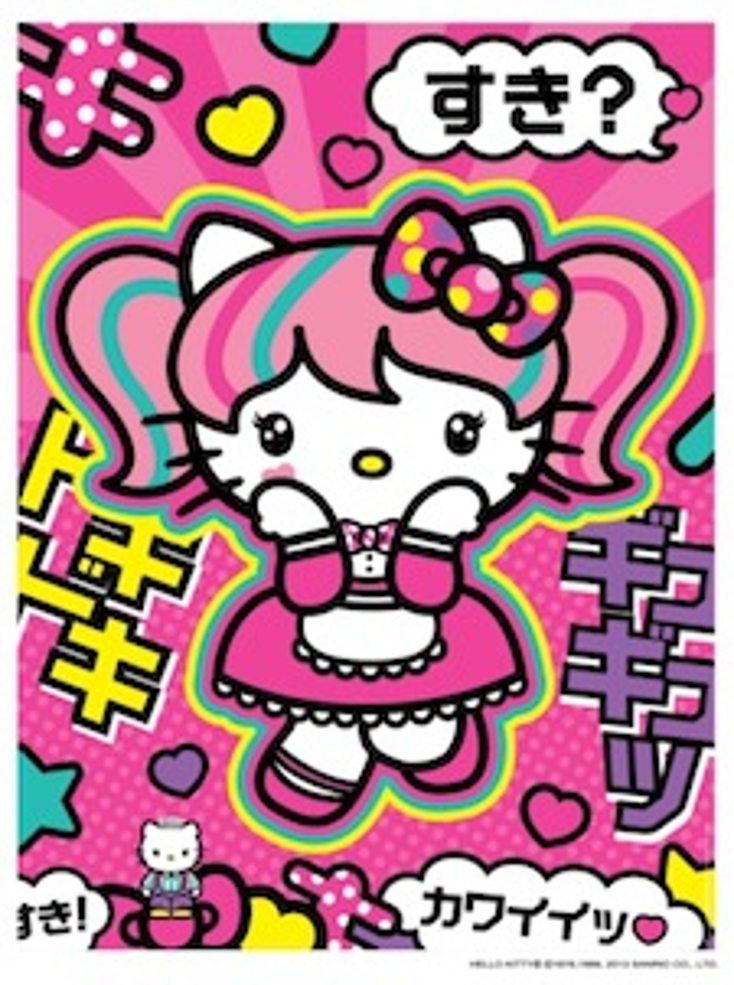 Comic-Con International opens its doors today in San Diego, Calif., with a Walking Dead zombie run, celebrations for the 20th anniversary of Power Rangers and Sanrio making its debut at the show.
Here is some of the top news coming out of the first day of the show:
Sanrio Makes Comic-Con Debut
While Hello Kitty has appeared with partners and collaborators at Comic-Con in the past, this year Sanrio is making its official debut with the Hello Kitty Fashion Music Wonderland interactive experience.
Fans will be treated to a colorful, anime experience that includes giveaways, limited edition products, character appearances and the launch of Hello Kitty's first graphic novel,
Hello Kitty Fashion Music Wonderland,
from Viz Media.
A retail pop-up shop will offer a mix of event-only and limited edition Japanimation-themed collectible Hello Kitty items, including a free poster with any purchase
.
Comic-Con badge holders will
also have access to the limited edition pink Hello Kitty flocked collector's figure by Funko.
A mix of Sanrio co-branded partnerships and special products will also launch at the event including Hello Kitty x Uglydoll, vinyl figures from Funko and limited edition Street Fighter x Sanrio plush at the Toynami and Capcom booths.
Saban's Power Rangers Turn 20
Saban Brands has created a massive presence for the Power Rangers brand in honor of its 20th anniversary this year.
Attendees will have the opportunity to meet some of their favorite Rangers, collect Comic-Con exclusive premium items, get a first look at upcoming products and pose for photos with the Power Rangers Megaforce.
To power up the brand's anniversary celebration, Saban has released a tribute video exclusively for Comic-Con that shows the Power Rangers morphing through the last 20 years.
Among the other promotions for the brand are:
·      Shout! Factory is featuring an interactive Power Rangers photo booth today;
·      On Friday fans will get the change to meet the original green-turned-white ranger at the Bandai America booth and an actor who has played both the red and blue ranger in different iterations of the series in the Shout! Factory booth;
·      On Saturday, the cast of "Power Rangers Megaforce" will appear for an autograph signing at the Nickelodeon booth;
·      Bandai America will be offering limited edition legacy products based on the original "Mighty Morphin Power Rangers" series;
·      Funko will be selling Comic-Con exclusive White Glow Rangers; and
·      Namco Bandai Games will offer consumers the first-ever chance to play the "Power Rangers Megaforce" game for Nintendo 3DS.
Fans Try to Escape The Walking Dead
The Walking Dead Escape obstacle course gives fans the chance to live out the events from the AMC series, based on Robert Kirkman's Eisner
The Walking Dead
graphic novels and comic book series.
Participants can be a Survivor and race through the zombie-infested evacuation zone, a Walker who becomes one of the undead or a Spectator who watches the apocalypse from the sidelines at the Escape Party.
Skybound, Robert Kirkman's imprint at Image Comics, and AMC joined forces with KNB EFX Group to serve as the special effects make-up designer to transform those who sign up to be Walkers into zombies.
DC Entertainment is celebrating one of the most iconic superheroes in history with a new look at the comic book series
Superman Unchained
and a collection of Superman costumes highlighting the superhero's transformation throughout the years.
DC Entertainment and Warner Bros. Entertainment will also salute the character with a special Superman 75 panel.
And Superman will also be one of the characters featured in the display of the seven Justice League-inspired Kia cars, which also include Batman, Wonder Woman, Green Lantern, The Flash, Aquaman and Cyborg versions.
Fans will also get a first look at the DC Universe original animated movie
Justice League: The Flashpoint Paradox
, which will premiere on Friday.
Exclusive DC items available this year include variant cover editions of some of DC Comics' most popular series and five new DC collectibles including the Aardman Superman action figure, a three-pack of Super Best Friends Forever action figures, Batman Arkham City: Hugo Strange, a
Man of Steel
1:6 scale Icon Statue black costume variant and DC Comics' Super Heroes of Green Lantern four-pack.
Mimoco Returns for Eight Year
Mimoco is celebrating its eighth birthday at Comic-Con this year. To mark the occasion the company has released a series of eight low-run, limited edition SDCC exclusive Mimobot USB flash drives, as well added four new characters to their existing flash drive lineup.
New Mimobots introduced today include Star Trek Into Darkness Klingon Captain, South Park Cartman, South Park Dead Kenny, My Little Pony Friendship is Magic Pinkie Pie, Adventure Time Marceline and Mimoco's own Core Series Galaxor2.
"Eight years ago we ventured to change the face of electronics in the guise of designer toys," says Evan Blaustein, chief executive officer, Mimoco. "Now that we're working with so many great licensing partners, it's clear that our vision has come into focus."
Subscribe and receive the latest news from the industry.
Join 62,000+ members. Yes, it's completely free.
You May Also Like
Loading..