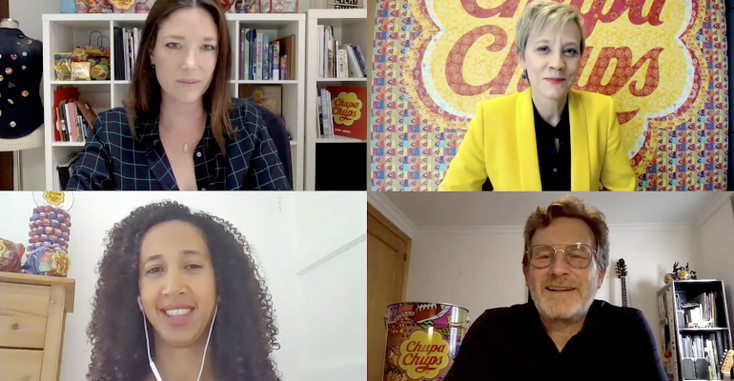 Perfetti Van Melle takes the Festival of Licensing stage to discuss how it is keeps its enduring brand Chupa Chups top-of-mind and how the brand has permeated numerous categories and cultures while keeping its heritage and bold attitude consistent. Joining Gavin Brown in the lively session, which is
, was Christine Cool, area licensing manager, Perfetti Van Melle; Victoria Whellans, group brands director, lifestyle, Wildbrain CPLG; and Gabrielle Drew, managing director, Tela Italia.  
"The thing about Chupa Chups is it always amazes me how it seems to have outgrown its space as simply an iconic confectionery brand – as if iconic was simple enough," says Brown. "It represents color, flavor, aroma and a kind of a carefree fun lifestyle." 
This DNA of carefree color is an icon, with the logo itself a famous work of art by Salvador Dali, and it has found its way through an entire spectrum of bright statement consumer products from apparel and fashion to so much more. But,
how did a brand with such a distinctive brand identity translate an entire ethos of fun and color into a wide range of categories and demographics? 
"When we first started the program, we immediately realized that we couldn't just rely on the awareness and the brand image from the core brand but that we really needed to create a distinct art identity, and ever since, we've been putting a lot of effort behind that," says Cool. "To start with, we took a deep dive into the heritage of our brand, and into the DNA. This helped us define the key items with which we've been working, ever since. And that has always been present in all our artwork." 
Now collaborating with young designers, artists and creatives, Perfetti Van Melle – brand owners of Chupa Chups – are bringing wider brand interpretation to the market to drive that multi-faceted appeal even further as well as delving into new categories such as food and beverage. 
One of the teams bringing the brand to new markets is Wildbrain CPLG – representatives of Chupa Chups in Europe and the Middle East – who work with the flexibility of the brand to build bridges across cultures and categories. 
"Obviously the logo and the iconic lollipop shape can be played and used in different ways so that you know there are some markets that love the bold color palettes," says Whellans. "But there are other markets, other retailers and other categories who actually want a softer approach. There's so many different ways that you can utilize these assets and that gives us a lot of flexibility when we're going out talking to people, not just in fashion but also in other product areas across different sorts of retailers, because it gives us that ability to differentiate the product offering, and the look of the Chupa Chups brand. In addition to that, the fact that the brand is about colors, flavors and the senses allows us to play into categories such as personal care, fragrance and health and beauty. This allows us to pull together a broad category range of products." 
Read more about:
Subscribe and receive the latest news from the industry.
Join 62,000+ members. Yes, it's completely free.
You May Also Like
Loading..