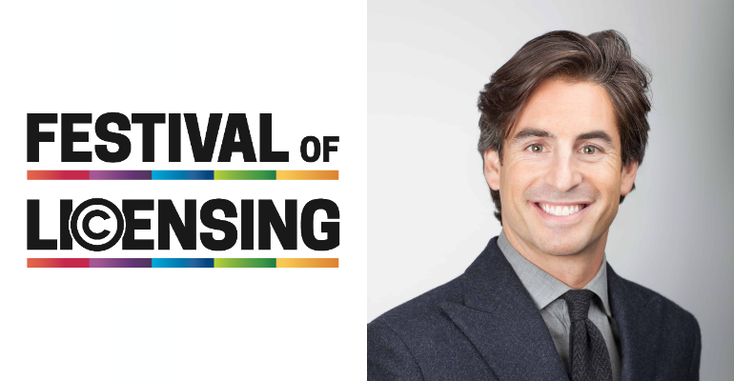 Week Three of Festival of Licensing (The Americas) kicked off with an insightful and invaluable keynote featuring Jarrod Weber, chief brand officer and group president, lifestyle, Authentic Brands Group. The fireside chat, entitled "The Future of Brand Licensing," was moderated by Amanda Cioletti, event and content director, Global Licensing Group.
During the chat, Weber described his storied professional journey leading to his current role at ABG, including joining the company initially as part of its men's division. Weber detailed ABG's and SPARC Group's initiatives and objectives and highlighted their wins thanks to "a fully integrated retail model that services over 3,600 retail stores, shop-in-shops and points-of-sale across the world in four specific brands between Brooks Brothers, Aeropostale, Lucky and Nautica, delivering and supporting over $4.7 billion at retail."
ABG's greater portfolio, which includes 50-plus entertainment and lifestyle brands, has a global retail footprint of
more than 6,000 freestanding stores and shop-in-shops around the world.
"At the end of the day, our ultimate goal is when a consumer walks into a store, whether they're walking into Macy's Herald Square or one of our own retail stores, we want them to never know that all of our product categories are licensed," said Weber. "We want one global message."
Weber likened ABG and SPARC to being the catchers on a baseball field, able to react quickly whether that's to product trends, marketing trends or retail trends. He also shared his views on retail and the future of brick-and-mortar consumer trends, opining that retail is far from dead.
"Consumers like the experience," said Weber. "Although dot com is extraordinarily important and will continue to grow, it is not a substitute for brick-and-mortar retail and the mall shopping experience."
Weber shared that ABG is investing in technologies, specifically marketplaces, and shared key best-practices for selecting the right licensees.
"Our job is to always make sure that first when we sign a licensed partner, that licensee shares in the strategic vision of the brand," said Weber. "Do they have the same point of view? Do they believe in the same channels of distribution we believe? Do they believe in the product? Do they believe in the price positioning and the value equation for the consumer? If the answer is yes, it's an easy decision… but the key is making sure the licensor and the licensee's interests are aligned."
Weber also shared how ABG has responded to the COVID-19 pandemic and its fallout.
"You have to make sure your brand is relevant," Weber advised. "You have to make long-term decisions. It's easy to make short-sighted decisions right now because you need a return on your investment, but what we're doing right now is we are focused on the future.
To learn more about ABG and what's next for the prolific company, please find the complete interview
.
Read more about:
Subscribe and receive the latest news from the industry.
Join 62,000+ members. Yes, it's completely free.
You May Also Like
Loading..