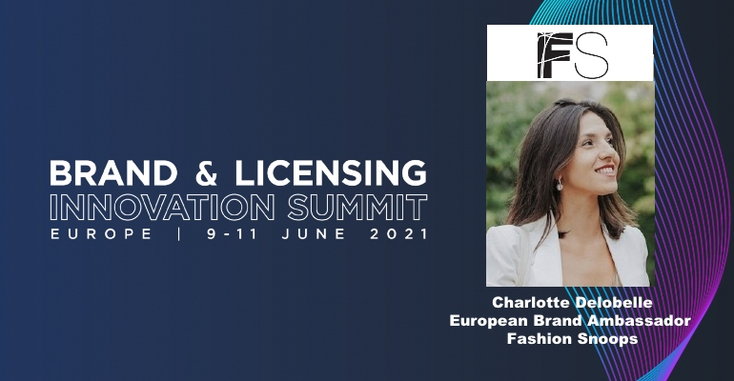 With the Brand & Licensing Innovation Summit approaching in June,
License Global
is chatting with speakers about the event, the licensing industry, life after lockdown and other topics.
We spoke with Charlotte Delobelle, European brand ambassador, Fashion Snoops, about trend forecasting, how it fits into licensing, her upcoming involvement in B&LIS and more.
As a trend forecasting agency, how do your services fit into the licensing and merchandising business and why are they important?
At Fashion Snoops, our team of researchers and experts not only works to identify the important design details and key items for the coming season, but they also analyze the entire cultural landscape to identify the shifts occurring in consumer behavior.
We recently launched our RETAILIVE platform which aggregates more than 10,000 stores and brands around the world into one central location. Using proprietary AI-technology, RETAILIVE allows our clients to track trends and monitor their competitive landscape in
real time, enabling them to make smarter, more informed decisions for their business.
You work with more than a dozen countries. How does your system differ from region to region?
Our AI tools and trend forecasting methodology channel large global shifts across markets – we track the cutting edges of conversations and provide the roadmap of how these conversations evolved over the years. By looking at the road map we provide, our clients can decide how deep into that journey is right for them. Unable to commit the resources to carbon negative business operations? Then follow our trend guides to a carbon neutral end point that is right for you. If a genderless line of kids clothing seems too forward for your market, then follow along with our reports to experiment with less gender-coded colors on your best sellers. Fashion Snoops provides thought-provoking takeaways to each of our trend reports to get clients thinking about how each macro cultural discussion might have implications for each client's specific business model.
What category do you see as becoming a leader after lockdown and how can people prepare?
One core tenet of trend forecasting methodology is "the law of the pendulum swing." As consumers, we crave novelty and are constantly seeking out new and exciting products to assist us in expressing our moods. Thus, when the pendulum swings too far into one aesthetic – let's use cozy as an example – we tend to get bored and crave the complete opposite. After a prolonged period of lockdown cozy, sweatpants and leggings, we will see the pendulum swing to favor the opposite as consumers begin to desire a return to more formal attire and occasion-wear silhouettes. As lockdown restrictions are lifted, we will see an influx of birthdays, weddings, family reunions and anniversaries with many excited to dress up for these much-missed social occasions. 
What are the topics you will be addressing during B&LIS?
Gender, size and racial inclusivity; transparent manufacturing and sustainable initiatives; using social media to develop consumer relationships and the importance of brand authenticity and how to avoid tone deafness.
Why is B&LIS an important event for the licensing industry this year?
2020 was a difficult year for so many, from both a business and personal perspective. There will be no going "back to normal" as we emerge out of the pandemic. Brands will need to develop new strategies to approach and resonate with their audience. By bringing together so many industry professionals, B&LIS is going to provide an important platform for exchanging ideas and focusing on camaraderie not competition, something that Fashion Snoops has also been an advocate for!
Subscribe and receive the latest news from the industry.
Join 62,000+ members. Yes, it's completely free.
You May Also Like
Loading..