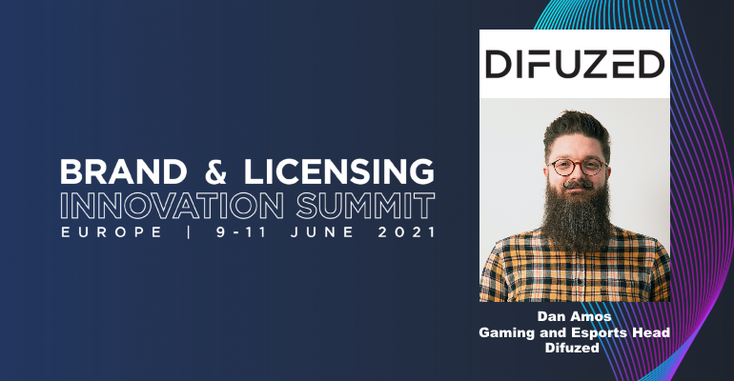 With the Brand & Licensing Innovation Summit approaching in June, License Global is chatting with speakers about the upcoming event, the licensing industry, life after lockdown and more. 
We chat with Dan Amos, head, gaming and esports, Difuzed discusses evergreen video game properties, reselling strategies, his panel at the upcoming B&LIS and more.
License Global:
What would you say has been Difuzed's largest accomplishment in the licensing industry thus far?
Dan Amos:
 Because of the breadth of our portfolio, we've been able to accomplish a great deal, be it at retail breaking new ground for our licensors or developing new and exciting product categories. Ultimately we are extremely proud of our ability to develop and maintain long-term partnerships with our licensors. We have a very considered roster and pride ourselves on working hand-in-hand with our licensors to grow their licensing programs and support their brand aspirations. We see ourselves as brand builders and are comfortable working with a property with little or no licensing experience. With Ubisoft, we began working with the "Assassin's Creed" team after releasing its first title and now the franchise has become a global lifestyle brand. Our journey began more than 15 years ago with Nintendo when little to no consumer products were on the market. By working with the Nintendo of America team, the brand's consumer products are now widely considered the standard for evergreen over time.
How
do you select your clients for reselling, and why is this system important?
Difuzed's unique position as both a stock and made-to-order company enables us to operate across a far broader retail base than the typical. We develop product that is specific to each channel, tailored to the retailer's needs. This flexibility means we can confidently supply a vast number of independent retailers. At the same time, our made-to-order business brings the power of gaming properties to emerging new gaming retail channels.
What licenses have acted as a continuous evergreen property for Difuzed, and why do you think they've stuck around for so long?
As brand builders we are continually seeking properties with licensable equity. In gaming, this more often means those titles with high engagement and a loyal community. Titles like "Assassin's Creed" have not only developed a community that consumes its lore with every release, but it has also developed a formula that allows for continual evolution of the game's aesthetic without leaving fans behind. As a creative company specializing in taking a brand info lifestyle product, it is exciting to have a brand like "Assassin's Creed" in our roster, knowing we can give a continual fresh take on the franchise to our customers. In addition, our Bethesda portfolio showcases how titles like "Doom" can not only reinvent themselves through a new release, like "Doom Eternal," but simultaneously celebrate an iconic past. This carefully considered celebration of both the old and new allows us as creatives to develop cross-generational programs. But we are also excited about the new evergreens. Our PlayStation Studios portfolio is already showing real promise as long-term evergreen franchises, with titles like "Horizon Forbidden West," the sequel to Sony's award-winning release, as well as "God of War" and "The Last of Us." Finally, brands like Xbox, celebrating its 20th anniversary in 2021, might have only recently begun making strides into lifestyle but have already demonstrated a clear sign as a valued evergreen apparel brand.
What are the topics you will be addressing during B&LIS?
I look forward to discussing gaming, esports and the influence they have on pop culture. Gaming has already demonstrated time and time again how much influence it has on the shaping of pop culture, plus we now have esports shifting the perception of what competitive play is. In each instance, there is licensable equity accompanied by a huge global audience and the impact on fashion and all categories are huge.
Why is B&LIS an important event for the licensing industry this year?
The licensing industry is ever-evolving and never more so than during a global pandemic! In the last 12 months, we've seen behavioral shifts in consumers, retailers and even brands. This all impacts how the licensing industry operates. Now more than ever, it is important that we continually educate ourselves and share this knowledge to ensure our industry continues to thrive.
B&LIS is a critical tool providing knowledge and aiding the development of the licensing industry. I am proud to have been asked to join my fellow panelists in sharing insight into the incredible world of video games. Entertainment has long been a driver for licensed consumer goods and with the growing importance of gaming within pop culture, licensing is being exposed to both active and engaged communities. The gaming consumer is seeking out product to demonstrate their fandom and there is an opportunity, through licensing, to deliver this product.    
Read more about:
Subscribe and receive the latest news from the industry.
Join 62,000+ members. Yes, it's completely free.
You May Also Like
Loading..