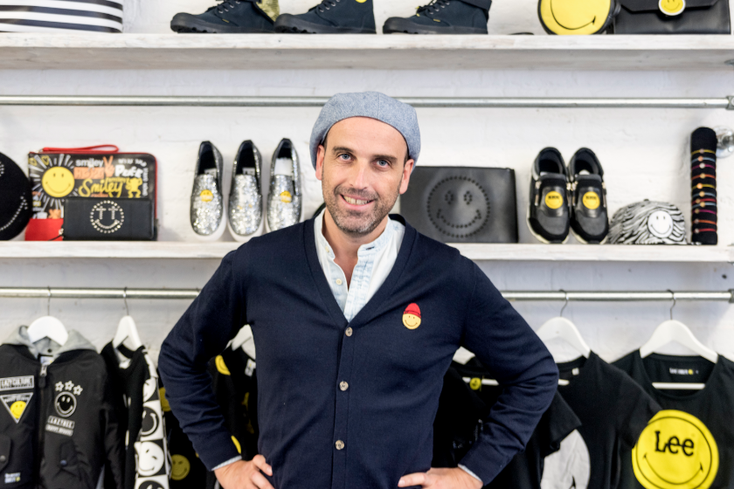 The big yellow brand that promotes the power of positivity, The Smiley Company has broken boundaries in licensing since its inception nearly 50 years ago.
A lifestyle brand-turned-counter-culture icon, Smiley today collaborates proudly with partners across high-fashion, toys, sports, homeware and accessories categories, to name a few.
Taking 10 minutes to sit with chief executive officer Nicolas Loufrani,
License Global
explores how the industry is changing, what happens when sustainability becomes the priority and how a pinpoint focus on quality is leading the charge for new innovation in licensing.
License Global
: What do you look for in a licensing collaboration?
Loufrani:
When we enter into licensing partnerships, we look primarily to work with likeminded people who share our message of happiness and positivity. We look for people who truly believe in the brand and understand clearly from the beginning their reasons for working with Smiley... We are looking for long-term thinkers, who understand
how to build a strategy, segment products and regularly launch newness that is driven by creativity. We try and avoid working with partners who are stockpiling IP's and waiting for just one to perform; these partners, from experience, are unlikely to properly capitalize on licensing opportunities, and they are generally not the right people to rely on to build for the future.
What role have tradeshows played in your outreach strategy for licensees?
It's probably our single most important trade investment over the last five-to-10 years, and I see it as critically important. Tradeshows give us the opportunity to show to the trade how we continually evolve our creativity and to showcase our success stories. It's also a great opportunity to meet new people and show them how focused we are as a business on creating amazing stands, style guides and the hundreds of creative products that we launch every year. We show at nearly every licensing trade show around the world, and we place real emphasis on building a buzz in the trade prior to these shows. Whether that's through our partnerships with all the industry's leading media outlets or through our own outreach to industry decision-makers.
How do you see the licensing industry changing in the next five years?
I think with the growing importance and emphasis on sustainable products and environmentally conscious brands amongst Millennials and Gen-Z's, that this will drive innovation within the industry over the next five years. The environmental impact of the licensing industry is hard to ignore, and this is being driven by a lot of poor-quality products launched by licensees who are trying to feed the demand for low-cost items. This is definitely lowering the standards in the industry, and these products are generally disposable and leave a significant carbon footprint.
This is an area that has to change soon, and I believe environmental innovation is critical to the industry and represents an excellent business opportunity.
Over the next 10 years, we will see massive change in the way licensees have to operate to be more sustainable and in the way they develop their products, particularly in the toy industry. For instance, plastic toys account for 90 percent of the $20-plus-billion-a-year toy market, and these cheap toys often have much shorter life spans than better-quality products; and they are pretty much impossible to recycle. There's also a growing trend for recycling and upcycling today, as people search for ways of repurposing old and existing products, and this will, for sure, start to hurt businesses as people start reusing more and buying less. Saying all this, I do think the fast evolving eco trends are, for now, mostly in mature Western markets, while developing countries are still in a phase where people are hungry for more consumer products.
Where are new trends emerging that you see as a promising change for Smiley?
There is a definite trend emerging for people consuming less poor-quality products; people are looking for much more from their brands and products today. They not only want them to reflect their personality, beliefs and sense of style but also need them to be well aligned to the hottest seasonal trends. That's where we are winning in the market, as we've been totally focused for a long time on creating the best possible products with the most suitable partners–focusing long and hard on building successful upper- and mid-tier partnerships that continue to elevate the brand with consumers and have a halo effect on our entire business. Even when we create products at lower price points, we are still focused on the best possible design and execution.
There are a lot of emerging trends also that Smiley is well positioned to leverage. We are seeing a lot of our food licensees focusing on developing much healthier products with reduced use of sugar, dairy and GMO or pesticide-heavy foods, and a renewed focus on eliminating single-use plastics from their processes.... We are also seeing a change in the mindset of consumers, where they are looking for brands that not only tell a story but also are socially conscious. Smiley is well positioned to connect with these audiences, as we have always been part of a trend to create a better world, and that's why we have just set up the Smiley Movement. Smiley Movement allows us to take our original message of spreading good news stories and readapts it to today's world–where good news is about the positive change-makers and those dedicated to doing good. Brands and retailers who are looking for IP that is trying to have a positive impact on the world can count on Smiley to create interesting projects with them.
What have been some of the key collaborations that you believe set Smiley apart as a licensor?
Our fashion collaborations have long been the benchmark in the industry, and we really focus on ensuring these are not only successful but also long term. Most brands have one-season capsules with upscale fashion brands, some even have to pay designers for catwalk collaborations, but we are lucky in that a lot of really cool brands share our ethos, and from this we have been able to develop long-lasting partnerships with brands like Moschino, which is more than 30 years old and is still going strong today. Influential brands like Ami Paris and Anya Hindmarch understand how to harness the power of Smiley and have utilized this to leave a lasting impact. We've had similar successes also in food with McCain, who have been a partner for more than 25-year years; that's pretty unique and unusual in licensing–to have such a diverse range of long-lasting partnerships.
What can we expect from Smiley over the next few months, even moving into 2020?
You can expect much nicer products and style guides. We continue to develop more than 34 style guides each season, and we focus on these being incredibly creative, as we are always looking to elevate the brand. I'm personally most excited about the launch of a very unique new toy line globally, which will launch to trade at the coming Hong Kong Toy Fairs. It's a very unique new concept, but unfortunately, we cannot disclose more details just yet, but it's going to be very important for us.
Read more about:
Subscribe and receive the latest news from the industry.
Join 62,000+ members. Yes, it's completely free.
You May Also Like
Loading..