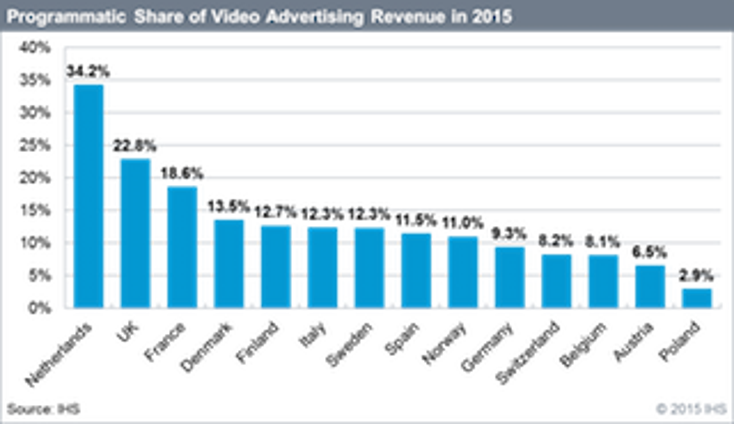 IHS predicts that sales will reach €2 billion by 2020.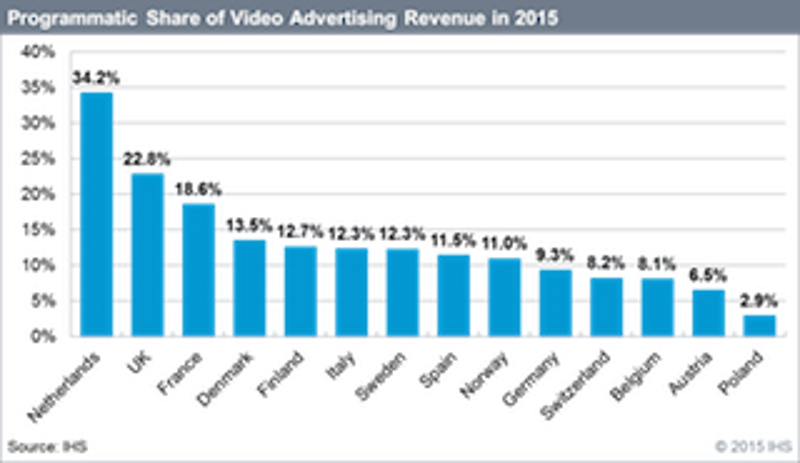 IHS forecasts that €2 billion will be generated programmatically by 2020, over half of all online video advertising revenue. Programmatic video is the automation of ads through the use of algorithms powered by the overlay of demographics (age, gender, income) and behavioral (gamer, traveler, football fan) data.
"Programmatic video advertising in Europe is on the path from experimentation to ubiquity," says Daniel Knapp, senior director, IHS Technology. "In three of the markets surveyed–the Netherlands, the U.K. and France–programmatic video will even become the predominant source of video advertising revenue by 2020."
Territories covered in the report include France, Germany, Italy, Spain, the U.K., Denmark, Finland, Norway, Sweden, Belgium, the Netherlands, Austria, Switzerland and Poland. By
2020, programmatic ads will generate the majority of video net advertising revenue in Europe. In 2015, the Netherlands is the most mature programmatic video market in Europe in terms of share, but by 2020, other markets will have caught up to the Netherlands and the market will become more even.
Germany has the largest advertising market in Europe and the second largest digital advertising market after the U.K., or the largest if factoring out paid-for search. "The German online video advertising market will be worth €331 million in 2015, establishing it as the No. 3 video advertising market in this study behind the U.K. and France," says Knapp.
"France is a programmatic pioneer market," says Eleni Marouli senior analyst, IHS Technology. While imbalances between a data-savvy demand side and a data-poor supply side have meant growing pains for many programmatic markets, France had equilibrium of these issues that helped overcome hesitation and preconceptions of programmatic advertising.
"This environment helped the expansion of programmatic ads from banner display formats to higher-value video formats," says Marouli.
IHS forecasts that by end of 2015, 18.6 percent of all video advertising revenue in France will be generated by programmatic means, placing it third behind the Netherlands and the U.K. in terms of market penetration. By 2020, 54 percent of all French video revenue will be generated via programmatic channels.
"Italy is a programmatic video market waiting to happen, and we expect the market to explode in late 2016 and 2017," says Knapp. "We consider the revision of European data protection regulation and the establishment of the EU Digital Single Market as major drivers for improving volume, quality and utility of available data. The Italian market will rapidly scale to a strong middle position among European markets by 2020 when programmatic video will fetch 46.6 percent of all video advertising revenue."
Subscribe and receive the latest news from the industry.
Join 62,000+ members. Yes, it's completely free.
You May Also Like
Loading..