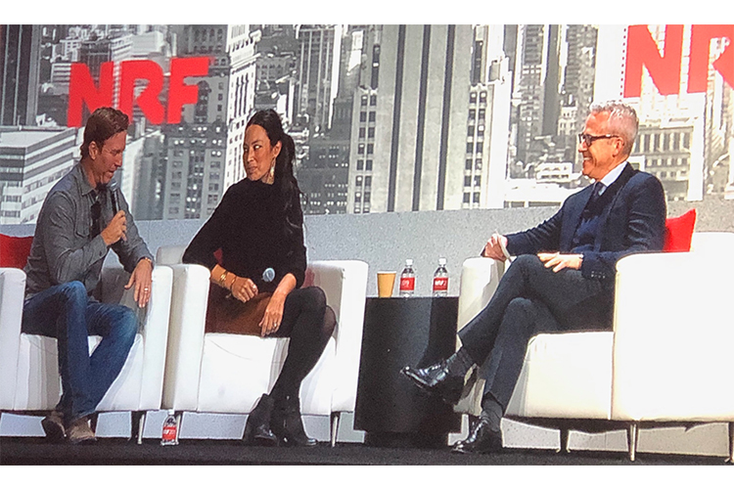 The unofficial theme at Day Three of NRF 2019 The Big Show is change. Panelists from several businesses not only stressed the importance of breaking out from retail's usual structure but how to prepare themselves for further disruption.
The opening panel, "Reimagining the Customer Journey through the Lens of Experience", talked about how retail has been disruptive, and how companies are staying relevant in these times. "We need to give our customer a great experience each time they visit our brand," says moderator Jeff Gennette, chairman and chief executive officer, Macy's. "Our physical stores can be a place for the community." "The Litmus test is, are we giving them an experience that they can't get on the couch," says Rachel Shectman, founder, Story. "It's not just about price points." Some retail stores, like Macy's and Story, are using different tactics to gauge consumer engagement. "Metrics show up in store culture," says Vibhu Norby, chief executive officer and co-founder, B8ta." We work around translating experiences as measurements." The panel also gave recommendations to retailers who are in in the middle of changing its usual tactics. There is something retail companies can do to help with utilizing technology such as AR and VR in-store: Invest in education. "Companies need to invest in Computer Vision, says Beck Besecker, founder and chief executive officer, Marxnet. "[That] skill set not easy to come by, but critically important."
Ryan
Brazelton, executive creative director, Interbrand, advises entrepreneurs to be adventurous when building a brand. In Brazelton's keynote, "Be Brave, Be Cool, Be Good," he spoke about brands who grab and retain the public eye and how it translates into sales.
To Brazelton, brands like Batman, Casper and Amazon Go are examples of the "brave" factor. "Brave is never done. Brave is about passion," says Brazelton. "If it's not, maybe it's time to start over. They have failures, but we can't wait to see what they do next." "Cool is not being trendy, cool sets trends," says Brazelton. Apple, Method and Nike are just some of the brands Brazelton feels exemplify the idiom. "Good is a calling, a purpose-driven brand," says Brazelton. "People know when it's real." Patagonia, Starbucks (a client of Brazelton) and Shinola were mentioned as brands doing good. "When you have a purpose, you can get outside of what you normally do," says Brazelton.
In "Retail Reinvention: Disrupt Yourself or Be Disrupted," the panel shared their experiences how organic acts helped them build their brand. For prescription eyeglass brand Warby Parker, converting a yellow school bus for a cross country pop-up experience gave them the data for possible brick-and-mortar locations. The brick and mortar locations helped fine-tune not only how their e-commerce worked, but the medium it was on. "We want to be customer-focused, but medium agnostic," says Neal Blumenthal, cofounder and co-chief executive officer, Warby Parker. Organic social media post from fans helped Brandless grow. "Direct-to-consumer is not a channel it's a relationship," says Tina Sharkey, chief executive officer and co-founder, Brandless. "It's not what we say about ourselves, but what friends tell friends."
"The Brand Builders: Balancing Business and Creativity to Make a Cultural Connection" seminar highlighted ways that entrepreneurs become successful through unfamiliar territory. Scooter Braun, founder, SB Projects, used social media as an organic way to promote his clients like rapper Asher Roth and singer Justin Bieber. "If [Beiber] knows someone, he won't say 'Hi, I'm Justin Bieber,'" says Braun. "He'll say, 'Check this out." Soon, one of Bieber's videos went viral, and his fanbase was built from viewing the archive videos as well as the one that made him a household name. "So, that worked," says Braun. "When we're building content, we look for what's moving people."
Braun recommended working with not just mentors, but allies who are going through the similar successes and challenges. For older business people, Braun suggested asking younger business people what they are looking for and encourage them to be adventurous. "They don't have anything to lose, and have tomorrow to gain," says Braun.
Two businesspeople who can speak to Braun's adventurous nature are Chip and Johanna Gaines of Magnolia. What started as a small business in Waco, TX became multi-faceted brand that includes a television show, a magazine, a homewares brand, and soon, a cable channel. While Chip is self-described as a "serial entrepreneur," Johanna considers herself more pragmatic, Chip calls their business a "two-headed monster, but blend for the Magnolia brand."
Some of their business decisions has caused some controversy, like when they decided to end their HGTV home renovation series, "Fixer Upper," in April 2018. "We've done a lot of our business on gut instinct, but figure how to space it out," says Johanna. The break from producing a show gave them time to consider future projects which led to a collaboration with Discovery to launch their own channel as well as write their first children's book.
"It's important to know it's OK to say no," says Joanna.
Subscribe and receive the latest news from the industry.
Join 62,000+ members. Yes, it's completely free.
You May Also Like
Loading..